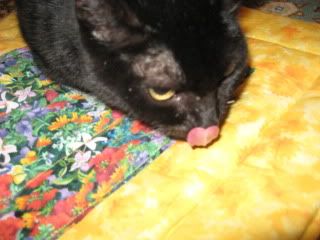 Betty loves the Pootie Pad - it is delicious!
The Pootie Pad is a product designed by my sister, Ann, to suit the pooties in the Daily Kos community. It is a small quilt, about 17" x 23", for cats that has fistfuls of catnip distributed on both sides of the batting. And the catnip is quilted in. Cats love them. We have sent a fair number of Pootie Pads out into the world -- and it is time for the users to compare their experiences! And it is also time for some announcements...
First, check this out. A focus group in Montana reviewed the Pootie Pad and approved it heartily:
Ben-Bob jumps on table to see why Jack is excited. Ben-Bob's report:

Oooooh. Looks fun. Let's share!!!!

Jack's response:

No. No. No. Mine. Mine. Mine. Not gonna share.

Resolution

Mine. Mine. All Mine. Don't wanna share. Mine.

Mine

Marketing research conclusions: The P-pad is pootie approved!!
And this just in from the other side of the country, a video from Donna O of her pooties with their Pootie Pads -- watch and be entertained! (I am sorry, I do not know how to embed this or I would! It is comedy gold.)
You are invited to post more pictures and video in the comments below!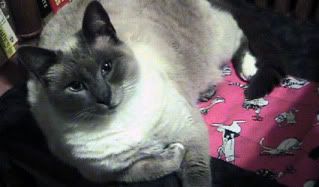 Misty, a California cat, enjoys her Pootie Pad
Through the end of April, we will offer these for $25 each, including domestic Priority Mail shipping. This price will last all month to make sure anyone who wants one at the lower price can have one! Come May 1, we will raise the price to $35 plus shipping. Here is a PayPal link if you would like to order a Pootie Pad now -- or message me if you prefer to send a check.
The reason for the price raise is that these take a fair amount of time to make. Here are the steps that go into making these:
1. Wash and iron the fabrics

2. Measure and cut the fabric

3. Measure and cut the batting

4. Assemble the tops and iron them

5. Layer the tops and bottoms, right sides together

6. Pin to batting

7. Sew fabric to batting

8. Un-pin and turn the Pootie Pad so that the batting is in the middle

9. Mark quilting lines with chalk

10. Stuff the Pootie Pad with catnip

11. Pin the Pootie Pad for quilting and topstitching

12. Quilt and topstitch securely

13. Un-pin and buff away the chalk lines

14. Package for mailing
Each Pootie Pad is handmade with love and care in Oregon with American catnip -- made in the USA! We, the makers, are also behind the Community Quilt Project. When you buy a Pootie Pad, you help support the Community Quilt work, as well.
Further announcements:
WeBranding is kindly setting up a website -- pootiepads.com. This is a work in progress but we hope you will come by. It is intended as a social place for pootie lovers -- and a place to order Pootie Pads, of course. Bookmark it!
In addition to the website, there is a
Facebook page -- we hope you will come by and "like" us!
And you can also follow us on Twitter: @PootiePads
PAYPAL LINK FOR ORDERING A POOTIE PAD -- THANK YOU!