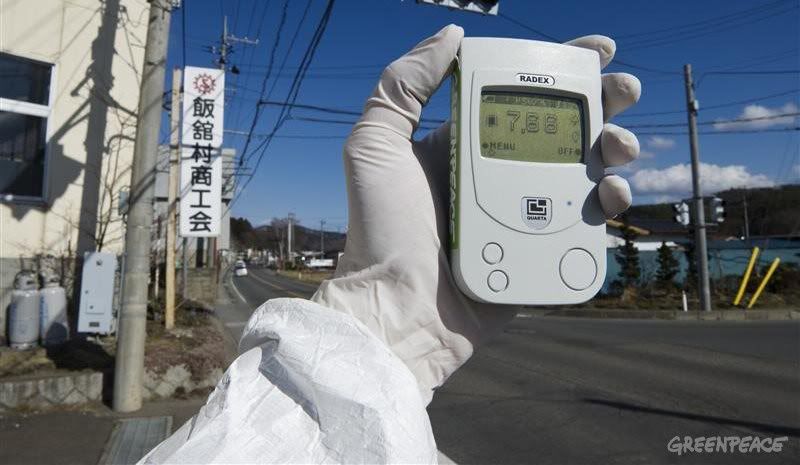 Field testing by Greenpeace radiation monitoring teams has been consistently recording unacceptably high levels of contamination on gardens and crops outside of the present exclusion zone declared by the Japanese government.
Recently, in Minamisoma, residents say they have received no information about radiation levels, nor any warnings about potential hazards, despite reports of government testing in the area.
Yet in several parts of Minamisoma, measurements by Greenpeace were up to 4.5 microSievert per hour on garden spinach, unacceptable for human consumption, compared to the reading reported by the only official government monitoring location, of .07, which might be considered relatively "safe".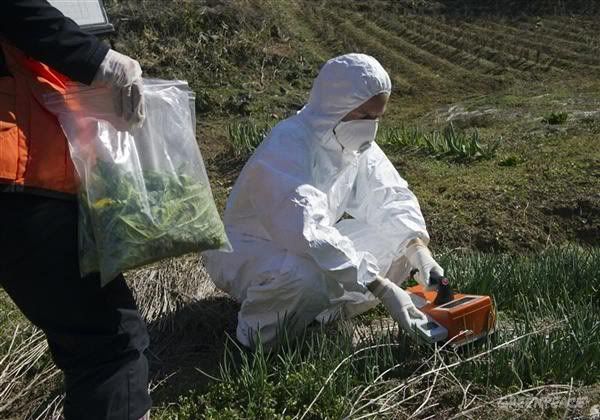 In discussing this with the mayor of the city, he expressed frustration with both TEPCO and the government, for not keeping people more informed about the situation in general, ever since the crisis began. He says it took 11 days for the government to even speak to local officials about the nuclear accident, and they have never conveyed any clear, understandable information, only vague and nebulous technobabble assuring them of "no serious risk".
In the village of Tsushima, outside the 30km voluntary evacuation zone, contamination levels of up to 47 microSieverts per hour were recorded, compared to the 32.7 reported by authorities,
At such levels, residents receive a full year's dose of radiation in under 24 hours.
Since March 10, Greenpeace has been urging the government to extend the evacuation zones, increase it's monitoring, and provide more public health information and protection, especially for infants and pregnant women surrounding the area.
This input has seemingly been ignored, even after the US government ordered it's own troops and other personnel in Japan to move further away from the nukes.
Greenpeace has further questioned what little info has been released by the government:
The government has reported monitoring information on the external radioactive dose rates measured at different locations. However, people are also exposed to risks of internal radiation exposure by inhalation and ingestion of radioactive particles. What information does the government have on the total radiation dose for the population? Further, what air contamination monitoring data does the government have?

Yesterday, there was a dkos diary by a nuclear power advocate, asserting that the disaster in Fukushima is "proof" that nukes are safe, because, by his calculations, "only" about 500 people are likely to die from the radiation, far less, he says, than might be expected from coal-fired plant pollution.
(As If any of us are advocating coal, as an "alternative" to nukes)
The diary, titled "Bottom Line", in terms of casualties, takes a rather callous bean-counter's approach, equating deaths and cancers to an "objective" cost/benefit budget analysis.
He backs up his assertions about dosages received, and the effects, with a lot of technical data indecipherable to the lay person, supposedly "proving" the veracity of his claims, and in closing seeks to preempt any critique of his "findings" as craven subjective sensationalism.
Out of well over 100 comments to that diary, only 7 rec'd it, all the same individuals who consistently post pro-nuke diaries and comments, including some of the rudest, most subjective and abusive participants on dkos, sounding exactly like what you'd expect to hear from a paid Chamber of Commerce hack, slagging environmentalists with ad hominem, including accusing people of "wanting to see more deaths" to validate opposition to nukes.
For the geeky tech wonks, the Union of Concerned Scientists offers some alternative perspectives on these issues, with their report on the effects of Chernobyl, indicating that far beyond "official" estimates of 4,000 cancer deaths from that 1986 disaster, a more reasonable estimate would be 34,000 and 70,000, in terms of cancer deaths and excess cancers.
A UN report that UCS cites, "confirms" the 4,000 deaths "officially" estimated among those in the immediate area of Chernobyl, but seeks to dismiss the wider range of "low" dose contamination across portions of northern Europe, stating:
Among the 5 million persons residing in other 'contaminated' areas, the doses are much lower and any projected increases are more speculative, but are expected to make a difference of less than one per cent in cancer mortality.

UCS, however extrapolates that date further, for a more "sensationalist" (objective and accurate) analysis:
Roughly 20% of people die of cancer, so we would expect a million fatal cancers in a population of 5 million. A one percent increase would translate into 10,000 additional cancer deaths, so according to this report, there would be fewer than 10,000 excess cancer deaths among those in the contaminated areas.

These deaths would be in addition to the 4,000 fatal cancers among evacuees, liquidators (clean-up workers), and those in the most contaminated areas.

Because of this report, people frequently cite "4,000" as the number of eventual excess cancer fatalities. However, by limiting its analysis to people with the greatest exposure to released radiation, the report seriously underestimates the number of cancers and cancer deaths attributable to Chernobyl.

The effects of the radiation were not limited to the "contaminated" areas but would be felt in Europe and beyond.

The current understanding of the relationship of cancer to radiation is that the risk of cancer increases linearly with dose and that there is no safe amount of radiation. This understanding is represented by the "Linear No-Threshold" (LNT) model of cancer.

Keep in mind, Fukushima has 6 nukes, rather than the one at Chernobyl, and 20-30 times as much nuclear fuels, over 100 tons.
And it's not over yet.
How Many Chernobyl Cancers and Deaths?
The Linear No-Threshold model, which is "controversial" and "unproven", according to the Defense Department and nuclear industry, is nevertheless recognized by most scientists, and basically poses that there is no "safe" level of "low" radiation:
...risk is directly proportional to the dose at all dose levels. In other words, the sum of several very small exposures have the same effect as one larger exposure. The LNT model therefore predicts higher risks than the threshold model, which assumes that very small exposures are negligible.

The LNT model for radiation damage may be too conservative according to recent work showing that there was a larger than expected reduction in IQ at very low doses from the fallout from Chernobyl, in children who were then fetuses of between 8 and 25 weeks gestation.[6] Neurological damage has a different biology than cancer, and for cancer rates there are conflicting studies.
Interesting to note, that some scientists are claiming that very low doses of radiation, above natural background level, but below a toxic level, can actually trigger beneficial biological response, to improve immunity to radiation, cancer and disease. This is called hormesis.
While it appears there may be some (laboratory, only) evidence that this may be conceivably possible, to some extent, it has not been embraced by the scientific community, which prefers the LNT model for practical applications, pending further, much more definitive research and evidence.
More interesting to note, one of our resident nuke advocates was recently pimping hormesis concepts in a diary, as "proven" fact, which it is not, by a long shot.
Consensus reports by the United States National Research Council and the National Council on Radiation Protection and Measurements and the United Nations Scientific Committee on the Effects of Atomic Radiation (UNSCEAR) have upheld that insufficient human data on radiation hormesis exists to supplant the Linear no-threshold model (LNT). Therefore, the LNT continues to be the model generally used by regulatory agencies for human radiation exposure.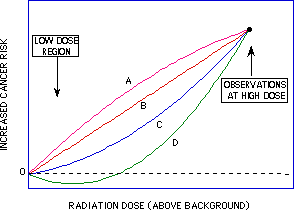 This graph purports to show negative effects of low-dose radiation, calculated by different statistical methods. While a downward bump is shown at the very low levels (indicating postive effects?), please note that the negative effects still rise precipitously, after that...and it's not clear exactly what actual low dose radiation levels are represented there. These "findings" were gleaned from lab studies with petri dishes and microbes, as I understand it, and have not been tested nor confirmed with humans or animals.
For info and updates on Fukushima, and a lot of other interesting stuff, check out the Union of Concerned Scientists home page:
There, you will also find a link to their "bottom line" analysis on nuclear power, which, personally, I tend to concur with:
.
..the Union of Concerned Scientists contends that:

1. Prudence dictates that we develop as many options to reduce global warming emissions as possible, and begin by deploying those that achieve the largest reductions most quickly and with the lowest costs and risk. Nuclear power today does not meet these criteria.

2. Nuclear power is not the silver bullet for "solving" the global warming problem. Many other technologies will be needed to address global warming even if a major expansion of nuclear power were to occur.

4. A major expansion of nuclear power in the United States is not feasible in the near term. Even under an ambitious deployment scenario, new plants could not make a substantial contribution to reducing U.S. global warming emissions for at least two decades.

5. Until long-standing problems regarding the security of nuclear plants—from accidents and acts of terrorism—are fixed, the potential of nuclear power to play a significant role in addressing global warming will be held hostage to the industry's worst performers.

6. An expansion of nuclear power under effective regulations and an appropriate level of oversight should be considered as a longer-term option if other climate-neutral means for producing electricity prove inadequate. Nuclear energy research and development (R&D) should therefore continue, with a focus on enhancing safety, security, and waste disposal.

Personally, I think we should take R&D for nuclear power off-planet, until we can figure out how to really make it "safe".
See my previous diary on this topic:
Also, see my first diary on Fukushima, which was one of the first on this topic to be posted on dkos:
(please note the many naysayers in Comments there, so adamantly insisting that it was "impossible" for a meltdown to occur at Fukushima)