I was honestly surprised to see that no one else had written about this, as 10,000 people on the capitol lawn in downtown Lansing qualifies as the biggest group of people ever to assemble outside the capitol (according to rally officials) in Michigan history.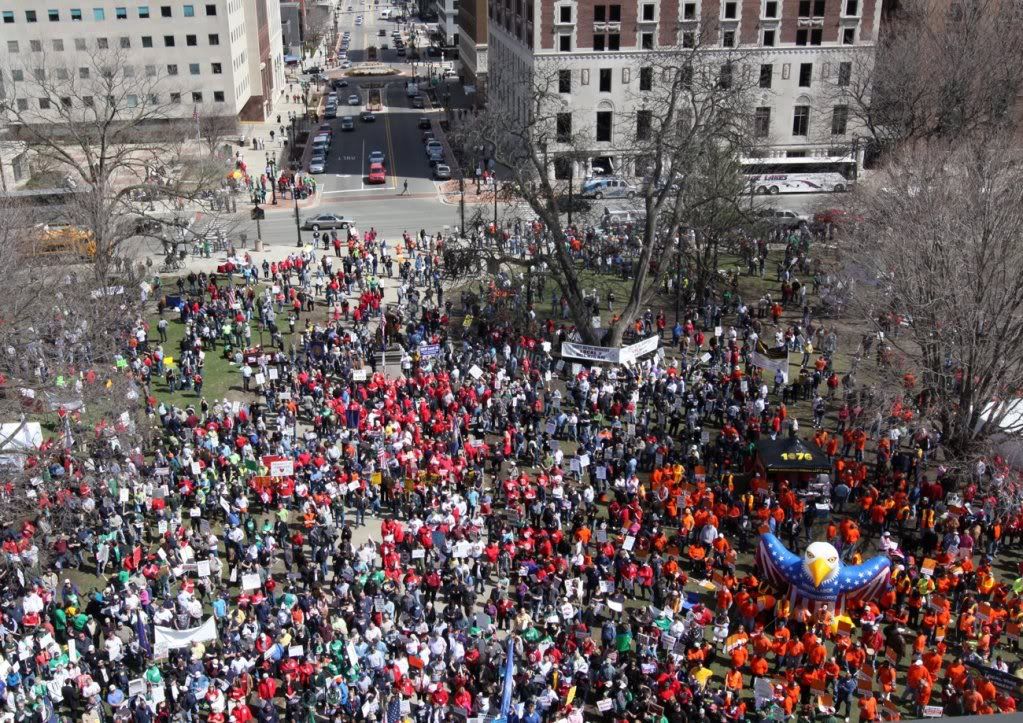 As a female, a mother, a dyed-in-the-wool Democrat, a state of Michigan worker, a lifelong union member and an environmental activist, I had more than one reason to stand with my fellow citizens in Lansing yesterday. Everyone was there to stand up to Michigan's newly-elected Republican governor, Rick Snyder, and the legislative and fiscal crises that he and his fellow Republicans in the legislature have, or are trying to, rain down upon us in the form of a budget with millions cut from public school funding, city and township revenue sharing, retiree pensions, and social assistance programs. These things wouldn't be quite so hard to stomach if Snyder wasn't also intent upon giving his corporate fatcat friends approximately the same amount in tax cuts for businesses.
I took (most of) the day off work and joined a good friend of mine to ride one of the 8 buses provided by UAW Region 1-C from the Flint area. I also made two new friends on the trip, Trudy and Nadine. My local union folks were awesome! Not only did they welcome my friend and I with open arms, they provided for us just as if we were members of their local, with a sack lunch and a US-made union windbreaker. (My UAW local is #6000, out of Lansing, so it's not really 'local' to me in Flint, and my friend is a retired math teacher who currently works part-time substitute teaching.)
While I was there only from about 2 to 6 pm, I was privileged to listen to some awesome speakers from all over Michigan, and few from outside Michigan, who came specifically to speak to us. Among them, Ann Woiwode, the supreme mother goddess of the Michigan Chapter of the Sierra Club, and Virg Bernero, the mayor of Lansing, and former democratic gubernatorial candidate who ran against Snyder in the November election.
From what I understand, there were different groups arriving and departing throughout the day. The citizens there were diverse: There were young moms there with small children, and there were many retirees (some in wheelchairs, or using canes) a few college students, and many middle-aged folks like me who are still working (if they still have a job.)
And almost everyone had a sign. Some carried signs provided by the AFL-CIO, or the UAW or AFSCME or the MEA, but most were home-made, by workers' hands. A friend of mine, a small-town mayor, said he saw a young child of about 6 carrying a sign that said, "Future serf for Snyder." Another attendee walked by in a grim reaper costume with a sign stating, "Michigan after Snyder."
If you were at the rally, please share your experiences.
_______________________
Note: Thanks to fellow dkos members for your help with the photo!