Keith is outraged that four out of ten Americans actually believe that our Civil War was not fought over the abolition of slavery.
Of course the Civil War wasn't about slavery. It was a fight over which color was better: Blue or Gray.

The new polling this week tells a terrible story of historical revisionism, rationalization, and lousy education. 42 percent of this country says that slavery was not the main cause of secession nor of the Civil War.
The
Fok News DKOS Group
publishes a diary summary of Keith's opinion blog
Fok News
.
Keith finds our nation less than honest about the causes of our "Greatest American Tragedy"
four out of ten Americans are willing to lie about its cause.



That's right: Lie. Because if you believe slavery was not the main cause of the Civil War, you are either lying, or mentally impaired, or a grammar school dropout. There are no other choices.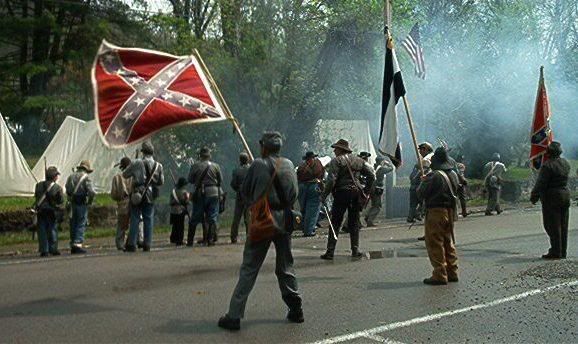 Keith substantiates the southern fear of abolition with historical documentation. William Henry Gist was the governor of South Carolina in 1860 and a influential politician of his time. On the eve of the Civil War, Gist proposed laws that would...

reopen the African slave trade, officially declare white men the ruling race, and punish "summarily and severely, if not with death" any person caught espousing abolitionist views.
The argument that the South went to war for a more noble cause is a lie.

There is no gray area about why the Civil War started. None. The south seceded to protect and maintain slavery – period. They would not have seceded over a federal tax on Sorghum. This is not a debate, this is not a nuance, this is not an interpretation. To maintain otherwise is, in fact, to strip whatever dignity remains for traitors like Governor William Henry Gist and President Jefferson Davis and the others.

At least when they spat on this nation, when they took up arms against their own country and spilled the blood of those carrying our flag, they told the truth about why they were doing so.Their descendants are without facts, without dignity, and most importantly – without honor.