This is another clearinghouse diary for discussion and commentary about the ongoing nuclear disaster(s) in Japan. For updated information on news and a timeline of the events following the March 11 Japanese Earthquake, visit the Mothership. The Mothership is updated regularly and also provides a more extensive list of news and data sources, social media, crisis mapping and other relevant information.
If you would like to recommend this diary feel free to do so. All previous liveblogs published to the Japan Nuclear Incident group can be found here. The group also serves as an archive for Coverage@Kos. (For more details on this ongoing 24/7 breaking news resource and information on how to follow this @ Kos, please read below the fold.)
TEPCO Press Release of Roadmap
(Apr 17,2011)Roadmap towards Restoration from the Accident at Fukushima Daiichi Nuclear Power Station
With regard to the accident at Fukushima Daiichi Nuclear Power Station due to the Tohoku-Chihou-Taiheiyo-Oki Earthquake occurred on Friday, March 11th, 2011, we are currently making our utmost effort to bring the situation under control. This announcement is to notify the roadmap that we have put together towards restoration from the accident.
TEPCO one page summary
Roadmap towards Restoration from the Accident at Fukushima Daiichi Nuclear Power Station 1 (PDF 112KB)
1. Basic Policy
By bringing the reactors and spent fuel pools to a stable cooling condition and mitigating the release of radioactive materials, we will make every effort to enable evacuees to return to their homes and for all citizens to be able to secure a sound life.

2. Targets
Based on the basic policy, the following two steps are set as targets:
Step 1: Radiation dose is in steady decline.
Step 2: Release of radioactive materials is under control and radiation dose is being significantly held down.
(Note) Issues after Step 2 will be categorized as Mid-term Issues"

Target achievement dates are tentatively set as follows, although there will still be various uncertainties and risks:
Step 1: around 3 months
Step 2: around 3 to 6 months (after achieving Step 1)
TEPCO details with numbered Countermeasures and Risks
Roadmap towards Restoration from the Accident at Fukushima Daiichi Nuclear Power Station 2 (PDF 108KB)
TEPCO workflow chart
Roadmap for Immediate Actions (Issues / Targets / Major Countermeasures) (PDF 36.8KB)
TEPCO diagram of power station with labeled countermeasures
Overview of Major Countermeasures in the Power Station (PDF 59.3KB)
Updated JNI Combined Services Newsfeed (Friday, 4/15/11 JST) 500 workers still trying to cool temps @ No. 1 ... USDOE sending five large stainless steel tanks to store contaminated radioactive materials ... Groundwater radiation level at nuke plant rises ... Search crew engaged in 10 day search for bodies within 10K from Fukushima … Reactors are a "ticking time bomb" ... TEPCO considers plan to remove spent fuel rods from crippled Fukushima plant ... Temps @ Reactor #4 spent fuel pool @ 90° C ... Fukushima workers were urged to bank stem cells
UPDATED NEWSFEED ...11:20 AM JST 4/14/11 Another 6.1 undersea quake just 7 miles deep east of Morioka on Honshu Island ... Mo tsunami orders issued... Water @ No. 4 spent fuel pool rises to 90 degrees ... Some spent fuel rods @No. 4 damaged ...Radiation levels in seawater decrease ... Sendai Airport reopens … Region near nuclear plant has history of tsunamis dating back to 1100 years ... Fishing boats are now being cleared away and repaired…. Concrete factory owner hastens to reopen to assist in rebuilding efforts… Young woman returns to mother's home to find a sole yellow narcissus blooming from underneath the rubble ...
Nikkei Shinbun video of #4 Spent Fuel Pool sampling h/t procrastinator john
A longer version TBS News YouTube video which jlynne found and procrastinator john translated

The images were taken on the 14th and released by TEPCO. They are images of unit 4. At about 0:16 it shows a label in red that says this is the spent fuel pool. The expert who appears at 0:30 is Kudo Kazuhiko, a professor at the University of Kyushu. He says he believes the yellow object is the reactor containment vessel (0:35 or so), and that it is not surprising to see the top of the vessel has been removed because they were doing maintenance work on it at the time (0:50-0:59). At around 1:13 you can see the small container that they dipped into the pool. Around 1:20 a woman says "It looks like steam," and he explains that the water is near the boiling point and (1:25) the water is murky so it is not possible to see what condition the fuel is in. Asked his impression of the condition of unit 4 he explains (1:43- ) that even though the exterior of the building is nearly destroyed it is amazing to see that the fuel mover thingy (okay, the Fuel Handling Machine) looks almost undamaged
.
Update: The first image they show, of the outside of the building, was taken on the April 14th, then when they switch to a view of the inside, the date changes to the 12th. It changes back and forth a few times. So some of the video came from the 14th, but the video of the interior was from the 12th. TEPCO sampled the water in the SFP on the 12th. pj
TEPCO Press Release with Nuclide analysis of water sample taken from Spent Fuel Pool #4.
TEPCO Press Release
(Apr 14,2011)The result of the analysis of the water in the spent fuel pool of Unit 4 of Fukushima Daiichi Nuclear Power Station
PDF Exhibit
The result of the analysis of the water in the spent fuel pool of Unit 4 of Fukushima Daiichi Nuclear Power Station(PDF 8.85KB)
Table from TEPCO Press Release
Exhibit
The result of the analysis of the water in the spent fuel pool of Unit 4 of
Fukushima Daiichi Nuclear Power Station
-Date of collection: April 12th, 2011
-Date of analysis: April 13th, 2011
The result of the analysis

| Mainly detected nuclides | [half-life] | Density (Bq/cm3) |
| --- | --- | --- |
| Cesium 134 | Approx. 2years | 88 |
| Cesium 137 | Approx. 30years | 93 |
| Iodine 131 | Approx. 8 days | 220 |
*Reference: the result of a nuclide analysis of the water in the spent fuel pool of
Unit4 conducted on March 4
th
2011
| Mainly detected nuclides | [half-life] | Density (Bq/cm3) |
| --- | --- | --- |
| Cesium 134 | Approx. 2years | Below detection limit |
| Cesium 137 | Approx. 30years | 0.13 |
| Iodine 131 | Approx. 8 days | Below detection limit |
-Related date to the collection
The temperature of the water in the pool: Approx. 90°C
The airborne radiation around the pool:
tens of mSv per hour※
※Although it was valued "Approx. 84 mSv" on April 13, 2011, that
value was turned out an accumulated value, not an instantaneous
value. The value will be reanalyzed, accordingly.
NHK World - Reactor makers draft 10-year decommission plan h/t ricklewsive
Japanese manufacturer Toshiba, which helped build the Fukushima Daiichi plant's now crippled nuclear reactors, says decommissioning them will take at least 10 years.
...
The proposal is divided into 3 phases. The short-term plan, likely to take several months, involves cooling and stabilizing reactors and spent fuel pools, while preventing radioactive water from increasing.
Toshiba will then move toward the medium-term plan, involving the safe removal of nuclear fuel rods from the pools and pressure vessels, using special cranes to be set up near the reactor buildings. Toshiba says this work will take 5 years.

The final phase, dismantling the reactors and clearing the land, will take another 5 years. Toshiba says that radioactive substances released in the process must be removed during this phase.
Thursday, April 14, 2011 21:41 +0900 (JST)
Fukushima Reactors Are a "Ticking Time Bomb," Japanese Govt in Denial h/t rickelswise

Scientist Michio Kaku: When we hear "that things are stable, it's only stable in the sense that you're dangling from a cliff hanging by your fingernails."
Removing highly toxic water remains difficult task at nuke plant

TOKYO, April 14, Kyodo
The government's nuclear safety agency on Thursday continued to grapple with pools of highly radioactive water at the crisis-hit Fukushima Daiichi nuclear power plant, as the level of polluted water filling an underground trench edged up again after it finished pumping out around 660 tons of water.
The removal of around 60,000 tons of contaminated water from the basements of the Nos. 1 to 3 reactor turbine buildings as well as trenches connected to them is vital because the water is hampering work to restore the cooling functions of the reactors lost since the March 11 earthquake and ensuing tsunami.

(5:20 AM JSL 4.14.11) ... Radiation levels in seawater off Fukushima highest since monitoring began 3 weeks ago … Temporary home visits possible for evacuees 20 kilometers out …. Flawed earthquake predictions gave Fukushima a false sense of security …. Geiger counters are probably ineffective for consumers in detecting hazardous levels of radiation in food and water at home … Excessive radioactive cesium found in fish caught off Fukushima ...Edano: former government officials taking senior posts at Tokyo Electric Power Co. ''socially unacceptable.'' (see stories from research links below)
Kyodo News - Groundwater radiation level at nuke plant rises: TEPCO
TOKYO, April 15, Kyodo
According to the latest findings, a groundwater sample taken April 6 near the No. 1 reactor turbine building showed radioactive iodine-131 of 72 becquerels per cubic meter, with the concentration level growing to 400 becquerels as of Wednesday. The concentration level of cesium-134 increased from 1.4 becquerels to 53 becquerels.
...
TEPCO pumped out around 660 tons of highly radioactive water Tuesday and Wednesday from one of the trenches to a ''condenser'' inside the nearby No. 2 reactor turbine building, where during normal operation steam from the reactor is converted into water.

But the Nuclear and Industrial Safety Agency said the water level in the vertical part of the trench as of 11 a.m. Thursday had increased by about 4.5 centimeters from the level observed at 6 p.m. Wednesday
.
asahi.com - TEPCO considers plan to remove spent fuel rods from crippled Fukushima plant h/t procrastinator john
2011/04/14
Officials of Tokyo Electric Power Co., the operator of the crippled Fukushima No. 1 nuclear power plant, are considering a plan to remove spent fuel rods from storage pools at its reactors, sources said.
...
Sources said TEPCO officials were using the experience of the Three Mile Island nuclear accident in the United States in 1979 as a model. At Three Mile Island, melted fuel rods in the reactor core could not be removed using ordinary procedures and had to be shifted in small batches. Cranes were operated by remote control to reduce exposure to radiation among the workers.

The U.S. company that developed the remote-control technology and handled the processing of fuel rods at Three Mile Island is now part of the Toshiba Corp. group. TEPCO officials are considering drawing on that expertise.
procrastinator john found this drawing of crane over reactor building from Asahi Shinbun.
Overview of events - April 12-13 JST Elevation to Level 7 Event
... 5.4 quake off coast … in first minutes post 3/11 quake Tepco workers connected car batteries to instruments to read data … Tepco to pay evacuees emergency funds ... ... Workers have started the process of removing highly radioactive water in the plant ... Experts urge external cooling system.. No abnormalities in pumping or power for Fukushima post 6.3 quake ... More than 150,000 people have been displaced ... Images of evacuation zone ... (Update 12:10 PM 04 13 11 JNI Combined Sources)
Japan yesterday elevated the ongoing disaster at the Fukushima Nuclear Reactor site from a Level 5 to Level 7, the highest level incident. This established Fukushima as the most serious nuclear event since Chernobyl. Although the amount of radiation released by the Fukishima meltdowns is not as high, the ongoing release of radioactivity from the four reactors elevates the crisis. In yesterday's news conference, officials announced that 10,000 Terabequerels per hour of radiation were emitting from the plant for a period of hours.
According to the International Atomic Energy Agency, a level seven incident is characterized by a major release of radiation with widespread health and environmental effects. A five-rated event is a limited release of radioactive material, with several deaths from radiation. The scale is designed so the severity of an event is about 10 times greater for each increase in level.
"The difference between Chernobyl and Fukushima is this - Chernobyl had a massive explosion and spread a large radioactive cloud over much of Europe very quickly and it looks as though the Fukushima incident is not going to do that, although there is some in the atmosphere that has been released." NISA spokesman, Hidehiko Nishiyama

Radiation In Japan April 12
High radiation levels in sea off Fukushima coast
The science ministry says radiation levels in seawater off the coast of Fukushima Prefecture are the highest since it began monitoring them about 3 weeks ago.

The ministry says the level of iodine-131 was 88.5 becquerels per liter in a sample taken on Monday in the sea about 30 kilometers east of the Fukushima Daiichi nuclear plant. The figure is 2.2 times the government's upper limit for wastewater from nuclear facilities.

Japan's northeast suffered many large past tsunamis
(Reuters) - Japan's battered northeastern coast suffered many large tsunamis in the past and nuclear power stations there should have been built to withstand these huge walls of water, a scientist said on Thursday.
In a commentary in the journal Nature, geophysics professor Robert Geller singled out two tsunamis -- the 38-meter Sanriku tsunami of 1896 that killed 22,000, and the Jogan tsunami of 869 that was comparable in size to the March 11 disaster -- which pummeled the very same Tohoku region in the northeast.
"There were very many documented large tsunamis in that area but the point is ... even one would have been enough to warrant precaution in designing nuclear power plants," Geller, of the Graduate School of Science at the University of Tokyo, said in a telephone interview.
Nuclear-Affected Residents To Get Tepco Cash Soon: METI Chief h/t peraspera
Wednesday, April 13, 2011
TOKYO (Nikkei)--The government plans to have Tokyo Electric Power Co. distribute emergency funds as soon as possible to those forced to evacuate their homes following the nuclear plant crisis, Minister of Economy, Trade and Industry Banri Kaieda told a news conference Tuesday.
"Many people were forced to flee without packing any possessions," Kaieda said. A government office charged with nuclear-crisis compensation will soon approve the disbursement at its inaugural meeting, according to Kaieda.
The government will then notify Tokyo Electric, known as Tepco. Payments are expected to reach 1 million yen [$11,812] a household, with a total around 50 billion yen [$590.6 million].
The Japan Times
"The leakage (from the reactors) has to be stopped. Leaking means the water inside the reactors is decreasing. So the water has to be replenished, and then it leaks again. This cycle has to be stopped," said Hisashi Ninokata, professor of nuclear reactor engineering at the Tokyo Institute of Technology.
...
Some experts, including Ninokata, have started floating the idea of temporarily building a brand new external cooling system for the reactors, given the daunting task of removing the deadly water in the building housing the RHRS. http://search.japantimes.co.jp/...
Experts urge external cooling system
Discussion and analysis among JNI team on Readings around the Dai-chi plant for Apr 9
h/t middleagedhousewife

Yes, that is the latest we have for several spots at the plant.
These readings are taken from various locations around the plant, starting with the northern most point near the ocean, continuing counterclockwise around the perimeter to the southern most point near the ocean (the MPs and gate readings). There are also some readings from within the plant. The distance from reactor 2 to the main gate is ~ 1 km, and to the gym is ~ 0.5 km. Data are taken from http://www.nisa.meti.go.jp/.... the same place as the readings for the various power plants I listed previously. Given the differences in reported figures, I'm not sure where the reading listed in the table I posted previously for this plant are taken from.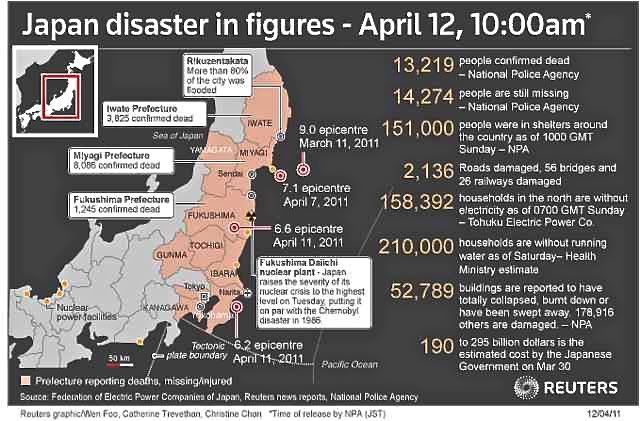 Higher resolution version of image
Sinister seven: what Japan's new nuclear crisis rating means h/t mahakali overdrive
Today's Choices: Best MSM Overviews
BBC NEWS: Fukushima: What happened - and what needs to be done
WHAT WENT WRONG: Fukushima flashback a month after crisis started
SPRING ACTIONS FOR A NUCLEAR FREE WORLD
Coverage @ Kos 4/9-4/14
FOoW: Radiactivity Increases in Fukushima Water, TEPCO is out of Storage Tanks on 4/14
joieau: Happy Talk from Reuters: How does Fukushima differ from Chernobyl?+
Citisven: German Town Shows How to Achieve Nuclear Free Future
HoundDog: Japan Will Raise the Fukushima Nuclear Accident Rating to Level 7 on 4/11 (PLS READ: REC LIST as of 11:05 PST)
GlowNZ: One Month
Finehelen10: Uranium Conference Adds Discussion of Japan Accident
Radical def:Fukushima: Greenpeace Urges Wider Evacuation Zone
Nathguy: Fukushima: The Failure was Deliberate indifference and the NRC knew and Lied.
Rock Strongo: Heartbreaking Video from Japan Nuclear Evacuation Zone
Please visit Months to cool Fukushima reactors, 10 years to decommission - Toshiba draft: ROV 48 for news, discussion and analysis of events prior to breaking news on 15-16 April JST.

Regularly Updated Data Sources
@Kos: A database of temperature, pressure, radiation levels, etc readings over time can be found in: The Daiichi Database This is an evolving diary that will be updated regularly.
• Japanese Atomic Industrial Forum (JAIF)
• RSOS Emergency & Disaster information Services - Japan
• Daily Telephone Media Briefings from Union of Concerned Scientists
• Energy.gov: The Situation in Japan
• EPA RadNet Map View & EPA's Radiation Air Monitoring
Scribble Live
• Fukushima Data Page: Data for all 3 reactors, as well as a good chunk of data over time: pressure, water flow, core nozzle temp, core bottom temp
• Japan Municipal Water Charts (in Japanese)
• Google Crisis Response Page

*New background source:Fleep: Graphing Earthquake, Radiation and Water Data in Japan 3/11 through 4/9

The Radiation Graphs are made from data from monitoring posts setup by the Prefectural Offices, TEPCO and NISA. I am focusing on these as they are only in Japanese and provide a different view on the MEXT Radiation Data that everyone else is graphing. Please note that the graphs do have different scales depending on the data. All Radiation readings are converted to μSv/h for consistency. 3/11 through 4/9
Best News Sources

Kyodo Nuclear News Feed
GreenAction Fukushima Update
NHK Japan Live
OilDrum: Fukushima Open Thread - Tue 3/29
Asahi on Facebook
Reuters
Fukushima Wikispaces
Fukushima Wikispaces Tweet Feeds AND Fukushima Wikispaces News roundup
Google Earth Engine (download required): Radiation Over Japan. Visit Pachube for mapping.
WHO situation reports
METI Twitter Feed
Rules of the Road

Given the seriousness of this situation, please use this diary for posting information DIRECTLY Related to coverage of the developing news!

The"ROV" (a Remote Operating Vehicle) is a 'child diary' for liveblog coverage of major breaking news stories. (The term was borrowed from the Gulf Watchers coverage of the Deep Water Horizon crisis.)
To continue following and participating in the breaking coverage in Japan Nuclear Incidents series, click here and then click the heart icon underneath the profile picture to the Right. This will bring these diaries directly into your personal "stream."
Due to extensive coverage, Coverage@KOS is including diaries covering two-day periods. All coverage is then archived to the group page.
You can assist us in including relevant diaries by providing links to any postings we may have missed to insure they are included in this coverage. Also, note below if diaries are being reposted to other groups so we can direct readers there as well.
Please be kind to kossacks with bandwidth issues. Please do not post images or videos. Again, many thanks for this.
Remember when posting to the thread: STICK TO THE FACTS. Source and link all new information. (This includes insuring authenticity of twitter sources.) Both the Mothership and the ROVs are for reporting and discussing the developing news. Neither space is for opinions or for editorializing on the subject of nuclear energy.