Monday, marvelous Monday is here one more time. Now is the time to gather around and take a well deserved hiatus from the politics of the day. Science talk is here. New discoveries, new takes on old knowledge, and other bits of news are all available for the perusing in today's information world. Over the fold are selections from the past week from a few of the many excellent science news sites around the world. Today's tidbits include two-faced nanocatalysts could be a boon to green energy, ink with tin nanoparticles could print future circuit boards, some dinosaurs were nocturnal, US meat and poultry widely contaminated with antibiotic resistant staph, good news for gorillas in war torn Congo, Europe's wildlife under threat from nitrogen, and algae could replace 17% of US oil imorts. Gather yourselves around. Pull up that comfy chair and sit by the fire. There is plenty of room for everyone. Get ready for one more session of Dr. Possum's science education and entertainment.
Featured Stories
High performance catalysts are a part of the ongoing search for means to produce green energy.
Catalysts – substances that speed up the rates of chemical reactions without themselves being chemically changed – are used to initiate virtually every industrial manufacturing process that involves chemistry. Metal catalysts have been the traditional workhorses, but in recent years, with the advent of nano-sized catalysts, metal,oxide and their interface have surged in importance.

(snip)

Studies in recent years have shown that for nanocrystals, the size and shape – specifically surface faceting with well-defined atomic arrangements – can have an enormous impact on catalytic properties. This makes it easier to optimize nanocrystal catalysts for activity and selectivity than bulk-sized catalysts. Shape- and size-controlled metal oxide nanocrystal catalysts have shown particular promise.
The production of printed circuit boards for electronics today most always involves a complex, multi-step process. Inkjet printing is already used for a variety of electronic purposes and now may be on the drawing board for printed circuits.
Recently, several studies have investigated different materials, such as polymers, carbon nanotubes, and metal nanoparticles, which could be used for the conductive ink. Although polymers and carbon nanotubes have advantages for printing on flexible displays, their conductivity is too low for them to be used for conductive ink materials. Metal nanoparticles have higher conductivity, and so are more suitable for conductive ink materials.

(snip)

By adding the tin nanoparticles to an ink solution, the researchers printed patterns of highly conductive ink from an inkjet printer. As the first demonstration of inkjet printing with tin nanoparticles, the results show that the new technique looks promising for printing various electronic devices that require conductive patterns.
Big plant-eating dinosaurs browsed around the clock, according to a new study of the eyes of fossil animals.
Dinosaurs, lizards and birds all have a bony ring called the "scleral ring" in their eye, a structure that is lacking in mammals and crocodiles. Schmitz and Motani measured the inner and outer dimensions of this ring, plus the size of the eye socket, in 33 fossils of dinosaurs, ancestral birds and pterosaurs. They took the same measurements in 164 living species.

Day-active, or diurnal, animals have a small opening in the middle of the ring. In nocturnal animals, the opening is much larger. Cathemeral animals -- active both day and night -- tend to be in between.

The size of these features is affected by a species' environment (ecology) as well as by ancestry (phylogeny). For example, two closely related animals might have a similar eye shape even though one is active by day and the other by night: The shape of the eye is constrained by ancestry.
Despite controls and inspections a recent study found widespread contamination of US meat and poultry.
Nearly half of the meat and poultry samples — 47 percent — were contaminated with S. aureus, and more than half of those bacteria — 52 percent — were resistant to at least three classes of antibiotics, according to the study published today in the journal Clinical Infectious Diseases.

This is the first national assessment of antibiotic resistant S. aureus in the U.S. food supply. And, DNA testing suggests that the food animals themselves were the major source of contamination.

Although Staph should be killed with proper cooking, it may still pose a risk to consumers through improper food handling and cross-contamination in the kitchen.

Despite ongoing strife with war in the Democratic Republic of Congo gorilla populations are maintaining or even increasing their numbers.
Despite years of violence and political instability that have taken a toll on many of the West African country's human and animal residents, the gorillas are growing in number.

WCS researchers recently censused the Grauer's population in Kahuzi-Biega National Park. Last surveyed in 2004, the population stood at 168 individuals. Now, there are 181. It's a small but significant triumph for a population numbering fewer than 4,000 individuals in total.
Aerial nitrogen pollution is above sustainable levels in more than 60 percent of EU major wildlife sites.
There is evidence of impacts on semi-natural grasslands, heathlands and forests across Europe. This threat is set to continue unless there is further action on emissions of polluting nitrogen gases.

The study calls for a unified methodology of assessing the impact of aerial nitrogen pollution across Europe to help in efforts to safeguard significant conservation sites.
According to a recent report choosing where to grow algae may reduce water usage and help meet mandated energy requirements.
The researchers found that 21 billion gallons of algal oil, equal to the 2022 advanced biofuels goal set out by the Energy Independence and Security Act, can be produced with American-grown algae. That's 17 percent of the petroleum that the U.S. imported in 2008 for transportation fuels, and it could be grown on land roughly the size of South Carolina. But the authors also found that 350 gallons of water per gallon of oil — or a quarter of what the country currently uses for irrigated agriculture — would be needed to produce that much algal biofuel.

The study also showed that up to 48 percent of the current transportation oil imports could be replaced with algae, though that higher production level would require significantly more water and land. So the authors focused their research on the U.S. regions that would use less water to grow algae, those with the nation's sunniest and most humid climates.

(snip)

Looking beyond freshwater, the authors noted algae has several advantages over other biofuel sources. For example, algae can produce more than 80 times more oil than corn per hectare a year. And unlike corn and soybeans, algae aren't a widespread food source that many people depend on for nutrition. As carbon dioxide-consuming organisms, algae are considered a carbon-neutral energy source. Algae can feed off carbon emissions from power plants, delaying the emissions' entry into the atmosphere. Algae also digest nitrogen and phosphorous, which are common water pollutants. That means algae can also grow in — and clean — municipal waste water.
Other Worthy Stories of the Week
Antarctic penguins run low on food
Ancient elephant cut plants with shovel tusks
First galaxies were born much earlier than expected
Ancient corals provide insight into the future of Caribbean reefs
Fracking controversy: Using water, sand, and chemicals to extract natural gas from shale
Antibiotic resistance spreads rapidly between bacteria
7 Science education battlegrounds in 2011
Thousands of shuttle workers losing jobs
Drugs in space may need special handling
Titan-like exoplantes
Africa the birthplace of human language?
Sunspots finally return
Antimatter gravity could explain universe's expansion
Quantum teleporter breakthrough
The most massive distant object known
Human rules may determine environmental tipping points
For even more science news:
General Science Collectors:
Alpha-Galileo
BBC News Science and Environment
Eureka Science News
LiveScience
New Scientist
PhysOrg.com
SciDev.net
Science/AAAS
Science Alert
Science Centric
Science Daily
Scientific American
Space Daily
Blogs:
A Few Things Ill Considered Techie and Science News
Cantauri Dreams space exploration
Coctail Party Physics Physics with a twist.
Deep Sea News marine biology
Laelaps more vertebrate paleontology
List of Geoscience Blogs
ScienceBlogs
Space Review
Techonology Review
Tetrapod Zoologyvertebrate paleontology
Science Insider
Scientific Blogging.
Space.com
Wired News
Science RSS Feed: Medworm
The Skeptics Guide to the Universe--a combination of hard science and debunking crap
At Daily Kos:
This Week in Science by DarkSyde
Overnight News Digest:Science Saturday by Neon Vincent. OND tech Thursday by rfall.
Pique the Geek by Translator Sunday evenings about 9 Eastern time
All diaries with the DK GreenRoots Tag.
All diaries with the eKos Tag
A More Ancient World by matching mole
Astro Kos
SciTech at Dkos.
NASA picture of the day. For more see the NASA image gallery or the Astronomy Picture of the Day Archive.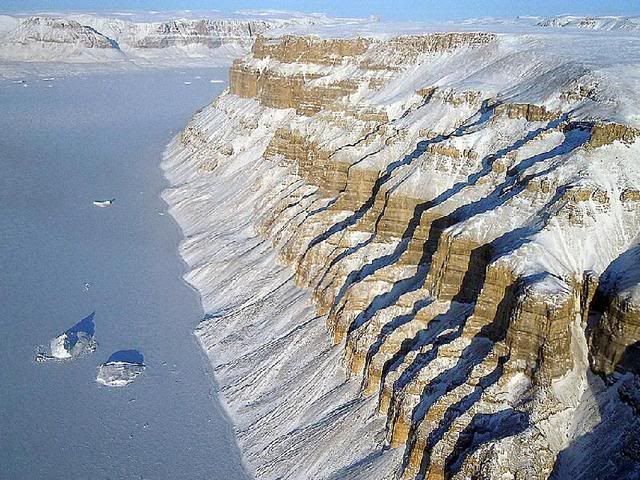 Northwest Greenland Canyons, NASA, Public Domain