Lucky lucky me. My husband and our great friend (and fly fisherman extraordinaire) "M" conspired to put me on some realllly nice trout earlier this month. Being relatively new to the sport (just started throwing flies in 2001~yes, that sounds like a long time, but fly fishing is an art that takes time, patience, and practice to perfect!) my normal catch in Trout waters is of the young and dumb (small!) variety, which are generally the only fish I can fool into sipping up one of my bug patterns. So, they decided it was time to put me on some nice, fat, large (and I mean BIG!) Browns for a change, and let me try my darndest to hoodwink 'em with my own self-tied versions of the Green River's legendary hatch of Blue-winged Olives (BWO's, a type of Mayfly that abounds during peak early Spring hatch times).
And what a hatch it was! One short week of billions of small insects boiling the water's surface before emerging into flight, mating, and quickly expiring to blanket the stream with their spent bodies, literally becoming 'fish food'.
~ But, before the actual fishing begins, one must have something with which to fool those canny trout ~
Did you know that tying flies on tiny little sized 22 hooks is hard on your eyes and your sanity? I didn't either, until I spend the preceding three weeks before our trip tying the little BWO imitations required to "match the hatch" for our trip to Flaming Gorge National Recreation Area.
This is what I tied:
The idea is to end up with something that looks like this:
When those babies hatch by the billions each afternoon for about a week in early Spring, the trout tend to go nuts, throw caution to the wind, and virtually leap out of the water, mouths open wide,


to suck in these tempting meals on wings as they emerge from their liquid streambed birthplace and before they can fly away. Which is why, if you want to appear smarter than your average Brown Trout, you plan on being on the Green River while the big hatch is on! Throw anything that resembles their favorite lunch du jour, and there's a better than average chance you'll successfully hook up with some picture worthy fish.
~~~~~~
After tying a few dozen of those little devils of feather and thread on miniscule (size 22, approx 1/4 inch long) hooks, this is what I felt like:

The only thing that saved my sanity was knowing that with some luck and skill, the rewards would be worth it ;-)
~~~~~~
Having watched the weather forecast for several days prior to departure, we knew we could encounter snow, rain, wind, and freezing cold, as well as hot, sunny, "UV 80 sunscreen" days.... in other words, we had to pack everything from tee shirts and shorts to long johns, underarmour, fleece, and rain gear, along with our waders and boots, and fit it all into 2 bags! Suitcases bulging with several layers of cold weather wear, 2 fly rods apiece, and fly boxes packed with tiny dry flies and a few larger "streamer" patterns (in case the fish decided to be finicky or we somehow missed the hatch) we boarded our 2 1/2 hour flight to Salt Lake City, there to begin our 5 hour drive northeast into the High Uintahs mountains to Dutch John, Utah, the closest "civilization" to Flaming Gorge reservoir and dam, below which flows some of the best Blue Ribbon trout waters in the entire country.
First glimpse of our destination: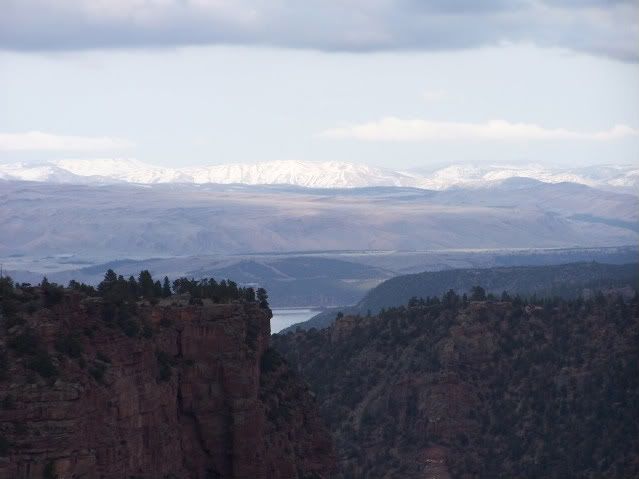 We landed in a nice snowstorm at SLC. Undaunted (having previously fished for the past 5 autumns in 2-3 degrees below zero conditions in Yellowstone Park and it's surrounds, where with every third cast the guides on your fly rods crust with ice and must be "thawed" by dipping the entire rod into the water, to be repeated again every few more casts!) we set out for the Red Canyon Lodge, our home base for the next 7 days.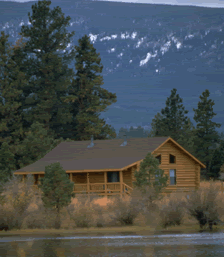 Dutch John. Flaming Gorge, Utah. Gorgeous country, cool cloudy weather.... PERFECT!!
We three enthusiasts checked in, unpacked, pulled out our portable fly tying kits, and started planning for a week of unparalleled fly fishing adventure. It being my first time to the Green, the guys insisted on a short guided tour/reconnaissance "look see" of the river we'd be fishing the next morning, so we hopped into the car again, cameras in hand, for the 15 minute drive through mountain switchbacks, across the dam, and down into the bottom of Flaming Gorge.
Along the way, we encountered an assortment of the abundant wildlife that shares the area with the thousands of fisherpersons that flock to these waters:
My first Marmot: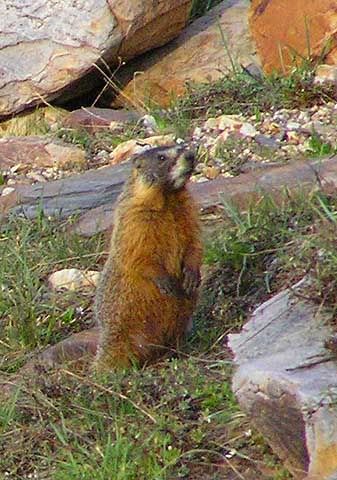 and first Mountain Goat:
as well as the more familiar Elk: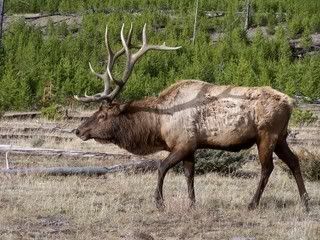 and Mule Deer: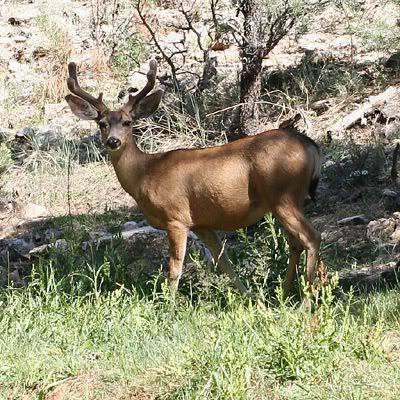 We never did catch a glimpse of the Big Horn sheep or Moose that also make the High Uintahs mountains there home..... next time!
Stopping at the viewing areas along the highway, we took a few pictures of the beautiful Gorge and the Green River from above: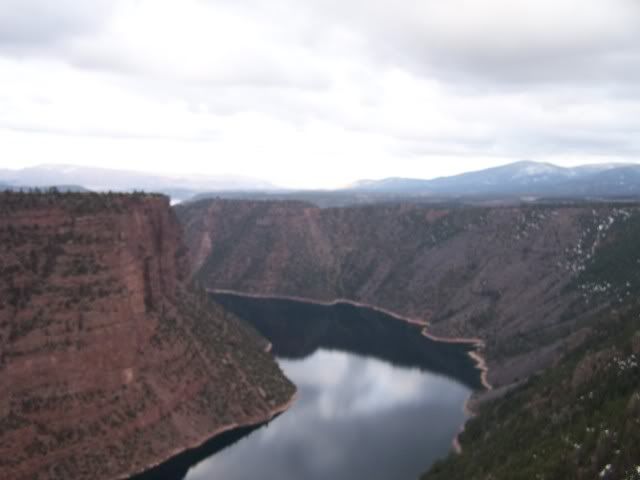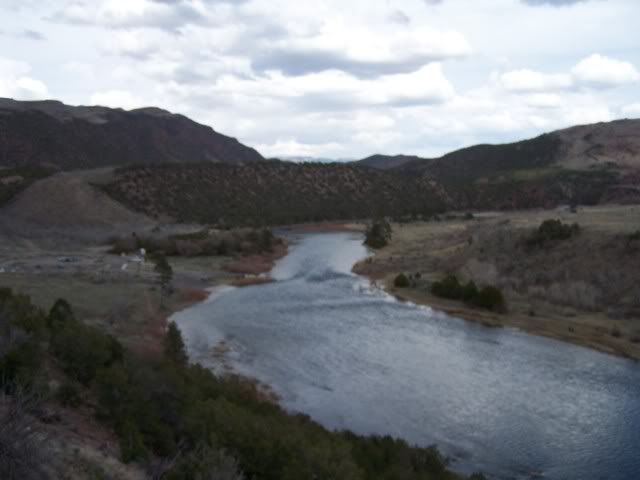 And at the water's edge: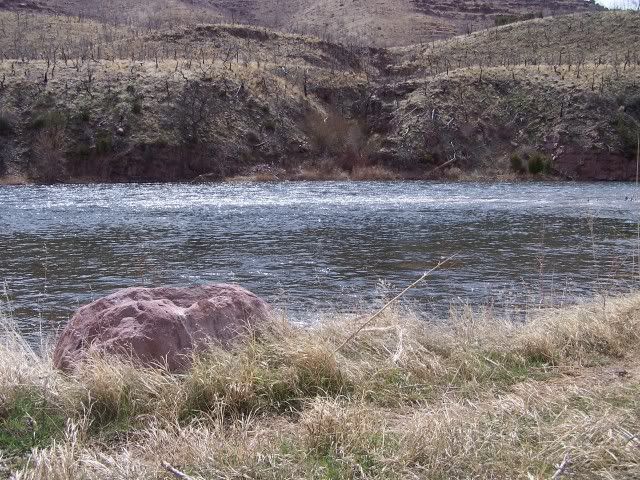 Mood: Excited and ready for adventure!
~~~~~~
Scouting mission accomplished, we headed back to the lodge for a nice supper, a glass or two of wine, and an early to bed evening, dreams of monster trout filling our heads.
Snow showers during the night left a thin blanket of powder on the car and road, but we were ready with 4 wheel drive and underarmour, fleece, and wool socks, so we headed out for a quick bite and then began the first day of what was to be a truly memorable fly fishing experience.
~~~~~~
After having my expectations raised with tales of past fishing trips on the Green, I had a disappointing, zero-luck-and-100%-frustration, first day, so I decided to snap a few pictures (rather than my fly rod over my knee!) from the bank during a much needed attitude adjustment break ;-(
It gave me some comfort to see that I was not the only one encountering a less than perfect day ;-)
The Mr. dealing with a tangled wading staff:
"M" unhooking his errant fly after the wind whipped hook caught him on the back of his waders ;-) (sorry, "M", old friend, couldn't resist!)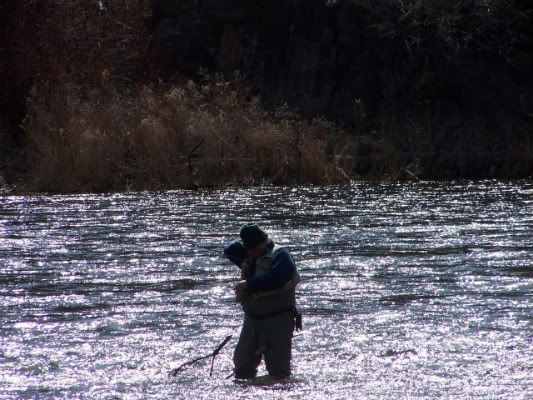 Moi, before ultimately losing my cool, getting a few pointers on my casting technique... "yes, I know I break at the wrist when I cast, dear".... "yes, dear, #@$%!, I do tend to back cast a bit further than I should, tangling my line in the brush on the bank behind me" ...sigh.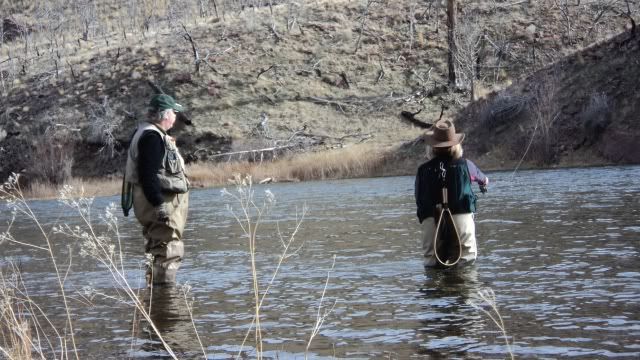 And on to day two, with much better results!
Success!!! My first big Brown! (and no, I'm not kicking up my heel in delight! I was kneeling on a sharply slanted stream bank with one foot planted uphill so I wouldn't lose my balance hoisting my huge catch ;-)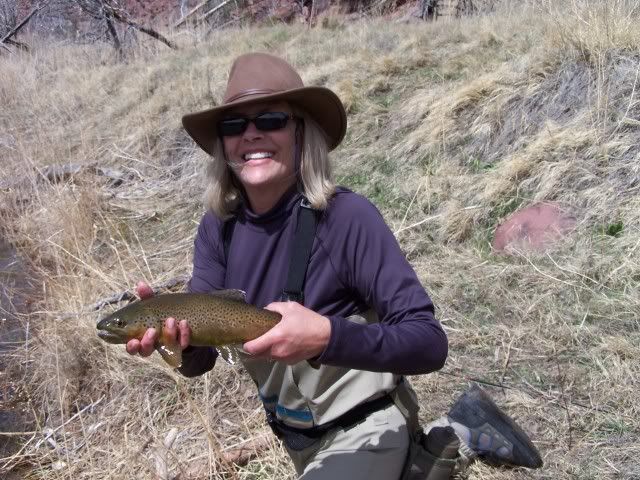 And yet another beaut:
Day 3 was a windy, blustery mess, where I caught nothing more than the weeds behind me, losing flies left and right, cursing the elements and pounding the water fiendishly to no avail. Ya, a day of fruitless fishing is better than a day of work... ya... sure it is.... lol.
Day 4 was muuuuuch better!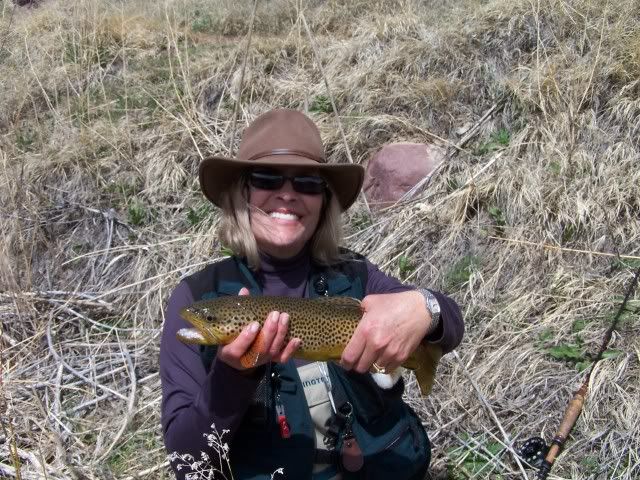 As was day 5, although it drizzled early, then cleared up and turned much colder. (Hence the dorky head wear ;-)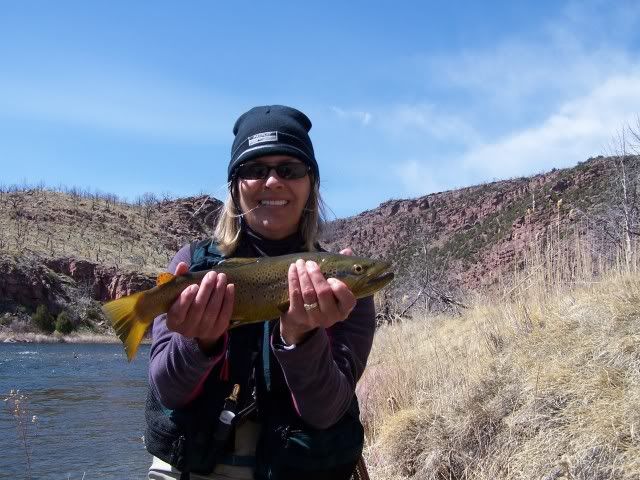 ~~~~~~
Not unexpectedly, the guys, being far more experienced than I, out-fished me five to one, catching trophy sized Browns as well as a few beautiful Rainbows, but I was thrilled with the 5 nice sized Browns I hauled in, and the three "quick releases" I couldn't quite land before losing them back to the stream again.
We spent the last day beating the water fairly unsuccessfully, with only a trout each and blistering sunburned hands to show for a long day of fishing.... but were so glad we arrived the week that we did. Our final day on the Green River the hatch was brief and small, but the number of fisherpersons had quadrupled!
Lucky us, we'd caught the hatch at the perfect time, gotten to the best spot on the river early and often, and had the time of our lives watching some amazing trout rise to our best tied flies, sipping them up like the mayflies they resembled, fighting them on bent rods, netting and quickly snapping a few album-bound photos before gently releasing them all and watching them swim away into the clear rippling waters of the legendary Green River, tired but unharmed, and perhaps a little wiser, to fight another day.