As trumpeted on their homepage, 7-up, a Dr. Pepper Snapple Group company, is a proud sponsor of The Apprentice.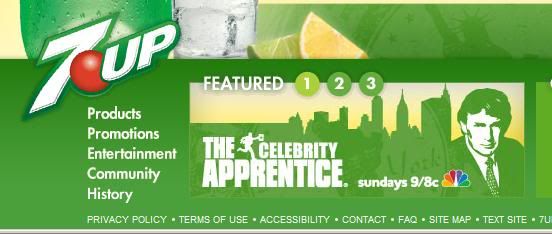 I've made an effort to call Snapple Group twice in the last two days, and their current position is that they do not endorse anything Mr. Trump says in public, and that their advertising is in support of The Apprentice's commitment toward celebrating diversity.
I told the representative that while their support of diversity is admirable, it is clearly a value that Mr. Trump does not live up to, and that 7-up has a choice in whether they continue putting dollars in his pocket to fund his race-baiting, divisive speech.
It was clear that Dr Pepper Snapple Group has been receiving calls critical of their sponsorship, and that these calls have been going to upper-management. We need to increase the call volume and force them to do the right thing.
Will you call Dr Pepper Snapple Group today?
Telephone: 1-800-696-5891
Please be sure to tell them that you will not be buying any of their products as you do not want your money funding Trump's platform, and that you will be encouraging your friends and family, online and offline, to do the same.
After you call, please post the results of your conversation in the comments so that we can keep track of the effort and 7-up's response.
Have a facebook? Why not head over to 7-up's Wall and provide them some feedback there as well?
You can also provide 7-up with feedback by mail:
Dr Pepper/Seven Up, Inc.
Attn: Consumer Relations
P.O. Box 86077
Plano, TX 75086-9077
and by email.
Thanks for the help, and please sure to tell your friends and family to do the same.