My representative, Thad McCotter, may not be running for re-election. See bullet number two in today's DKE digest mentions him as a possible challenger to Senator Stabenow - a rumor that seems based on the fact that he's the only incumbent in the state who declined to confirm with the AP that he was running for re-election. See also this subthread in the comments for today's DKE digest, which covers rumors that he's thinking of running for President. Regardless of why, the possiblity that he might not run for re-election opens up some new possibilities for Michigan redistricting.
The State of Play
A quick run-down of the state of play in Michigan redistricting. The state is losing one seat from reapportionment, going down to 14 representatives. The Republicans currently hold the trifecta, much as they did last cycle, when they redistricted three seperate pairs of Democratic incumbents into the same districts, flipping the delegation from 9-7 us to 9-6 them.
The current gerrymander is working pretty well for the Republicans. The PVIs of the seats they control comprise two Evens, two R+2s, two R+3s, an R+5, an R+6, and an R+7. Our seats are a D+2, a D+11, a D+12, a D+13, a D+31, and a D+35. (They came with a few thousand votes of taking the D+2 in 2010.) It has generally been presumed that they are going to focus on shoring up their districts to the extent possible, while making sure that the eliminated seat is Democratic. Most speculation so far has focused on their eliminating Gary Peters of MI-09, that D+2 district.
Two wrinkles exist to that plot so far. One, there's no longer enough African-American population in Wayne County to support two majority-African-American districts. One of the districts is going to have to cross over into Oakland County to pick up majority-African-American Southfield from the west end of Sander Levin's MI-12. See here. The problem with this from the Republican perspective is that Michigan's (potentially unenforceable) redistricting standards are generally understood to prohibit having two districts share two counties. (That is, if a district consists of part of one county and a part of another, no other district can be in both of those two counties.) McCotter's MI-11 already crosses the Wayne - Oakland border, so the need to have one of the Detroit districts do that too is problematic.
The other wrinkle is that state representative Marty Knollenberg, son of the man Peters defeated to win MI-09 in the first place and a member of the redistricting committee, has shown significant interest in running in MI-09 in 2012. That means that MI-09 wouldn't be the eliminated district, which in turn means that some other two Democratic incumbents get combined and that two other Republican incumbents would have to be combined to make room for Knollenberg. See my argument to this effect here.
A map without McCotter solves both of those problem. If he's not running for re-election, MI-11 doesn't have to cross the Wayne-Oakland border and Knollenberg doesn't have to kick another incumbent to the curb to clear space for himself. Let's see how that might work.
The Map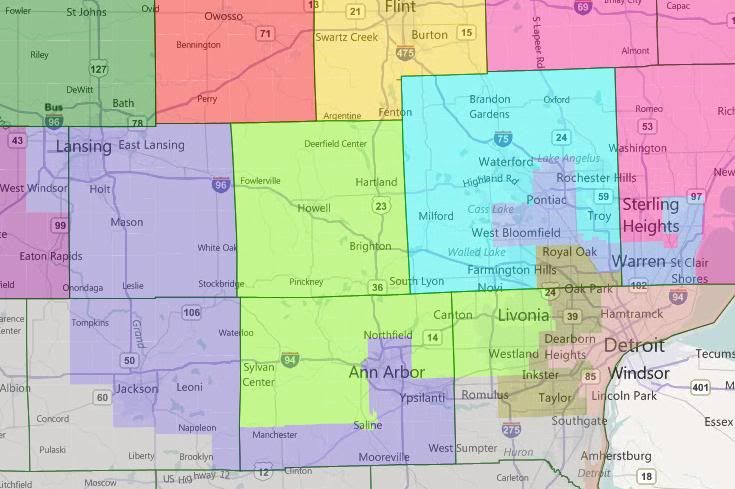 Ignore the green in Clinton County in the northwest. I changed my mind, as you'll see when we go statewide.
Pretty much every district south and east of Lansing has been significantly reconfigured. Let's start with MI-11 (chartreuse), which now Mike Rogers' district. It combines McCotter's base in northwest Wayne County with Rogers' base in Livingston County and enough of rural Washtenaw County to make up the balance of population. Rogers is currently holding down an R+2 district; this should be even better.
Moving clockwise, Knollenberg (cyan) gets what should be a reasonably friendly open seat in MI-09, located solely within Oakland County. Levin (cornflower blue) loses the mostly African-American west end of his district and picks up the Democratic core of Peters' to replace it. Candice Miller (pink) is asked to pick up some unfriendly territory in Fraser and the southern third of Sterling Heights, but with the growth of northern Macomb, she should be able to handle it. Hansen Clarke (salmon) picks up John Dingell's hometown of Dearborn, along with Hamtramck, Highland Park, and the part of Detroit west of Livernois Rd. John Conyers (olive) loses those areas and southern Downriver, picking up the western end of Levin's district and much of central Wayne County from Dingell, whose relocated district will be dealt with momentarily. The two Detroit districts are 52.5% and 51.8% African American by VAP, respectively. Continuing clockwise, Monroe County and southern Wayne County have been added to Tim Walberg's district (grey). And then finally, we re-use Rogers' old district number MI-08 (slate blue) for a new district linking heavily Democratic Ann Arbor and Lansing. (AKA District UM/MSU) MI-08 is also being used to relieve Eaton County of the Democratic Lansing suburb of Delta Township.
Moving statewide:
Miller (pink) loses the upper Thumb, which is given to Dale Kildee (yellow). That will weaken him marginally, but should only matter in another 2010-esque wave. I've shored up Fred Upton (teal) with Barry County, so Justin Amash (purple) gets stuck with Eaton County. Amash's MI-03 is currently sitting at R+6, so it can stand to be weakened slightly, and the most Democratic part of Eaton County is in MI-08, anyway. Dan Benishek (blue) stays more or less in place, picking up a few counties in the northern central Lower Peninsula from Dave Camp (red).
Okay, so now the situation with Bill Huizenga (green). Huizenga has the most Republican district in the state. It can afford to be diluted some, but that's fairly hard to do. MI-02 actually already contains the fifth most Democratic county in the state, in Muskegon, which provided a 10k margin for Kerry and a 25k margin for Obama. The reason it's able to do this is that it contains what is by far the most Republican county in the state, in Ottawa, which provided Bush with a 56k margin and McCain with a 33k margin. If I wasn't taking incumbents into account, I'd actually consider sinking Grand Rapids proper, which is trending blue, into the district, but I don't think the Republicans would be willing to do that. Sans that, I wasn't really able to do anything to unpack his Republicans at all. He keeps the Lake Michigan shore and Camp gets the central part of the state, plus Republican Traverse City.
Conclusion
With the caveat that the preceding analysis didn't involve crunching hard numbers, I think that this is a reasonably successful Republican map. It transfers McCotter's seat to Knollenberg, merges Levin and Peters, and transfers Dingell's seat to cover some of the troublesome university cities. All in all, my guess is that this is fairly stable 9-5 map.
---
This diary has been posted to DK Elections, an official Daily Kos sub-site. Please read the DKE
Mission Statement
. DKE's focus is on electoral politics rather than policy. Welcome aboard!
---