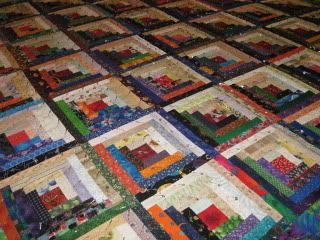 A quilt from my stash, pin basted for hand quilting
They say the woman who dies with the most fabric wins.
Ann and I may be in the running for that honor.
But we buy fabric differently.
Colorwise, Ann is an "Autumn" and I am a "Winter". She likes fox colors, the colors of fallen leaves -- earthy browns, golds, rusts, wine red and greens that are not too blue. Me, I like jewel tones in just about any hue (although I am not too fond of yellow).
I also treat my quilt making as a form of collage -- so I tend to buy novelty prints and pictoral fabrics. Ann likes blenders (fabrics that are tone on tone).
She tends to buy larger pieces of fabrics she likes -- fewer but larger pieces. I tend to buy half yards of things I like but buy more prints than Ann does.
Somehow, we share our stash and often find the other has bought something we need.
It works out.

Detail from Nurse Kelley's quilt
So our stash is all mixed up now -- hers and mine. We have fabrics roughly sorted by color and stored in plastic bins on wire shelving, labeled accordingly. Blue, Light Blue, Dark Blue, Teal, etc., etc. Some will tell you not to store fabric in plastic -- but ours gets tossed around frequently enough when one of us is searching for the right fabric. And it has to go somewhere or there would be more chaos than there already is!
We have a basement devoted to our quilting -- so we have plenty of space for our tubs of fabric. Not all quilters are so fortunate -- and some have spouses who object to more and more fabric purchases. One reads about quilters hiding stash in between mattresses (where he'll never see because he never makes the bed) or on coat hangers hidden by clothing. I suppose the need to hide stash turns fabric shopping into a truly guilty pleasure -- but I am happy it is not an issue I have to face.
We wash new fabric purchases before putting them away. We also use a mordant to set the dye. A lot of modern fabric is pretty dye fast but once in awhile you find one that bleeds like crazy. We don't take the chance anymore -- everything gets set before washing. This may be a little overboard but it is the way we treat our stash.
A good reason for pre-washing is so that all the fabric is pre-shrunk. You don't want to spend hours and hours making a quilt only to have some of the fabric shrink at different rates from others when it is washed.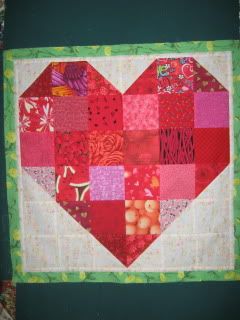 Pieced heart from Nurse Kelley's quilt
The way I look at it, your stash is your paint box. Variety is good. This pieced heart, shown above, would not have worked as well without the variety of shades of red, pink, and coral that are in it. It's the difference in color shade and value that give it life.
Let's take Log Cabin as a for instance. In my opinion, log cabins work best when there is a lot of variety of shade and value -- even within the "light" and "dark" groups. The quilt top in the above photo does not incorporate one color for the "light" side, for example. There are pale pinks, blues, yellows, grays, greens and purples in it as well as the whites and ecru. From a distance, the lights "read" as white -- but there are actually not too many white fabrics in the quilt top.
I bought nothing new for this quilt top. It was an exercise in using up bits and pieces from other projects, i.e., stash.
Of course, not every quilt is a scrappy one. Some are planned using only specific fabrics. Here is one that Ann made using only three fabrics -- and yet it has a visual complexity due to the woven design. It draws the eye in.
Please share how you treat your fabric paint box. How do you buy and store your stash?