And in this case I'm not talking about defending him from the Left, the fact is that it's not that easy sometimes to defend him from the attacks coming from the Right when basic facts seem to be unattainable commodity in the conversation.
Ya see, when we defend Obama against the Right - this is what they hear.
The Video Makes several key points which have become staples of the Right-Wing, while at the same time actually presenting some Left wing defensive points - only to knock them down as "Straw men" (even though in many cases - They Aren't!).
1) The Race Card is just a "tacitical ploy" by the Left not a legitimate complaint about someones biased motivations for putting forth bogus arguments.
2) The Military got Bin Laden (downgraded from the "Torture" got Osama) and all Obama did was say "Yes" when given the option to take him out or not.
3) The Stimulus was a "Flop".
4) The Bailouts were a Waste, and it's Bush's fault because he started them - not Obama's for continuing them.
5) Gas prices are too high because Obama is ineffectual.
6) GM is a great success story, for Union Workers.
7) Obama will grant Amnesty to Illegal Immigrants, since he's already "Done everything he's been asked to secure the border" with 35 Miles of fence.
8) Obama policies are hurting the Market
9) Obama has exploded the debt
10) Obamacare will destroy healthcare.
Ten pillars of Right Wing argument against Obama, can they be effectively defended or not?
Taken them point by point.
1) The Race Card is just a "tacitical ploy" by the Left not a legitimate complaint about someones biased motivations for putting forth bogus arguments.
As we look at the recent debate over Newt Gingrich's use of the term "Food Stamp President" you can see a clear schism in how this is heard by different ears. (the Dog Whistle) To some it sounds like an innocent statement of current fact, yes indeed more people are on Food Stamps today than just about any time in history, but then that's a by product of being in the largest recession since the 1920's and the Great Depression. And we didn't have Food Stamps in the 1920.
No one reasonable or rational can argue that Obama somehow started this Recession, particularly since - as even the phony liberal in the video acknowledges - it began under Bush. But the question I have to ask is what would Conservatives do differently?
Well, the answer apparently is drastically cut food stamps as the Ryan Budget Plan does.
The federal budget cuts that have the backing of Tea Party activists in Congress would cut the foodstamps program by 20 percent over the next 10 years.

The $127 billion in reductions over the next decade proposed by Rep. Paul Ryan, R-Wis., the chair of the House Appropriations Committee, would be subject to negotiations and approval by the Senate and President Barack Obama.
Just as the Right-Wingers would not like us to see this in destructive racial terms, nether would they like to us to see their attacks on gays from state to state as xenophobic or bigoted. Yeah, right - it's just a difference in policy opinion eh?
We're not supposed to take comments like as being wrong-headedly bigoted or driving a wedge between people for political gain?
Gingrich: I think there is a gay and secular fascism in this country that wants to impose its will on the rest of us, is prepared to use violence, to use harassment. I think it is prepared to use the government if it can get control of it. I think that it is a very dangerous threat to anybody who believes in traditional religion.
When you proclaim, without any evidence of course, that there are "fascist who are prepared to use violence" to get what they want - you are declaring WAR, and by extension you are rationalizing and justifying any and all means to fight them, legal, illegal, rhetorical or violent. You are justifying "defensive" violence - in exactly the same manner that al Qeada does.
And these false images of gays, blacks and "secularists" as the enemies of America and Freedom are not rare - they are common.
At a certain point, when people are walking around with picture of Water-melon on the White House Lawn, Obama as a Witchdoctor, with a bone thru his nose, as a Pimp with the First Lady as a "Ho" this stops being cute and funny. It becomes part of a clear pattern of dehuminization of the opposition and the President, not a honest debate of policy or ideology.
We're supposed to believe this is really just a joke to these people? Really? Where exactly is the funny? Is their only defense that this isn't racism simply that they're too ignorant and dumb to realize how Racist it is?
Although I can believe some people are pretty dumb, I refuse to believe that everyone in the entire GOP is really that dumb and clueless. And worse, that those among the GOP and Tea Party who don't actually think and feel racists thoughts, don't realize that they standing amids a growing pack of people who do have those thoughts!
I mean, give me a break ok?
When a Top Tea Party Spokesman says and defends saying "Obama is an indonesian muslim turned welfare thug-in-chief" that people have to realize this isn't just salty rhetoric, and they have to Stop Making Excuses For It.
If all this is perfectly "inbounds" what exactly is out of bounds and beyond the pale anymore?
When we see the right-wing huffing and puffing about Black-Rapper Common being invited to the White House, yet not a peep about Johnny Cash or Bono or Bob Dylan we have legitimate cause to wonder if race might be involved. When we see this furor over a supposed "supporter of cop-killers", yet not a peep about Mike Huckabee letting out hundreds of criminals as Governor - one of whom actually killed three cops and nothing about people like White-Supremacist Richard Poplowski who killed three cops in a fear stricken panic about "Obama taking his Guns Away" or Byron Williams who wounded several police as they stopped him on his way to massacre the ACLU and Tides Foundation based on Glenn Becks Rants, or James Von Brunn who shot a guard at the Holocaust Museum on his way to murder David Axelrod - you have to more than wonder about the complete lack of balance shown by those on the Right.
If Obama isn't supposed to "associate" with someone like Common based on what he said in a song and poem, why is it anyone still openly associates with someone like Beck after what he said on TV nearly got some people killed (and that's according to the attempted killer) or with Huckabee after his actions -really did get some cops killed!?
If Common should be personal non grata for his statements and actions regarding alleged killers why not Beck and Huckabee?
Bottom line: There are a few racists on the Right (just as there are on the Left), the difference is that the vast majority of the right excessively pander to their racists and make excuses for them rather than confront them as they insist the Left should do.
Take some responsibility people.
2) The Military got Bin Laden (downgraded from the "Torture" got Osama) and all Obama did was say "Yes" when given the option to take him out or not.
As has been well documented, the military didn't just "Find" bin laden by accident. Obama made it the TOP PRIORITY of the CIA after Bush had allowed the Bin Laden unit dedicated to analyzing and finding him to be shutdown. Even then , they still weren't sure that he was even there - and rather than use drones or B2's Obama took the riskiest path by putting U.S. gear and troops directly in harms way in order to minimize collateral damage and ensure that they got who they are aiming for. The idea that he just "show up" suddenly is patently ridiculous.
3) The Stimulus was a "Flop"
The video argues that the stimulus "failed" yet facts and common sense show the opposite.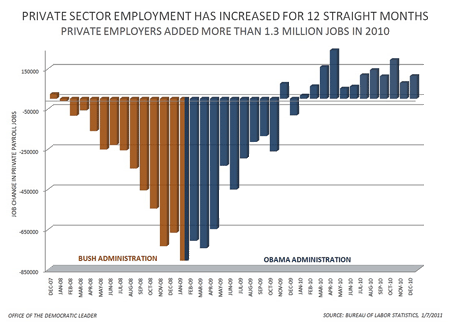 If we hadn't had the Stimulus where do you think this jobs trend line would have gone?
Should the stimulus have been bigger? Probably. Should it have had fewer ineffective tax cuts in it? Definately. Are Republicans the blame for that? No, actually I blame Obama for that one, since the White House mistakenly added more tax cuts as a way to try and appeal to Republicans who petulantly rejected the entire plan anyway.
4) The Bailouts were a Waste, and it's Bush's fault because he started them - not Obama's for continuing them.
Well as it turns out most of the TARP funds have been paid back so it really wasn't a "waste" at all since we really didn't lose anywhere near $700 Billion on the deal. In fact some of the TARP pay backs have actually exceeded loans according to the Wall Street Journal.
WASHINGTON—The U.S. Treasury Department said Friday the total amount repaid to taxpayers for government funds used to bail out U.S. companies has surpassed, for the first time, the amount of outstanding debt.

The Treasury, in its May report to Congress on the Troubled Asset Relief Program, reported TARP repayments reached $194 billion, which has exceeded by $4 billion the total amount of outstanding debt—$190 billion.

However, the outstanding debt amount does not include $106.36 billion that has been committed to institutions but has yet to be paid out by the Treasury. Factoring in that amount, the outstanding debt would be roughly $296 billion.

According to the report, $489.88 billion has been committed to specific institutions, and $383.52 billion of that has been paid out by Treasury. The department said it does not expect to use more than $550 billion of the $700 billion program.
The math does get a little hazy, but essentially the Treasury hasn't even used all of the $700 Billion in funds they had available. They've only issued out $383.52 in loans and been repaid by about $194 Billion holding the rest in reserve. Let us all recall that during the Bush Administration Congress cut the TARP funds in half allocating the first $350 Billion to the Bush Administration and the second to Obama - which means Obama hasn't really spent ANYTHING of significance on TARP. In fact he's tighten restrictions and scrutiny on companies that accepted TARP money while paying massive bonuses, which is just one of the reasons they've been paying it back so quickly - to get out from under those restrictions.
5) Gas prices are too high because Obama is ineffectual.
Under testimony to Congress the leading Oil Execs admitted that our Oil Supply and Demand have not changed significantly, not enough to justify recent price hikes, instead they "other forces (ie speculation)" attributed as much as $43 per barrel of Oil.
"It's harder and harder for any reasonable observer to dismiss the role of excessive speculation in this market," said Michael Masters, a professional Wall Street investor who knows how this game works. He's testified before Congress repeatedly that speculators are pushing prices up well beyond what supply and demand would warrant.

...

Exxon Mobil Chief Executive Rex Tillerson noted Thursday in testimony before the Senate Finance Committee that this year's oil prices don't make any economic sense, though that's not quite how he put it. He said that current fundamentals and production costs would dictate oil in the range of $60 to $70 a barrel. That's at least $43 cheaper than this year's highs of $113 a barrel reached on April 29 and May 2.
Here's one other thing the oil execs said.
"No one person, organization or industry can set the price for crude oil," he said.
Since Obama is ultimately just one person I guess that means he can't set the price for oil either doesn't it?
6) GM is a great success story, for Union Workers.
The salvaging of GM is a great success story - for all Americans. It's not just those evil, nasty, reasonable well-paid, benefit laden UNION jobs that were at stake, but Millions of Jobs all across the country in dealerships and repair shops everywhere.
Imagine the potential ramifications of losing just GM, the biggest of the Big Three.

Millions of jobs: General Motors employs 123,000 people, and losing those jobs would be bad enough. But GM's demise could set off a chain reaction that might cost the country almost 3 million jobs. Here's how.

General Motors regularly owes auto-part suppliers such as Delphi and American Axle & Manufacturing (AXL, news, msgs) lots of money. If GM declares bankruptcy, a court could relieve GM of its obligation to pay off its debts to those suppliers, which could topple them. The death of GM could have a similar effect in the longer term.
He's simply describing the exact same ripple effect through the economy that occurred after Lehman and BearSterns Collapsed. We shouldn't be surprised by the idea that this can and probably would occur with the fall of GM and/or Chrysler. But GM didn't fall did they, in fact both GM and Chrysler are booming.
MID-MICHIGAN (WJRT) -- (02/14/11) -- General Motors hourly and salaried workers should be very happy today.

Profit-sharing checks for the workers will be larger than originally reported. The company sent hourly workers a letter today outlining how much they will receive.

Although the calendar says it's Valentine's Day, today is more like Christmas for GM workers throughout the U.S. A person briefed on the matter says GM will pay more than $189 million in profit sharing to its 48,000 hourly workers.

Salaried workers will also receive big bonuses.
Now, those are the kinds of bonuses I can get behind. The Wall Street kind, not so much.
7) Obama will grant Amnesty to Illegal Immigrants, since he's already "Done everything he's been asked to secure the border" with 35 Miles of fence.
Requiring people to pay restitution for their law breaking is NOT AMNESTY. It's fairness. Making go the back of the line for immigration after that - is also fair. Kicking them out if they don't do either of the above is fair also.
From Politifact
DHS reports there are currently 36.3 miles of double-layered fencing, the kind with enough gap that you can drive a vehicle between the layers. But the majority of the fencing erected has been vehicle barriers, which are designed to stop vehicles rather than people (see here), and single-layer pedestrian fencing (see here). The design specifications vary depending on geography and climate characteristics, but according to the Customs and Border Patrol website, it includes "post on rail" steel set in concrete; steel picket-style fence set in concrete; vehicle bollards similar to those found around federal buildings; "Normandy" vehicle fence consisting of steel beams; and concrete jersey walls with steel mesh.

That's not enough for some opponent of illegal immigration. "They are interpreting the requirements of the Secure Fence Act in a way that is clearly contrary to what Congress intended," said Mark Krikorian, executive director of the Center for Immigration Studies, which favors tougher enforcement against illegal immigration.
Maybe your grandmother could hop over them, but could she also cross 100 Miles of open desert on foot afterward?
What this ignores is the fact that this type of strategic fencing is actually working and that the rate of illegals entering the country has gone down for the first time in 20 years.
There were 11.1 million immigrants living in the U.S. illegally in March 2009, down from a peak of 12 million two years earlier, the Pew Hispanic Center said in a report issued Wednesday. From 2007 to 2009, the number of illegals entering the country shrank to about 300,000 per year, down by nearly two-thirds from the estimated 850,000 per year from March 2000 to March 2005.

"The decrease represents the first significant reversal in the growth of this population over the past two decades," the report said.
The Wingers say that people need to "come to America legally" but in the process they ignore that unless you're a high-end technology worker, a doctor or a an agriculture worker - That simply isn't Possible because there are no Visas Available for you
High end tech people can apply for and be granted an H1B Visa if a local company has done their due diligence to find someone domestically who is qualified and they can't. Similarly Agricultural workers can be granted a H2A Visa and enter the country legally to work in the fields, but if you're a plumber, carpenter, landscaper, house-keeper or other type of domestic the only legal path is via the H2B Visa which is limited to 65,000 people per year.
These Visa are of course driven entirely by the request by companies for workers, where it is assumed they will be fully documented and paid with the same salaries and benefits as U.S. citizens - unfortunately far too many companies don't even apply for these Visa and rather just let low-cost under-the-table labor fall off the latest tomato truck into their lap.
If you want to end this issue, you have to address both supply and demand with a dual-pronged approach that besides using video surveillance, the National Guard and aerial drones along the border to fill in gaps in the fence - Obama has also addressed the demand more aggressively than any previous President.
The Obama administration announced a crackdown Wednesday on hundreds of companies suspected of employing illegal immigrants, signaling a shift in strategy: going after employers instead of workers.

U.S. Immigration and Customs Enforcement, a unit of the Department of Homeland Security, said that it had begun an audit of 652 U.S. companies to verify whether their employees were eligible to work. Violations could lead to fines, as well as civil and criminal charges
But let's not let facts clog up all their fear-mongering and xenophobia, eh?
8) Obama policies are hurting the Market
This is one that frankly makes no sense. The Markets are going swimmingly, with absolute record profits by U.S. Companies for the last 3 Quarters in a Row bringing them to a 60 year high.
The nation's workers may be struggling, but American companies just had their best quarter ever.

American businesses earned profits at an annual rate of $1.659 trillion in the third quarter, according to a Commerce Department report released Tuesday. That is the highest figure recorded since the government began keeping track over 60 years ago, at least in nominal or noninflation-adjusted terms.
If Obama were trying to implement policies that "Hurt the Market and Business" - it seems to me he's pretty much failed at that.
Although they scoff, the argument that it is actually business leaders who are deliberately keeping the employment rolls low in order to pad their profits is entirely true.
The Commerce Department reports that corporate profits have never been higher in American history, so why aren't Republicans -- the party of business -- celebrating the news? After all, those profits are coming not from revenue growth -- which would benefit workers and executives -- but from cost cutting. It's that cost cutting that is keeping the unemployment rate at 9.5%, while allowing more of companies' meager revenue growth to flow to the bottom line.

How historic is this accomplishment? The New York Times calculated that at $1.66 trillion, U.S. corporations are on track for annualized profits that are the highest since such records were first kept back in 1950, and notes that the gains in profits are due mostly to rising productivity.

That productivity boost came as workers spent more hours working, and getting paid less to do it. Specifically, between the third quarter of 2009 and the same period on 2010, productivity was up 2.5% as output rose 4.1%, hours worked increased 1.6%, and unit labor costs fell 1.9%, according to the Bureau of Labor Statistics.

See full article from DailyFinance: http://srph.it/...

So the workers work harder, for longer hours and less pay -and the companies keep the profits. If they can keep doing that and continue making more and more record breaking profits for their share holders, exactly what is the incentive to increase hiring and risk slowing those historic profits
9) Obama has exploded the debt
Well that's about half-true. The debt has exploded, but Obama didn't do it - just like the Great Recession, TARP and the auto Bailout - it started under Bush.
But in recent months as the CBO has show, it's been the tendency to extend the Bush Tax Cuts that have created the greatest risk to the deficit and debt - and if you can fault Obama it's because he's gone along with that plan, not because he fought against it.
This is the CBO projection of the U.S. Deficit before and after the Lame-Duck Budget Deal from last December.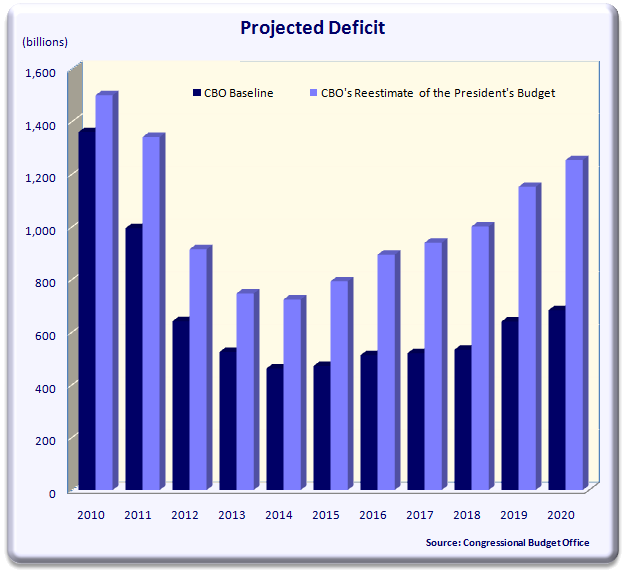 If we'd ended the Bush Tax Cuts as was originally projected, the Deficit would be significantly lower and if you want to Blame Obama for that go ahead, I do. However if we implement the Ryan plan - it will deficit explode even further for decades as he cuts the top marginal tax rate from 33% all the way down to 25% and not reach "balance" for decades.
10) Obamacare will destroy healthcare.
Besides the fact that hundreds of thousands of young people and small business have began to get healthcare they didn't previously have, according to Medicare Trustees Report the ACA initially extended the life of the Medicare Trust Fund by another 12 years (although they've revised that downward by 5 years lately) That's not exactly what I'd call "Destruction". By comparison the CBO says the Ryan plan would do this to out-of-pocket costs for Seniors.
Which plan do you really think has the greater chance of "Destroying Healthcare"?
These are the debate points that I think the GOP is going to rally around, and we need to be ready and able to counter in a split second without hesitation. Without even thinking about it. I think the facts are on our side, but we need to be able to martial those facts to shoot down their arguments each and every time.
Hopefully this summary will help with that.
Vyan