Cross posted from the Community Quilt Project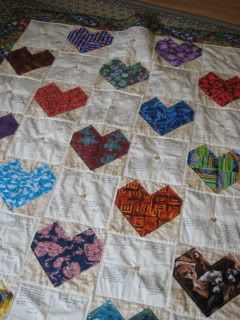 DaNang65's quilt, incorporating 9" heart blocks
It was a long time coming. The first meeting of the Community Quilt Project non profit corporation Board was held this last Wednesday. This non profit is tasked with organizing (and paying) quilters to make quilts for other 501(3)cs. Although our IRS tax exempt filing has not been made yet and we have not yet begun to collect funds for projects, I wanted to share the first one with you all.
We will be making wheelchair quilts for Familia Unida, a multi-cultural non profit that serves people with MS and other disabilities. These quilts will be used to raise money for Familia Unida before being given to people the organization serves -- a double benefit.

A wheelchair quilt that I made
A wheelchair quilt is not large -- about 36" x 60" is what we would be looking for. That is fifteen 12" blocks (arranged 3 x 5) or twenty-four 9" blocks (arranged 4 x 6 with a three inch border on both the top and bottom).
This block is 12" -- it features a 6" focus square surrounded by half square triangles, mimicking an old-fashioned "Anvil" block. In this case, all the focus fabrics have a cowboy theme -- and the border is pieced of a denim print and a bandanna print. I alternated the border fabrics, positive/negative, so that the blocks are better distinguished one from the other.
The backing is -- what else -- a horseshoe print. At 36" in width, you don't have to piece a backing! This quilt is bound with another bandanna fabric.
That is just one idea of what could be done with a wheelchair quilt. Personally, I think the heart block used in DaNang65's quilt would be a good choice for a wheelchair quilt. Instructions for that block can be found in this diary, one of our first DK Quilt Guild diaries.
But frankly, even a cheerful charm quilt would be delightful for a person in a wheelchair. These quilts don't need to be fancy -- they just need to come from a place of love.
I've already received nine lap sized quilts from one of our members who quilts for her own pleasure and just wanted her work to go to a good charity. They'll also be going to Familia Unida. If you are in that category also and don't desire to be paid for wheelchair quilts, please let me know.
If you would like to be paid for such work, there will still be a wait until we get our ducks in a row. But the time will be coming. We were thinking that quilts of this size would be recompensed at $100. Again, we will need to get our IRS filing done and find some donors to make this happen.
Are you in?