The true cost of the Iraq war: $3 trillion and beyond
by Joseph E. Stiglitz and Linda J. Bilmes, washingtonpost -- Sep 5, 2010

[...] in early 2008, we put the total cost to the United States of the Iraq war at $3 trillion. This price tag dwarfed previous estimates, including the Bush administration's 2003 projections of a $50 billion to $60 billion war. But today, as the United States ends combat in Iraq, it appears that our $3 trillion estimate (which accounted for both government expenses and the war's broader impact on the U.S. economy) was, if anything, too low. For example, the cost of diagnosing, treating and compensating disabled veterans has proved higher than we expected.

Moreover, two years on, it has become clear to us that our estimate did not capture what may have been the conflict's most sobering expenses: those in the category of "might have beens," or what economists call opportunity costs.
[...]

Federal debt

There is no question that the Iraq war added substantially to the federal debt. This was the first time in American history that the government cut taxes as it went to war. The result: a war completely funded by borrowing. U.S. debt soared from $6.4 trillion in March 2003 to $10 trillion in 2008 (before the financial crisis); at least a quarter of that increase is directly attributable to the war.
I guess those "deciding" our Future -- forgot that War has its Price Tag ...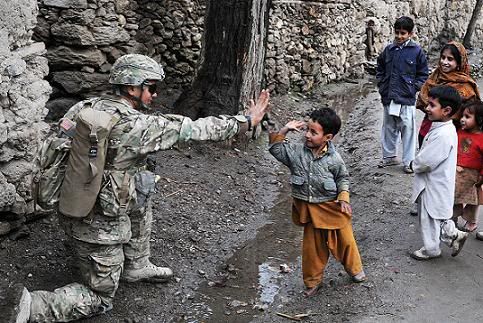 The Cost of Iraq, Afghanistan, and Other Global War on Terror Operations Since 9/11 (pdf)

Amy Belasco -- Specialist in U.S. Defense Policy and Budget

March 29, 2011

Congressional Research Service 7-5700 -- www.crs.gov

[pg 10]

If Congress also approves the FY2012 war funding request of $132 billion, cumulative war funding would then reach $1.415 trillion total including:

-- $823 billion for Iraq (63%);

-- $557 billion for Afghanistan (35%);

-- $29 billion for enhanced security (2%); and

-- $6 billion unallocated DOD costs (1/2%)


[pg 12]

Figure 1. Boots on the Ground in Afghanistan and Iraq, 2001-2010


larger

Factbox: A look at costs of Afghan war to U.S. taxpayers
by Susan Cornwell, reuters -- Apr 26, 2011
[...]

COSTS PER SOLDIER, AND THE FUTURE

Costs per troop per year in Afghanistan have grown from $507,000 in 2009 to $667,000 in 2010 and $697,000 this year, the Congressional Research Service says.

Some would argue this reflects the effect of deploying additional troops, mounting more operations and expanding infrastructure, the CRS said in a March report.

Future expenses are a question mark, partly because troop levels are uncertain. Obama says he wants to start withdrawing troops in mid-2011, but that will depend, in part, on conditions on the ground.

Iraq costs should continue winding down sharply, if the remaining 47,000 U.S. troops there are withdrawn as planned by the end of this year.

Some of war's terrible costs, are very difficult to measure ... adequately ...
What is the Cost of a life, cut short? ... Who pays -- that Tab?
6,013 Total Fatalities

Operation Iraqi Freedom: 4,442

Operation Enduring Freedom: 1,571

(Updated May 26, 2011) -- washingtonpost.com

Some of those costs, will last a lifetime ...
The volume of casualties from Iraq and Afghanistan is now the highest since the Vietnam War, with nearly 17,000 injuries to date, and, as of March 27 [2006], 2325 deaths. Many of the casualties result from use of high-energy explosives with shrapnel, which cause ultra–high velocity fragmentation injuries, often to the extremities. The average wound from one of these improvised explosive devices requires 5 surgeries, and it is estimated that these conflicts have been responsible for an estimated total of 28,000 to 30,000 surgeries, including 367 amputations.
From
Medscape Medical News
Richard Hyer --
March 27, 2006

Flash Forward, a few more years ... of more of the same ...

IRAQ, AFGHANISTAN:
American casualties total 500,000, counting injury and disease, writer claims
by Alexandra Sandels in Beirut, latimes -- June 24, 2010

A blogger and writer claims American military casualties in Iraq and Afghanistan now exceed 500,000.

That's if you count certain injuries and diseases including mental illness that he alleges the Department of Defense doesn't include in its official combat-related casualty toll in an effort to soften U.S. military losses in the wars and win funding for them from the Congress.

For example, cases of traumatic brain injury and Post-Traumatic Stress Disorder, or PTSD, as a result of serving in Iraq and Afghanistan are excluded from the official list of casualties.

Yes, there are some "unmentionable" Costs that belong back square in the middle of our Nation's Budget-cutting Table.
Debts just don't grow on trees. They grow from our "National Priorities".

It takes a Nation of responsible adults, and responsible businesses,
to step up and pay those Costs, that have been put squarely on the National Tab.

The Costs that we have been paying incurring, for far too long, with far too little serious discussion about the 'State of War'
-- which somehow, unexplainably, has become the "new normal".
A state of War -- that the Rich are unwilling to pay for. Go figure. Not their problem, I guess.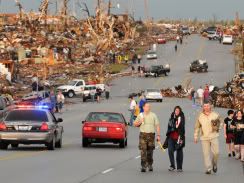 Perhaps the opportunity to help our own, in devastated cities like Joplin,
should become something, that we can 'take as givens' again, too ?
-- NOT something that we have to "Bargain-For" ... with the merchants of greed and fear. Not something we need to coerce from them, from that Party of Tax Haters.
Shouldn't the National Guard -- once again be tasked -- with Helping Our Nation?
Shouldn't THAT be one of our "National Priorities" -- like it once was? You know, a given.

Perhaps when the "Mission is finally Accomplished" -- assuming people of good will can somehow agree -- perhaps then, our "National Priorities" should be reviewed, should be discussed, should be subject to change course correction.
Perhaps.
Perhaps our Nation's Mission, needs to be paid for too. By those ordering it. By those benefiting from it.
Perhaps.

Perhaps the Terrible Costs of War, need to be put back on that Budget Table, too?
They are NOT going to "pay for" themselves, now, are they?

"Opportunity Costs" -- Lost -- tend not of pay for themselves either.
The Opportunity for a better future, doesn't grow on trees, either.
Just ask those GOP "Job Creators" -- who are holding the Nation's Future hostage even now, by demanding for Forever-Tax Cuts, in exchange for Theoretical Jobs -- jobs that they have sent somewhere else ...
to some foreign land ... where no one demands a thing from them.
except for those newly-found Opportunities ...