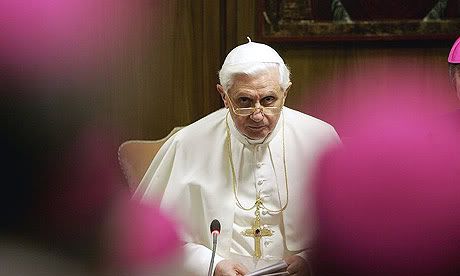 The Vicar of Christ:
The papacy is the term for the office and the authority of the pope of Rome, the successor to Saint Peter as bishop of Rome and head of the universal Church. Also called "the pontiff," "the Holy Father," and "the Vicar of Christ," the pope is the spiritual head of all Christendom and a visible symbol of unity in the Church.

snip...

Papal infallibility does not mean that the pope can never do anything wrong. However, when, like Peter, he is speaking on matters of faith and morals and intends to instruct the whole Church by defining a doctrine, the Church believes that he is protected by the Holy Spirit and cannot speak in error.
This qualifies the pope to make this statement:

Shortly after becoming pontiff in 2005, he told senior Catholic clergy from Africa that, while the disease was a "cruel epidemic", it could not be cured through using condoms.
Addressing bishops from South Africa, Botswana, Swaziland, Namibia and Lesotho who had travelled to the Vatican for papal audience, he said: "The traditional teaching of the church has proven to be the only failsafe way to prevent the spread of HIV/Aids."
He also warned them that African life was under threat from a number of factors, including condoms.
"It is of great concern that the fabric of African life, its very source of hope and stability, is threatened by divorce, abortion, prostitution, human trafficking and a contraception mentality,"
Guardian

There are two big problems here.
1. The Pope just happens to be wrong about the usefulness of combating AIDS in Africa, or so say most public health officials.
2. The Pope has influence on public health decisions.
Because I don't believe in Jesus I have no way of knowing just who is and who isn't his "vicar." I have no way of assessing the almighty's taste in vicars, presuming there is an almighty. To each their own when it comes to vicars, I always say. Though I would rather have Lady Gaga as my vicar, because she is not nearly as boring. I really don't care who his vicar is or what kind of hat he wears, whose bones are under his thrown, and who and who doesn't grovel at his feet while they kiss his ring and he sprinkles them with holy water. That's really none of my business.
But I do care when an apparently superstitious and senile old man who knows nothing about public health makes public health policies. I do care when the millions of his believers back him up and defend him when the saner forces in the world say, "fuck the pope and the Church that enables him."
If you want to tell me that your religion is an asset to humanity then get rid of this old fart and the doctrines that enable him to influence public health. While you're at it renounce those who came before him and attempted to ruin the world with their irrationality. Otherwise, I can only judge you by your fruit, which if judged by the vicar of Christ and the Holy Fathter is rotten.