I probably don't need to tell you how much gas prices have spiked recently. My small town has only one gas station, and Gas there is now $3.95 a gallon. Economists are worried that the stratospheric gas prices could slow or even halt the economic recovery. Why so high?
Now Commodity Futures Trading Commission's Chairman Gary Gensler reports that speculators have "swamped" the oil and wheat commodity futures markets, sending prices skyrocketing.
Key regulator: Speculators swamping oil, grain markets

Gensler cited May 31 data that show end-users accounted for just 12 percent of the "long" positions in futures contracts for benchmark West Texas Intermediate crude oil. Long positions are bets that prices will rise in the future. That means that 88 percent of bets on price hikes for oil were held by financial players_ mainly Wall Street banks and hedge funds that invest for the ultra wealthy — not interests seeking to use the oil.

The trend was the same for wheat futures traded on the Chicago Board of Trade, Gensler said; there end-users represented just 10 percent of trades betting that prices would keep rising months out — or "long" positions. Wheat prices, like oil, have soared this year.

This May 31 data suggests that huge inflows of speculative money create a self-fulfilling prophecy that drives up commodity prices.

High food prices were a big factor is driving the recent political upheavals across the Middle East.
See:Profiting from Egyptian Hunger & Failure of US's stability centric Foreign Policy
World Food Prices hit all time High World's Poorest on edge of survival
Even higher food prices are likely to fuel even more political upheavals in the Middle East, and could spread it to other regions.
Republicans are claiming that restrictions on drilling are driving up gas prices so that they can get rid of regulations on the oil companies.
Republicans are also trying to tie the hands of regulators at the CFTC by slashing funding for the Commission to prevent it from acting to curb out of control speculation, by reimposing trading caps on speculators for the first time since 2001. Last year's Dodd-Frank Act gave the CFTC new authority to curb excessive speculative activity in the commodity futures trading market.
Gensler warned that Republicans in Congress have tried to slash CFTC funding in a bid to thwart its new regulatory powers, and Wall Street firms are furiously lobbying to delay new rules.

Gensler said that the CFTC's mandate has been expanded seven-fold, and it needs more resources, not less, to do its job. "If the agency's funding does not grow — or worse, gets cut — we would be unable to enforce new rules" to protect the public, he said.
O.P.E.C. estimates that speculators are adding 15% to 20% to the price of oil.
Republicans are only pretending to be upset about high gas prices, while they try to keep the door open for even higher prices The fact is Republicans are content to watch wealthy speculators push gas prices higher and higher.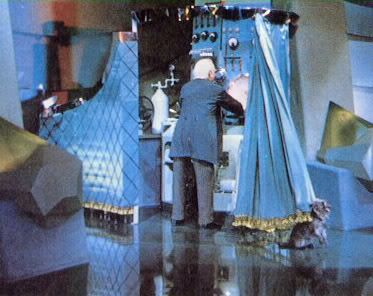 Pay no attention to that speculator behind the curtain!