Equally, I cannot keep quiet while people are being penalized for something about which they can do nothing -- their sexuality. To discriminate against our sisters and brothers who are lesbian or gay on grounds of their sexual orientation for me is as totally unacceptable and unjust as apartheid ever was. Bishop Desmond Tutu, in his new book 'God Is Not A Christian: And Other Provocations'

I don't usually refer to Huffington Post, if I can help it, out of sensitivity to a group here protesting them for some reason, but their unique reporting here, today, of such encoraging news for our GLBTQ communities requires me to make an exception. The quotes above and below are excerpted excerpted from the Archbishop Desmond Tutu's new book, 'God Is Not A Christian: And Other Provocations'
It's well past time for tens of thousands of Christian leaders to be making such proclaimations. As well, as all politicians and government officials, including our own Democratic leadership. That Bishop Desmond Tutu is leading the way, does not surprise me after his excellent history of having the courage to defy the dominant views of the time to stand on the right side of history, as he has done many times before, and in the case of elminating apartheid in South Africa.
Archbishop Tutu has been a long time supportor of an end of discrimation against people because of sexual orientation.
A student once asked me, If I could have one wish granted to reverse an injustice, what would it be? I had to ask for two. One is for world leaders to forgive the debts of developing nations which hold them in such thrall. The other is for the world to end the persecution of people because of their sexual orientation, which is every bit as unjust as that crime against humanity, apartheid.

This is a matter of ordinary justice. We struggled against apartheid in South Africa, supported by people the world over, because black people were being blamed and made to suffer for something we could do nothing about -- our very skin. It is the same with sexual orientation. It is a given. I could not have fought against the discrimination of apartheid and not also fight against the discrimination that homosexuals endure, even in our churches and faith groups.
And, here Bishop Tutu offers hope and ecouragement to all those who struggle everday to have a democratic, constitutional government of their own, such as many Arabs, and the Palestinians."
I am proud that in South Africa, when we won the chance to build our own new constitution, the human rights of all have been explicitly enshrined in our laws. My hope is that one day this will be the case all over the world, and that all will have equal rights. For me this struggle is a seamless robe. Opposing apartheid was a matter of justice. Opposing discrimination against women is a matter of justice. Opposing discrimination on the basis of sexual orientation is a matter of justice.

The Jesus I worship is not likely to collaborate with those who vilify and persecute an already oppressed minority. I myself could not have opposed the injustice of penalizing people for something about which they could do nothing -- their race -- and then have kept quiet as women were being penalized for something they could do nothing about -- their gender; hence my support for the ordination of women to the priesthood and the episcopate.
Bishop Desmond Tutu is so eloquant, poetic, and inspiring they need no amplification from me here now. I will honor this words by encouraging you to experience your own reaction to them.
It's time for all of us to support full equality for all now.
Support for a "seperate but equal" civil unions only position on marriage equality is no longer acceptable in my opinion. We need to see a big change in the positions of our top Democratic Party leaders, pretty darn quickly, IMO.
Would it be wonderful to experience Bishop Desmond Tutu's degree of support, compassion, passion, wisdom, and courage from our religious and political leaders here in the United States?
2:22 PM PT: Here's some visual inspiration for you. :-)

2:37 PM PT: Here's Gchaucer2 favorite of Bishop Tutu with the Dalai Lama, one of my favorite living holy-spiritual leaders.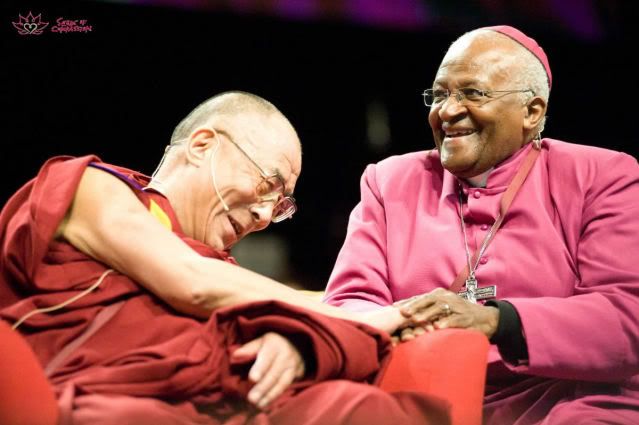 The Dalai Lama and Bishop Desmond Tutu