An Open Letter to all the Very Serious People who spent last week talking about Weiners of the capitalized and non-capitalized varieties instead of Governor Christie's abuses, the petering out of the Khmer Rouge trials, or the deadly-serious game of chicken the Republicans are playing with our nation's economy:
You guys win. I capitulate. I was wrong to ever believe that arresting our nation's perilous experiment with totalitarianism was more important than the next election cycle. After all, who am I, a mere citizen, to question your focus groups, your polls, your Kurtzs?
I have now come around to your way of thinking, and along with you will firmly attest to the following: the writ of habeus corpus is stupid and old, the Constitution really is pretty vague about defining whether or not we're supposed to be a theocracy, and Andrew Breitbart is a truth-wielding pillar of your profession. I, like you, have come to appreciate the streamlining of our hoary, ancient laws started by The Decider and carried forward by his socialist-Marxist-fascist-Hitler-Kenyan-Stalinist-birth certificateless successor. From now on, I'll follow your lead and won't adopt any viewpoint not approved by legal scholars like Alberto Gonzales and Harriet Miers.
In celebration of my newfound ability to stick my fingers in my ears and shout "nahnahnah," please enjoy this diary about a civilization that may have been nothing more than the product of a philosopher's imagination, but has gone on to make great fame and fortune for a few folks. Don't worry – there's not a single analogy or metaphor to be found anywhere within.

This diary was originally published on August 12, 2007, under the same title in the exact same (albeit four years older) spirit of frustration with our national "news" outfits. – u.m.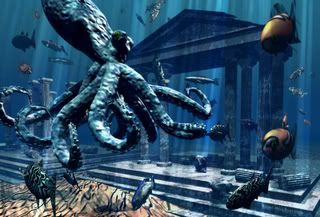 Historiorant: Is it a Conspiracy Theory to say that Atlantis existed? Is it a Conspiracy Theory to say that it didn't? Will (and should) I be banned for talking crazy talk about gods so angry they sink continents and hubris of a magnitude so great that it destroys civilizations?
I don't know about any of that (though fwiw, I don't think initiating conversations about Atlantis, Sasquatch, Nessie, et. al., should be grounds for banning, if ever they were) –what I do know is that I am frustrated past of the point of being able to talk rationally about current affairs. Accordingly, I'm going to take a short break from the tough stuff, and flitter off to the fringes of relevance.
Though now that I think about it, I don't know where any of the Republican candidates stand in the existence-of-Atlantis debate – maybe if I get lucky, CNN will include a question in their debate tomorrow night.


Plausible Deniability
If one is an anti-Atlantean, there's certainly plenty of skepticism to be found in the first written mentions of the lost continent "beyond the Pillars of Heracles" – the story is as full of holes as videotape from James O'Keefe, the documentation as skimpy as a Breitbart expose. It was none other than Plato himself who scribed humanity's initial inkling of Atlantis, writing in a Dialogue called Timaeus, and as part of the tale, he ensures that he covers the history of why no one had ever heard of the place before. Still, the crypticness of the story's origin is nearly Rovian in its obfuscation and unverifiability:
…listen, Socrates, to a tale which, though strange, is certainly true, having been attested by Solon, who was the wisest of the seven sages. He was a relative and a dear friend of my great-grandfather, Dropides, as he himself says in many passages of his poems; and he told the story to Critias, my grandfather, who remembered and repeated it to us. There were of old, he said, great and marvelous actions of the Athenian city…
Historiorant: Coupla notes on this: first, given the birth and death dates of the names dropped, Critias the Elder would have had to have been a child in order to have heard the tale from Solon himself – if so, his memory was suspiciously good, or the tale suspiciously embellished. Secondly, I should point out that this is one of those issues that can be side-stepped by Republican candidates willing to get in bed with ultraconservative Christians (ew) – Atlantis could not have existed, because Plato was describing a kingdom that would predate the Creation of the Earth by about 5000 years.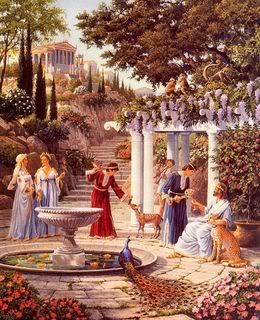 Plato wrote Timaeus as part of what some scholars think may have been intended as a trilogy, though he was only able to partially complete the second volume, Critias (which also mentions Atlantis), before his death in 347 BCE. The books were Dialogues, in which Plato records the ostensible wisdom of Socrates as the great teacher inflicts his famed method of annoying questioning upon three other thinkers: fellow philosopher Timaeus and the politicians Critias and Hermocrates (these could be composite characters or semi-biographical depictions of Plato's buddies; it's hard to say). They are gathered to speak of the "perfect society" – see Plato's The Republic - and Socrates gets the conversation started by asking if anybody knows of an historical example of such a place. That's when Critias (the only character who mentions the Atlantean example) pipes up with his conveniently-hidden-until-now lost kingdom of 9000 years before.
Plato's story of Atlantis – through Critias, he claimed that the Athenian leader Solon, who lived two centuries earlier, had heard it from a trustworthy Egyptian priest of the city of Sais, whose temple had kept the secret down through the millennia – enters the literary lexicon without a great deal of corroborating evidence. There are (debatably) no ruins to study, no primary documents written by an Atlantean hand, and no more than oblique references in even the most ancient of folktales and legends. This has led some scholars of Plato to pooh-pooh the notion of Atlantis entirely; the Wikipedia article quotes Dr. Julia Annas of the University of Arizona:
The continuing industry of discovering Atlantis illustrates the dangers of reading Plato. For he is clearly using what has become a standard device of fiction — stressing the historicity of an event (and the discovery of hitherto unknown authorities) as an indication that what follows is fiction. The idea is that we should use the story to examine our ideas of government and power. We have missed the point if instead of thinking about these issues we go off exploring the sea bed. The continuing misunderstanding of Plato as historian here enables us to see why his distrust of imaginative writing is sometimes justified.

…and even the priests of Sais seemed a little dubious of Solon's worth in hearing the tale, at least at first, but they relented because both Sais and Athens were dedicated to different versions of basically the same goddess. They chided his ignorance the way William Kristol patiently explains the complexities of the world to us ignerint nutrooters:
In the first place you remember a single deluge only, but there were many previous ones; in the next place, you do not know that there formerly dwelt in your land the fairest and noblest race of men which ever lived, and that you and your whole city are descended from a small seed or remnant of them which survived. And this was unknown to you, because, for many generations, the survivors of that destruction died, leaving no written word.
But those ghostly ancestors of ours did, of course, leave enough blank pages in the history books that storytellers, prophets, and archaeologists have ever since been compelled to try to fill them. I'm not going to try to find it for him, but the Democrats might be able to learn a lesson about selling a vision from Plato; fictional or not, Atlantis has fired the imaginations of generations of people, all over the world, and inspired everything from grand scientific endeavors to nothing less than the founding of religions. Something tells me the "Global War on Terra" and the "Bush Doctrine" aren't going to have quite that kind of staying power.


I Want to Believe

Okay, so let's say you make the leap of faith (at least for the time it takes to finish reading this diary) and placed yourself in the hands of Plato's sourcing. In the absence of independent, corroborating records from antiquity, we have to accept the fact that virtually all Atlantis-speak is Plato-derivative. Even so, we can start seeing that he might've been on to something. After all, inexplicable similarities between widely-dispersed civilizations (e.g., the proclivity of both ancient Mexicans and ancient Egyptians to build pyramids) could point to a Neolithic super-culture, which somehow binds us together and gives our own modern societies a kind of shared subconscious history. Likewise, the universality of Atlantean metaphors are something that strike the Joseph Campbell chord in many of we modern types - it's nice to think there might've once been an Eden where more than two people got to live, and gratifying to know that the gods really do sometimes intervene and visit their wrath upon the haughty and tyrannous.
Speaking of gods, the continent belonged to Poseidon, though it was named for his son Atlas (not the titan you're thinking of; this Atlas was mortal and didn't have to shoulder the weight of the world). Atlas and his twin brother, Eumelus – the first of five sets of twins born to Poseidon and a native woman named Cleito, who lived on a mountain "not very high on any side" a little ways in from the Atlantean coast – were given dominion over the continent, with Atlas (the eldest) getting the choicest terrain.
From the descriptions of the priests, Atlantis lay in what's now the middle of the ocean which bears its name: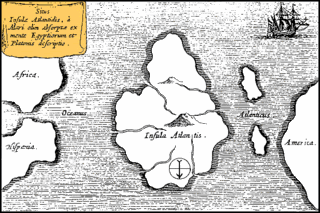 there was an island situated in front of the straits which are by you called the Pillars of Heracles; the island was larger than Libya and Asia put together, and was the way to other islands, and from these you might pass to the whole of the opposite continent which surrounded the true ocean; for this sea which is within the Straits of Heracles is only a harbour, having a narrow entrance, but that other is a real sea, and the surrounding land may be most truly called a boundless continent.
Further descriptions place the bulk of the continent in temperate climes with abundant rainfall, though mountains lay along the northern coast. It was about 700 kilometers long; south of the mountains lay an oblong plain of special verdant-ness that ran predominantly east-west and was about 600 kilometers in length, 400 in breadth. (the map was published in the 17th century in Amsterdam; note that it's oriented with south toward the top – u.m.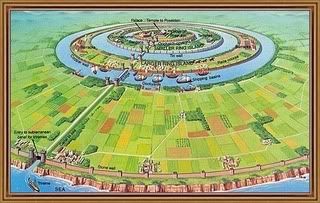 (another cool artist's conception of Atlantis is under copyright here)
Poseidon carved his mate's mountain into a mighty palace, which was later improved upon by Atlantean kings trying to outdo one another's contributions to what became the Temple of Poseidon and Cleito. Eventually, the city at the heart of the Atlantean Empire was connected to the sea by a long channel, which brought ships inland to a series of three wide, concentric moats and walls, and by bridges to the Temple and between the rings. Docks were carved into the rock sides of the moats, and enormous tunnels allowed for seagoing craft to circumnavigate the mountain. The walls which protected the rings of city, palace, and the awesome, three-walled Temple of Poseidon and Cleito were red, white, and black, and were made of rock quarried from the moats. The walls were decorated, too, with brass, tin, and orichalcum, a mysterious metal that was, even by Critias' time, "only a name."
Weird Historical Sidenote: Orichalcum ("mountain metal" or "mountain copper") might have been a gold/copper alloy, or it might have simply been a finite resource that got mined out; either way, it doesn't exist any more. It was apparently a reddish-gold color, and was second only to gold in value. It found its way into some unusual places, too – the Roman historian Josephus, in Antiquities of the Jews - Book XI, states that some of the vessels in the Temple of Solomon were of orichalcum, and the Golden Plates of Mormon were described by Joseph Smith's brother, William, as being a mixture of copper and gold, and having "the appearance of gold," though he never used the term "orichalcum" to describe their composition.
Poseidon's ten sons established the royal houses of ten kingdoms around the island, with Atlas' line being the preeminent one. For many generations, Atlantis had the benefit of wise leadership:
as long as the divine nature lasted in them, they were obedient to the laws, and well-affectioned towards the god, whose seed they were; for they possessed true and in every way great spirits, uniting gentleness with wisdom in the various chances of life, and in their intercourse with one another. They despised everything but virtue, caring little for their present state of life, and thinking lightly of the possession of gold and other property, which seemed only a burden to them; neither were they intoxicated by luxury; nor did wealth deprive them of their self-control; but they were sober, and saw clearly that all these goods are increased by virtue and friendship with one another…
But even so, the seeds were planted for Atlantis' later decline into decadence. The land was so bountiful that the 10 kingdoms were self-sufficient – trade was gravy, and there was lots of it. Like certain Apprentice-drivers we know, functional beauty in architecture gave way to gaudy ostentation. Critias spares no expense in describing what the mountain/palace/temple at the heart of the Empire came to look like:
a stadium in length, and half a stadium in width, and of a proportionate height, having a strange barbaric appearance. All the outside of the temple, with the exception of the pinnacles, they covered with silver, and the pinnacles with gold. In the interior of the temple the roof was of ivory, curiously wrought everywhere with gold and silver and orichalcum; and all the other parts, the walls and pillars and floor, they coated with orichalcum. In the temple they placed statues of gold: there was the god himself standing in a chariot-the charioteer of six winged horses-and of such a size that he touched the roof of the building with his head; around him there were a hundred Nereids riding on dolphins, for such was thought to be the number of them by the men of those days.

The move toward Paleolithic Neo-Garish artistic styles seems to have been reflective of a general decay of the moral fiber of the once-noble Atlanteans. The height of their power represented the nadir of their morality; they might have been cladding their city and temple in precious metals, but they were doing so at the expense of the folks living inside the Pillars of Heracles. Atlantis had conquered North Africa as far as the borders of Egypt, and Europe from Iberia to Tyrrhenia (a/k/a Etruria, homeland of the Etruscans of Roman origins fame); they had then enslaved the populations and begun oppressing them. Even Zeus, when he starts looking into the possibility of divinely intervening, admits the Atlanteans were an "honorable race [in] a woeful plight,"
but when the divine portion began to fade away, and became diluted too often and too much with the mortal admixture, and the human nature got the upper hand, they then, being unable to bear their fortune, behaved unseemly, and to him who had an eye to see grew visibly debased, for they were losing the fairest of their precious gifts; but to those who had no eye to see the true happiness, they appeared glorious and blessed at the very time when they were full of avarice and unrighteous power.

ibid. (that last line is a better description of a post-Katrina Bush supporter than any I've heard in the…ahem…drive-by media – u.m.)

Now here's where things get tantalizing. Elsewhere in Timaeus and Critias, the narrator indicates that Atlantis had launched an ill-advised invasion of Athens (or, rather, Proto-Athens), which the Athenians had beaten back at great cost. They had assembled a mighty alliance to rise up against the Stone Age Atlantic superpower, and apparently kept fighting even as their allies dropped away or were crushed in a Mediterranean fight to the death. The men of Proto-Athens may have even gotten the worst of it – the priests had said there were few Athenian survivors to carry forth the culture of the Hellenes – because we're treated at one point to that most evocative of throwaway lines:
"But later there occurred violent earthquakes and floods; and in a single day and night of misfortune all your warlike men in a body sank into the earth, and the island of Atlantis in like manner disappeared in the depths of the sea."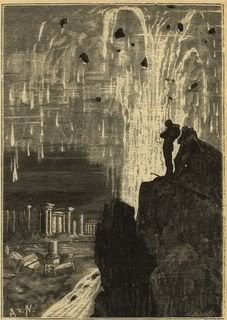 …which may indicate the subtle influence of the Olympian Thunderbolt strategy – shock and awe on a tectonic scale. Zeus certainly did seem about through playing nice with the arrogant Atlanteans:
wanting to inflict punishment on them, that they might be chastened and improve, collected all the gods into their most holy habitation, which, being placed in the centre of the world, beholds all created things. And when he had called them together, he spake as follows:
And that's it. The rest of Critias has been lost, so we can't really know what Zeus may or may not have advocated. It's one of history's greatest cliffhangers – rather like what's going to happen when earnest researchers actually wait out the Bush sealings of documents related to his and his father's presidencies, only to find that everything was shredded and burned way back in the days when a simple assertion of Congressional oversight could have brought the Cheney Administration to its knees.


Fill-In-The-Blank
Whether or not Plato was relating a true tale has been the subject of centuries of historical debate, and it began not long after the philosopher's death. His student, Aristotle, thought Atlantis fiction, but a grand-student of his, Crantor (by way of Xenocrates), went so far as to travel to Egypt seeking proof that it had been real. Though he returned claiming to have read hieroglyphs on a column which verified the tale, the fact that he couldn't produce the column worked against him. Still, his belief helped to convince other historians in antiquity, among them Proclus, Strabo, and Posidinius (but that last one has an obvious name-bias, so we might have to toss him out).
Plato's work on Atlantis inspired everything from satire – one author had a 10-million-man army invading Hyperborea, only to call off the attack when they realized the Hyperboreans were the luckiest people on Earth – to epic poems by Neoplatonists, to similar utopias (Panchaea) being set up in the Indian Ocean, to a theory on the origin of the Gaulish Druids that some had been refugees from a sinking Atlantis (theory debunked a century later). Debate about the continent seemed to languish after the Fall of Rome; the story doesn't really pick up again until the publication of Francis Bacon's novel The New Atlantis in 1626. In it, the philosopher/scientist describes Bensalem, a utopian society off the western coast of America (unclear whether North or South) which promotes "conversion" to secularism and describes what we would later come to know as the scientific method.
The Victorian Era saw a surge in interest in all things related to (or hinted at in) antiquity, and Atlantis was no exception. Scholars of ancient Mesoamerica (there weren't many then, still aren't now) couldn't help but notice the linguistic and pyramidical similarities between a few Aztec and Ancient Mediterranean words; to this day, some folks ("scholar" doesn't seem to apply) still base entire theories upon this somewhat flimsy base:
Matlock, in his defence of the Yucatan Straits as the site of
Atlantis, cites place names as one of his compelling proofs. He
points to:


Atlán, Autlán, Mazatlán, Cihuatlán, Cacatlán, Tecaltitlán,
Tihuatlán, Atitlán, Zapotlán, Minititlán, Ocotlán, Miahuatlán, Tecaltitlán,
Tepatitlán, Tihuatlán, Texiutlán, and the like.


Notice that the Nahuatl Tlán root of these place names is exactly
like the Tlan in "Atlantis."


Atlas - or his substitute - is also encountered in diverse places
performing his function of holding up the world. Quetzalcoatl is
shown in paintings and in an engraving holding up the world.

(regrettably, this linguist failed to explore some of the world's other great verbal mysteries, like why "Spiro Agnew" anagrams to "Grow a Penis," or how it came to be that the Koreans use the same word for both "snow" and "eyeball." He also got his Atlases mixed up. – u.m.)
Atlantis - above the waves

The Postbellum, Antediluvian World

It fell to an old-school Plains Progressive from Minnesota named Ignatius Donnelly to vastly expand upon Plato's sketchy report, and he did so with the zeal of Dick Cheney uncovering the hidden knowledge of the heretofore-only-rumored Fourth Branch. Donnelly assembled a massive tome entitled ATLANTIS THE ANTEDILUVIAN WORLD (the entire text, which resides in the public domain, is available through the link), in which he postulated that Atlantis had not only existed, but had been the culture hearth for most of the civilizations of Europe, Africa, and the Americas.
Weird Historical Sidenote: Ignatius Donnelly (1831-1901) left his native Pennsylvania for Minnesota in 1856, and there helped to found a utopian community called Nininger City a few miles south of St. Paul. The exploding real estate bubble of 1857 shut down the dream, left him in debt, and forced him to take up politics, eventually resulting in stints as Minnesota's first lieutenant governor, a Radical Republican representative to Reconstruction-era Congresses (he was an early supporter of abolition and of the enfranchisement of women), and as Vice Presidential nominee for the Populist Party in the election of 1900. In addition to his Atlantis studies – which scholarship did not, it must be said, further his career much – Donnelly also wrote extensively on Shakespeare and penned the preamble to the Populist Party's Omaha Platform in the 1892 elections. He died on January 1, 1901, and is buried in St. Paul.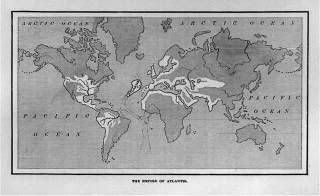 Donnelly's ambitious work proposed to connect dots (and conveniently ignore others) based on reasoning that occasionally approaches Rush "how can there be global warming when it's cold outside today" Limbaugh levels of absurdity, but one has to remember that this was the same era in which an English preacher was able to amend the very Bible with the notion of a Rapture that nearly two thousand years' worth of theologians had missed. Though disputed by historians and other enthusiasts of a documentable past, the public, ever prone to arguments that make the science seem based upon common sense, responded well to the new research on Atlantis. Donnelly thus established in the modern era many of society's baseline ideas about the lost continent. From "Chapter 1 – The Purpose of the Book":
3. That Atlantis was the region where man first rose from a state of barbarism to civilization.

4. That it became, in the course of ages, a populous and mighty nation, from whose overflowings the shores of the Gulf of Mexico, the Mississippi River, the Amazon, the Pacific coast of South America, the Mediterranean, the west coast of Europe and Africa, the Baltic, the Black Sea, and the Caspian were populated by civilized nations.

5. That it was the true Antediluvian world; the Garden of Eden; the Gardens of the Hesperides; the Elysian Fields; the Gardens of Alcinous; the Mesomphalos; the Olympos; the Asgard of the traditions of the ancient nations; representing a universal memory of a great land, where early mankind dwelt for ages in peace and happiness.

6. That the gods and goddesses of the ancient Greeks, the Phœnicians, the Hindoos, and the Scandinavians were simply the kings, queens, and heroes of Atlantis; and the acts attributed to them in mythology are a confused recollection of real historical events.

…et cetera (oh, and incidentally, Latin was derived from the language of Atlantis). It's a good read, if you're a fan of van Daniken-style reasoning (I am); especially poignant is Donnelly's last paragraph, in which he issues something of an unanswered challenge to those of us who lived in the late 20th century:
We are but beginning to understand the past: one hundred years ago the world knew nothing of Pompeii or Herculaneum; nothing of the lingual tie that binds together the Indo-European nations; nothing of the significance of the vast volume of inscriptions upon the tombs and temples of Egypt; nothing of the meaning of the arrow-headed inscriptions of Babylon; nothing of the marvellous civilizations revealed in the remains of Yucatan, Mexico, and Peru. We are on the threshold. Scientific investigation is advancing with giant strides. Who shall say that one hundred years from now the great museums of the world may not be adorned with gems, statues, arms, and implements from Atlantis, while the libraries of the world shall contain translations of its inscriptions, throwing new light upon all the past history of the human race, and all the great problems which now perplex the thinkers of our day?

Well, Ignatius, my brother, since I come from more than a hundred years in your future, I shall say: No museum floors are threatening to collapse due to an overstock of Atlantean artifacts, and the libraries contain about as many Atlantean translations as the ones you knew. Further, if great problems perplexed the thinkers of your day, they positively stymie the ones in mine. We have taken to examining our would-be leaders on the basis of boob and haircut, and you will never, ever, hear one of them say anything about being crucified upon a cross of gold.


The Paleo New Age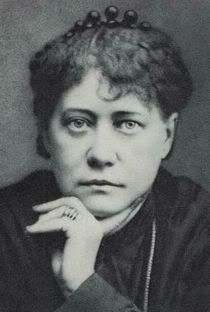 Helena Petrovna Hahn, better known as Madame Blavatsky, was an Industrial Age woman with a decidedly Aquarian outlook. Born in the Ukraine, she fled an early arranged marriage and became a world traveler (in the mid-1800s, this was not a common thing for a woman in her 20s to do), and converted to Buddhism while visiting India, Tibet, and Indonesia. Later adventures landed her in New York, where she explored spiritualism and became a founding member of the Theosophical Society. She also wrote two volumes of The Secret Doctrine, which – outside of its extraordinarily casual racism – contained many themes that would be recognizable to a shopper in a Sedona crystal emporium.
One of these was at Atlantis, which Madame Blavatsky said was inhabited by the fourth of seven "Root Races." Her Atlanteans were a people of high culture; gone was the militarily threatening empire of Plato. She also mentioned the Lemurians of the Indian (or maybe Pacific) Ocean as a Root Race – Lemuria being the name of a theoretical continent meant to explain why there were lemurs in Madagascar and India, but not in Egypt and Southwest Asia. Though rendered wrong by modern understanding of plate tectonics, the "sunken continent" theory was used as a convenient crutch by many a 19th-century naturalist trying to explain species distribution.
Weird Historical Sidenote: Madame Blavatsky's Lemurians were reptilian, about seven feet tall, hermaphroditic, mentally undeveloped, and spiritually more pure than the following "Root Races," though these "dragon-men" eventually succumbed to the temptations of the Dark Side. They were sunk and supplanted by the Atlanteans, who were endowed with intellect. In 1894, Lemurian survivors (who presumably didn't look like Blavatsky's) were outed as living in or on Mount Shasta in California; this belief is perpetuated by some New Age churches today.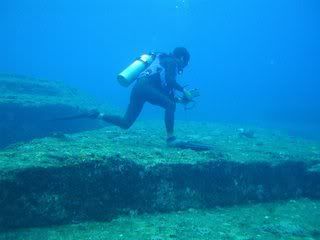 Another Weird Historical Sidenote: Lemuria often gets tied up with the idea of Mu, a kind of Pacific counterpart to Atlantis. Mu was "discovered" when one of those previously-mentioned Mesoamericanists prematurely announced that he had deciphered the hieroglyphs of the Maya, and that they told him the Maya thought they were descendents of refugees from a sunken island to the west. Like Atlantis, however, the idea of Mu is persistent: H.P. Lovecraft referred to the place in a Cthulu context, and more recently, a submerged ruin – or weird, naturally occurring geologic formation – off Yonagumi, Okinawa, has been controversially identified as Mu.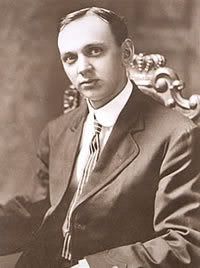 The Sleeping Prophet, Edgar Cayce, mentioned Atlantis on more than a few occasions, and added even more grist for the New Age mill: his Atlanteans had airplanes and ships that were powered by some kind of crystal. This, of course, neatly explains the Bermuda Triangle, as well: a malfunctioning Atlantean power crystal occasionally creates some kind of geomagnetic trans-dimensional vortex, or something like that. In one of the more famous prophecies of the 20th century, Cayce said:
"A portion of the temples may yet be discovered under the slime of ages and sea water near Bimini... Expect it in '68 or '69 - not so far away."

He died in 1945, but 23 years later, a mysterious road-like formation was indeed spotted off the coast of Bimini, and believers in all things prophetic and Atlantean thought they had found the lost city. Alas, the Bimini Road turned out to be many things to many people – geologists say it's a natural formation called tessellated pavement, and (even though some of my favorite people at the old Progressive Historians would probably take me to task for even mentioning the guy's name) Gavin Menzies claims it's an emergency slipway built by Chinese explorers who needed a drydock after their round-the-world-sailing junks were damaged by a hurricane. The debate still rages on the Bimini Road, but undeniable is the influence upon the Atlantis story (and the New Age movement in general) of Edgar Cayce and the idea of guided-tour-by-channeling.


I Know That Enormous, Powerful City Is Around Here Somewhere…
Scholarship on Atlantis in the 20th century has been a little less guess-based than Ignatius Donnelly's early work, even as nationalists in several countries went off the deep end trying to prove their people's descent from the god-kings of yore. Like most stuff, the Nazis found an evil purpose for Atlantis, claiming it had been the home of the Aryan supermen from whom the Nazis themselves were descended. Similarly, some British nationalists, seeking to justify ruling a third of the world's population, said their people's mandate extended back to the mists of prehistory.
By altering one or two components of the Atlantis story, the lost continent can be made to appear in any number of locations in the Mediterranean Basin and around the world. Candidates have included Sardinia, Santorini, Cyprus, Malta, Ponza, Troy, Tartessos, Tantalus, and possibly even Canaan in the Med; outside-the-Pillars sites include Sweden, the North Sea, Ireland, a couple of places around the Black Sea and the Sea of Azov, Cuba, Bermuda, Indonesia, Bolivia, Malaysia, the Philippines, and – in a theory that relies on concurrent belief in cataclysmic magnetic pole shifts that precipitate very fast tectonic changes – Antarctica. Some of the more plausible of these, in no particular order:
Canary Islands – once inhabited by a fair-skinned group of tribesmen called the Guanches who, upon meeting the first Spanish explorers to reach their islands, asked the newcomers to translate the weird writing on an ancient stone of theirs. The Spaniards slaughtered them and destroyed the demonic writings, instead.
Azores - perhaps the mountaintops of Atlantis' fabled ranges? The Golden Age Project seems to think so, and even has computer-generated reconstructions of Plato's island.
Minoans - flourished on Crete around the 17th century BCE; destroyed by tsunami created when the nearby island of Thera/Santorini (also a candidate for Atlantishood) exploded. Interesting note: if you divide all of Plato's numbers by ten – like what might happen if a careless translator missed some math in going from Egyptian to Greek and back – the dimensions of the island and time frames involved (the volcano blew up 900 years before Solon, etc.) start to make sense.
Spartel Bank - is a submerged island in the Strait of Gibraltar, in places only 56 meters below the surface. It sank around the right time – 12,000 years ago – but the cause seems more like ice cap melting than sudden tsunamification (though a theorized magnitude 9 earthquake may have contributed to the island's demise).
And the search goes on in the astral realm, as well – there is no shortage of websites and New Age periodicals and books in which one can find the teachings of an Atlantean who's been channeled through a medium. In most of these visions, Atlantis is a blessed, alien-influenced Eden whose end is brought about by dreaming too big, or by outright ascension to a higher plane of existence (a great place to start looking into this is Crystalinks, a compendium of New Age knowledge and lore).
In that sense, perhaps the makers of Stargate: Atlantis, a show which includes both lost cities and ascended beings, have been right all along. Or perhaps those who say the Atlanteans chose a darker path and went the way of Icarus are correct; it's hard to know. With input coming from sources as diverse as L. Sprague de Camp and the Walt Disney Corporation, it's difficult to say anything with certainty about the Lost Continent, except, perhaps, for one's personal feelings about it.


Historiorant: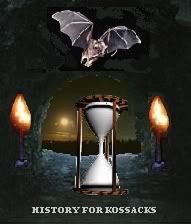 Which brings us full circle, and thus (to mix metaphors once again) back to the matter at hand: Where do you, Republican would-be leadership-people, stand on the existence of Atlantis, and more importantly, explain how and why you arrived at the conclusion you did?
Answer me that, and I'll be happy. I've given up on hearing your excuses as to why these damn wars aren't over, why a cadre of criminals is still in charge of our banking and financial systems, and why we Dems should keep our powder dry for some mythic showdown that none of them is ever going to have the cajones to force. Just tell me, Mittens and Newt and the Herminator and that Ambassador Guy Who's Running against the President Who Appointed Him and Michelle and Crazy Sarah and all the rest: tell me, in the same way you'd answer a high school essay question: Did Atlantis exist? Why or why not?