This morning I had two interesting conversations I want to share with you. The first was with TexDem. Last night Vetwife and he talked . . . at length. She is thrilled, relieved, and humbled by your generosity. So is her husband - and, because of your help, he is actually improving remarkably.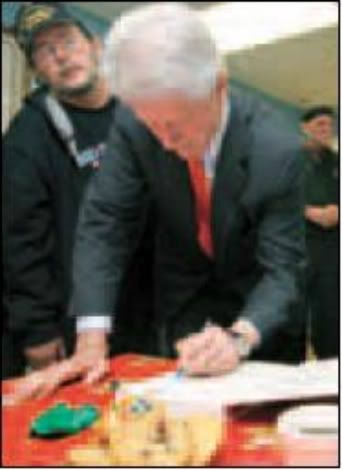 Testvet [Mike Bailey] with Big Dog
If you missed last night's diary This is what I'm talking about.
This paragraph is now obsolete

As far as making our goal of $3,300 [the extra $300 is what the donation link costs] we need only a paltry $159. That's all, folks. $159 to help a Veteran's family recover from being victimized by banksters and forced to move. It's a one-time, non-recurring amount. So, check the cushions, cash in your empty pop bottles, and look under the front seat of your car. The moment we hit that $159 I'm changing the title to "Testvet, we got 'er done! ! !" - unless you have a better suggestion.

"Testvet, we got 'er done! ! !"
The second conversation was with Testvet's younger brother. Last night Testvet and Dorrie read
your fantastic comments.
They were pretty potent medicine.
This morning, Testvet's doctor checked him out and sent him home. Yep. As I said, that was some pretty potent medicine.
TestVet - Soldier Mike Bailey - inhaling God knows what while at Edgewood
Now, as you all know, TexDem, uber leader of Mojo Friday and Major General of Net Roots for the Troops, America's fastest care package packing army, has the biggest stones ever. Unfortunately, they are kidney stones. He went into a drug addled description of all that
right here. So, let's take a moment and help him heal.
If you feel obligated or responsible for supporting the troops beyond those tacky yellow ribbons, you probably have donated to Net Roots for the Troops. Volunteers arise each year to write diary after diary beseeching your donations. Bill in Portland Maine devotes Cheers and Jeers columns to the effort. Meanwhile, Texdem worries about meeting goals. The whole effort is fantastic on the one hand, and a little bit like a PBS marathon on the other.
There is a better way and this year I'm doing it. A weekly donation of $10 in 1 year adds up to $520. That's a lot of money for some of us, not so much from others. BUT the pay-off is this: TexDem can begin to relax. He can begin to get much better deals as the opportunities arise instead of buying everything 30 days before the convention. If another need arises like Vetwife's, we can respond to that much quicker [although your response this time to Angelajean was nothing short of awesome]. So, please join me. In the comments - after you sign up for a monthly donation - give us a name.

Monthly Donation Link to Net Roots for the Troops
Bear hugs offered for all donations - and thanks so much.
3:32 PM PT: The Monthly Donation Link now works. Please test it ;-)