(Written by an American expat living in the European Union.)
The truth is I just couldn't take being lied to by the American plutocrat owned corporate media anymore knowing that there are an estimated 59 million medically uninsured fellow Americans out there. It just became too painful for me to take anymore. By contrast everyone you look at it in the European Union has access to medical from cradle-to-grave by right of law. It's considered to be a human right. Why isn't it a human right in America?
Have we in America lost our humanity? As the American plutocrat owned media works at desensitizing us at the plight of 59 million fellow Americans who are medically uninsured that we should step over them, just like when media desensitizes us to step over our fellow Americans who are homeless. But one of the things that really did it for me was understanding that in America there are schools for homeless children. This gives new meaning to the word, only in America, for no other major industrialized advanced nation has schools set aside especially for homeless children.
School caters to homeless children

By Maggie Rodriguez and Lisa Weiss, Special for USA TODAY

SACRAMENTO — Justin Bisher, 11, attends one of the few schools in the country dedicated to homeless children, and that's where he met Lazarus the cat.

"If we're feeling sad at school, Lazarus hops up on our desks and cuddles with us," says Justin, one of an estimated 1.5 million homeless children in the U.S., according to the National Center on Family
Homelessness.

Justin is a fifth-grader at the Mustard Seed School, a free, private school for homeless 3- to 15-year-olds funded by grants and donations.
I am greatly relieved to know that America no longer executes inmates who are believed to be mentally disabled. Although some advocates who believe that America should ban the death penalty say that developed mentally disabled people are still on death row in America. Why is this allowed to happen and why has this been allowed to happen?
US Supreme Court bans execution of mentally retarded

By Andrew Buncombe in Washington

The US Supreme Court made a landmark decision yesterday when it ruled that the execution of the mentally retarded was unconstitutional. Its decision that the punishment was "cruel and unusual" will have a huge and immediate effect in more than 30 US states that still put to death prisoners with an IQ of below 70.
Is this the America that I grew up in? The country that I pledged allegiance to the flag everyday at school and the country whose military I served. When exactly was it that America was allowed to lose its way? Was it when the Fairness doctrine was axed? Was it when the prison population in the mid 70s was increased from 200,000 to 300,000 to now over 2 million nearly 40 years later thanks to minimum sentencing guidelines that took discretion away from the judges? Speaking of judges, they've become politicians raising money to win political campaigns so that they can buy media ads and further enrich the American plutocrat owned media whose ability to lie to the American people knows no end.
I became exhausted at the idea for paying for tax breaks for America's rich by increasing the national deficit on working people. I tell you it's enough to make you want to leave the country and stick the fine folks at Fox Nation with the bill for the national deficit.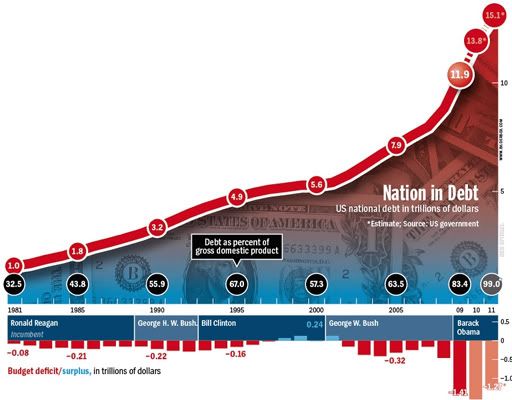 Like many of you out there I gave it my all, phone banked, I door knocked and gave money to progressive politicians, only to find as soon as they're elected they were bought by the K Street lobbyists. I felt betrayed, disgusted, exhausted. I felt ready to leave America for good, wherein my next vote would be with my feet!
Guardian.co.uk , Monday 6 June 2011
Decline and fall of the American empire
by Larry Elliott, Economics editor

The economic powerhouse of the 20th century emerged stronger from the Depression. But faced with cultural decay, structural weaknesses and reliance on finance, can the US do it again?

America clocked up a record last week. The latest drop in house prices meant that the cost of real estate has fallen by 33% since the peak – even bigger than the 31% slide seen when John Steinbeck was writing The Grapes of Wrath.

Unemployment has not returned to Great Depression levels but at 9.1% of the workforce it is still at levels that will have nerves jangling in the White House. The last president to be re-elected with unemployment above 7.2% was Franklin Delano Roosevelt.

The US is a country with serious problems. Getting on for one in six depend on government food stamps to ensure they have enough to eat. The budget, which was in surplus little more than a decade ago, now has a deficit of Greek-style proportions. There is policy paralysis in Washington.
Der Spiegel - Rise of the Rupee, Real and Renminbi
Rival Currencies Take Aim at Dollar's Dominance

By Christian Reiermann - 05/10/2011

There are many reasons, both short-term and long-term, for the decline of the greenback, a currency once coveted around the world. The fiscal policies of US President Barack Obama and his predecessors cast doubt over whether the US will ever be able to repay its debts. The rating agency Standard & Poor's has already threatened to downgrade the credit rating of the only remaining superpower.
For time in America, I stopped listening to the American media altogether. I turned instead to the international media only to find that I couldn't get any local news. So it is that I am quite grateful for the Daily Kos to be able to read citizen journalist's accounts from state and regional groups. In order to support local news, some friends and I have launched the Virtual America group project. But the truth is that isn't enough, we need to encourage local news diaries from our fellow kossacks. You see because unlike in the European Union, there is no state owned media in America. There is no equivalent of the BBC in our United States. That is why the blogosphere is so important because it isn't owned wholly by the corporatists yet.
We will never be able to fix what ails America because we can never find out about it because the corporatists are killing local news. So we can't really organize around local issues to win local elections as Americans have in the past.
Interestingly enough in the European Union, this problem doesn't exist because here the corporatist media has competition from state owned media through out all countries in the great social democracies of Western Europe who regularly report on the shocking deficit in the American social safety net that allows millions of Americans to go hungry to the point of qualifying for food stamps, that allows 59 million Americans to go without medical insurance, that allows 132 million to go without dental insurance, that allows 60 million to go without paid sick leave.
study finds 45,000 deaths annually linked to lack of health coverage

Uninsured, working-age Americans have 40 percent higher death risk than privately insured counterparts
Why is it that the for-profit plutocrat American corporate media will not report that the things that I just listed do not exist in any country in the European Union where everyone is medically insured, everyone has paid sick leave, everyone has paid maternity leave, everyone has paid annual leave, everyone has access to some sort of a dental plan and prescription medication plan.
While we can all be proud Americans, surely we do not have to be proud of the broken American social safety net. There we could, should and must do better. One way to start is for local people to publish their accounts so we can actually find out what is happening in America, instead of being told about the latest excesses of Paris Hilton and Linsey Lohan or fallen sport stars like Barry Bonds, all of whom are millionaires as are half of all the people in the US Congress. Where does that leave the rest of us? When is it enough?
There are 5 million American expats living abroad, every one of which have their own story. I have just told you my story. As a member of Global Expats at the Daily Kos I know there are many of our fellow kossacks living outside the United States. Yet we are also part of the American story. We are also America because modern America can no longer be defined by the Rio Grande river in the south and in the 49th parallel to the north. Modern day America cannot be defined merely by geography but rather by it's people and I mean all of them. That includes the 5 million American expats living all around the world (1.2 million living in Europe). We need to hear from you. We need to hear your American story of how it is that socialized medicine works for you and your American family in order to combat the lies and deception of the Tea Party.
Tell us how your dental plan works and how you receive subsidized child care and subsidized elder care and how your college tuition in the EU is almost free of charge. Tell us about what it's like to receive double the amount of paid leave that you do in the States. Tell us what it's like not to worry about paid sick leave or not having access to dental care. Tell us what it's like to look around and know that everyone you see is fully medically insured. Tell us what it's like to not to have to go to sleep at night and worry about losing your house to medical bankruptcy and having the corporatists steal your life savings by ripping off your pension plan. Tell us what's like to have escaped from the plutocrat owned American media. Tell us about your American dream in the European Union, in Asia, in Canada, in Australia, in South America, in Africa, on Pacific islands or on the Indian sub-continent. Tell us what its like to receive local political reports from state owned media about the lives of real people who were able to politically organize and tell us about how you worry about the folks back home, family and friends. Tell us how guilty you feel living under a secure social safety net while folks that you care about back home are being economically hurt by the American plutocracy whose intent is on breaking unions and hurting working class Americans. Tell us what its like to live in countries that have low crime, clean streets, good public transport and no American style national debt created by tax breaks for the rich because their citizens believe that there is no such thing as a free lunch and they are prepared therefore to pay their fair share of taxes because that's what you have to do if you want good infrastructure, good schools, a good medical system, a strong social safety net and hope for the future (both for yourself and your children).
-------------------------------------------------
The new America is no longer just an issue of geography but therefore cannot be defined to the Rio Grande River to the south and the 49th parallel to the north. America instead has to be defined by its people, over 5 million of whom choose to live abroad. American expats represent the American pioneer spirit that won the West. We love home, family and friends, we vote absentee and some are even members of the Daily Kos community. To that end, I invite you to join Global Expats at the Daily kos and share with us what your expat experience has been. Thank you for supporting this diary.