Grover Norquist -- Wikipedia


Americans for Tax Reform

Norquist is best known as the founder of Americans for Tax Reform in 1985, which he did at the request of President Ronald Reagan.[14] The primary policy goal of Americans for Tax Reform is to reduce the percentage of the GDP consumed by the federal government.[8][15]

ATR states that it "opposes all tax increases as a matter of principle."[16]
Well, as long as they have their "principles" ....


Americans for Tax Reform
rightwingwatch.org

The group [ATR] is led by Grover Norquist, described by the Wall Street Journal as the "the V.I. Lenin of the anti-tax movement." He is renowned in right-wing and Republican circles for his ability to unite the various right-wing interests into coalitions to achieve a common goal.
[...]

-- Norquist was a key grassroots proponent of the Contract With America and was Gingrich's top unofficial advisor.

-- ATR, in 1999, received major donations from Phillip Morris, the Mississippi Band of Choctaw Indians (a group represented by the controversial lobbyist Jack Abramoff), Microsoft, Time Warner, and Pfizer. Phillip Morris contributed $685,000, and the Choctaw Indians, $360,000.

-- Grover Norquist is also on the boards of the National Rifle Association of America and the American Conservative Union.

-- Norquist forged an early alliance with President Bush, traveling to Austin, Texas to meet with then-Governor Bush and his political advisor Karl Rove right after Bush's 1998 reelection. Norquist threw the full force of his influence behind the Bush campaign, playing a key role in defeating Sen. John McCain in the South Carolina primaries.

Grover Norquist -- Source Watch

Norquist described three key planks of his agenda for Bush's second term as President as being aimed at crippling the financial base of the Democratic Party. First, he told Walker, is tort reform which would mean "trial lawyers have fewer ways to get rich and can't give as much money to the Democratic Party". [5]

Secondly, he said, would be legislative changes making it harder for unions to provide funding to political parties, a measure aimed primarily aimed at cutting funding to the Democratic Party. Finally, the promotion of free trade which further weakens the influence of unions.

Grover Norquist -- Wikipedia

He has also stated,

"Cutting the government in half in one generation is both an ambitious and reasonable goal. If we work hard we will accomplish this and more by 2025. Then the conservative movement can set a new goal. I have a recommendation: To cut government in half again by 2050".

[Source 36]
Our goal is to shrink government to the size where we can drown it in a bathtub.
-- Grover Norquist --
brainyquote.com

Grover Norquist -- Source Watch

Norquist largely rejects relativism and is comfortable assigning the labels of "good" and "bad". The pledge of "no new taxes" that so many Republican legislators signed was his project.

He holds regular meetings for conservative leaders in which strategy is discussed. He once commented, "We play for keeps; they play for lunch."

Grover is back in the News again, lately ...
How Grover Norquist hypnotized the GOP
by Deval Patrick, Governor of Massachusetts, washingtonpost.com -- June 30 2011

[...] During his presentation [in 2003], Norquist explained why he believed that there would be a permanent Republican majority in America.

One person interrupted, as I recall, and said, "C'mon, Grover, surely one day a Democrat will win the White House."

Norquist immediately replied:


"We will make it so that a Democrat cannot govern as a Democrat."


In a way, Republicans have accomplished that. This spring, in an effort to reduce the deficit, a Democratic president proposed to cut $2 trillion in spending, much of it from domestic programs Democrats have long championed. Last week, Republican leaders withdrew from talks [... much more.]

I would hasten to add that, not only has Grover hypnotized the GOP, he has managed to hypnotize much of America, especially with the "echo chamber" help of the Traditional Media.

Despite all evidence to the contrary, Grover Norquist has managed to convince the Media, and much of their American audience, of these taken-for-granted, Unquestioned Truisms:
-- Tax Cuts spur the Job Creators -- to create Jobs.
-- America has a Spending Problem.
-- Government Spending is a Bad thing.
-- Government must Cut Spending -- no matter the fallout.
-- If a family can cut back on its Budget, so can the Government.
-- Raising any Tax anywhere, is Un-American.
-- Government itself is a Bad thing.
-- Letting Americans keep more of what they've earned, will Fix the Economy.

The Media accepts, and repeats, all of these "mantras" or some variation of them, without Question; as if they were written on Stone Tablets, and brought down from some Mountain, by one of Reagan's helpers the Gipper's Gophers.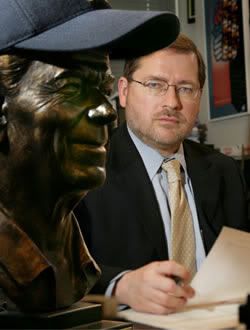 Here are a few counter points for our "objective" Media Pundits to ponder:

-- We've had over 10 years of unprecedented Tax Cuts -- Where are the Jobs?
-- Families can live within a tight Budget -- but Families don't have to build Roads, Schools, Power Grids, or "provide for the General welfare or National Defense", either.
-- Raising Taxes to provide for those things, is NOT Anti-American -- in fact the Constitution tells us to Raise Taxes, and to honor our Debts, to provide for the General Welfare and National Defense.

Those things are what the Founding Fathers wanted.

Grover Norquist's vision for a Me-First, Me-Only Society, not so much.
"Sink or Swim, each on our own" -- is NOT what they meant by "United we stand" ... I don't think, putting all of Reagan's "rugged individualism" aside. That was Hollywood, afterall.

Of course with the Amnesic help of the Corporate Media, Grover Norquist has finally managed to accomplish his main goal, with the stonewalling tactics of his lockstep soldiers, now occupying the current Congress:

"We will make it so that a Democrat cannot govern as a Democrat."
So much for the 2-Party system. So much for the America Dream ... where there once thrived, equal opportunity for all. (and Liberty and Justice too.)
It was nice, while it lasted ...
Grover, take a bow. You've earned it.