If ever there were ever a more heartbreaking victim, Caylee Anthony: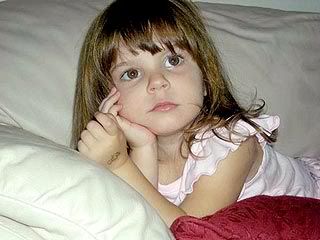 Just two years old. Missing from her Florida home in June 2008. Her remains found in a swamp. Maybe in a garbage bag.
It was (and is) the sort of death that makes your heart break in two just reading about it.
We know this: Caylee Anthony died sometime in 2008. She was two years old.
We do not know much of anything else.
Yesterday, the prime suspect in her death, her mother, Casey Anthony, was acquitted on first degree murder charges in her death. Ms. Anthony had been held in an Orlando County Jail since 2008 on these charges. It is likely that, tomorrow, she will walk free.
(Casey Anthony was found guilty yesterday on four counts of lying to the police. Each of these counts carries with it a maximum sentence of one year in jail. As she has already been in jail for three years, awaiting her trial on first degree murder charges, it is likely that the Judge will release her tomorrow on time served.)
Anyone who has watched television during the last 24 hours may fear for her safety.
Casey Anthony was acquitted yesterday of all charges related to the death of her daughter.
The jury that had given up their jobs, had been sequestered, had patiently listened to all the evidence presented to them by the State of Florida decided that the State of Florida had not met its burden. They decided that the State had not proved how little Caylee died or where or when or who was with her or if anyone was legally responsible.
That jury did the right thing.
However emotionally compelling this case was, however much we would love to have a perpetrator -- there just isn't (or wasn't) one here.
In his closing arguments, defense lawyer Jose Baez noted that what the State had tried to show was that Casey Anthony was a "slut" or a "liar." The evidence in the case certainly showed that she was a liar, but being a liar doesn't make you a murderer . . . and I'll not comment on the "slut" evidence . . . because I will never presume to imagine what Casey Anthony was thinking either before or after her daughter died.
One thing I do know, however, is that the jury in this case got it right.
My Mom, who has watched the case every day for weeks on the Orlando Sentinel's live coverage, and who has served on five juries, has said that the State of Florida did not meet their burden. And it was, of course, entirely up to the State to prove every element of murder. So many people forget, so often, particularly in a case involving the death of a child, that the State still must prove the elements of murder in order to provide the basis for a conviction. It does not matter -- and it should not -- whether we like or do not like the supposed perpetrator.
The reaction to the verdict -- which was, given the evidence presented -- exactly the right verdict was perhaps understandable. People wanted someone to blame for the death of the adorable child whose remains were found in a swamp.
I understand this.
But, however understandable the anger is, we must not blame the jury.
We need to stand behind this jury.
They are ordinary Americans who have been sequestered for nearly two months and who did their duty -- and, in my opinion, arrived at the correct verdict.
They are being flayed:
These jurors are disgusting! Simply disgusted and outraged at their idiocy! She admits the child died and you give her a free pass and fail to put the pieces of the puzzle together. You ignorant IGNORANT FOOLS!!!
YOU DO NOT NEED A MANNER OF DEATH TO KNOW THAT IT WAS A HOMICIDE!!! SHE WENT UNREPORTED FOR OVER 31 DAYS AND SHE WAS WRAPPED IN GARBAGE BAGS AND THROWN INTO A DAMN SWAMP TO ROT! ARE YOU SO STUPID THAT YOU BELEIVE THIS COULD POSSIBLY BE A NATURAL OR ACCIDENTAL DEATH??????? DID SHE ACCIDENTALLY GET WRAPPED AND DUMPED? YOU MUST BE A JUROR....
My Forensic Psychology professor in college said that people who are selected to be on juries have a lack of a formal education (also a lack of critically evaluating all the info) and don't have very prestigious jobs. After reading the profiles of these jurors, I can definitely say that my professor was right. Perhaps this is what led to their ridiculous verdict.
Well its obvious they chose Jury that are not very educated, they probably couldnt even comprehend what the state was saying, and being that Jose Biaz speaks as though he does not have much of an education they found it easier to side with him. This Jury will have to meet their maker one day and they can be judged for doing the wrong thing just to benefit their needs.
There are multiple other sources for this sort of hatred leveled at these jurors -- this is just a sample from PEOPLE magazine of all places.
Seriously?
Those who give up their time and family obligations and jobs to serve on juries in important cases deserve our thanks and praise.
And as for the jurors in this emotionally charged case -- Thank You.
And to them, also, you got it right.