So I found this flyer on the ground outside my office tower a couple days ago...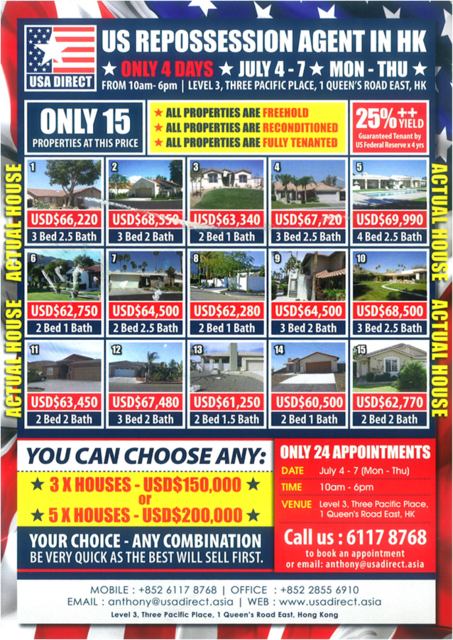 ...and it left me, not unexpectedly, with a vague sense of sadness, shame, and even a little anger.
Throughout the financial crisis, foreign buyers -- Canadian, Middle Eastern and Chinese among others -- have been coming on trips to the US to buy real estate. And that number is increasing:
According to a report released Wednesday by the National Association of Realtors, foreign clients spent about $41 billion in U.S. housing in the 12 months ended in March 2011. Individuals with visas to stay for more than 6 months purchased an additional $41 billion. Taken together, that's about 8% of the total U.S. housing market.

In particular, the number of Chinese investors in US property has been on a big upswing:

According to a survey by the National Association of Realtors, Chinese buyers accounted for 9% of foreign home purchases in the 12 months ended in March of both 2010 and 2011. That's up from 5% in 2009.

But something has shifted of late. More foreign buyers are now becoming owners of distressed properties, as the above flyer reflects. These are bank repossessed properties being sold in batches, sight unseen to Chinese buyers. These aren't properties the buyer is going to live in, as note the investment return statistics and that all of the properties are 'guaranteed tenanted', whatever that means.
What is interesting is that more international buyers are going downmarket. The NAR says in the latest year 45% of the international sales were under $200,000. That share is up from 28% in 2007.
In fact, there are now whole communities in the United States whose current real estate market is relying on Chinese foreign buyers:
Take Cupertino, Calif., for example. Sales of existing single-family homes in Cupertino rose 21% in the first quarter from a year earlier, largely due to an influx of Chinese shoppers who are making huge cash purchases.
Home ownership has long been regarded as part of the American dream, and certainly many Chinese people are also seeking opportunities to immigrate (or at least have the possibility of an 'escape' plan should things go awry politically and/or economically in China) or to provide education options for their children. But when I see flyers like these, with patriotic stars and stripes being used to sell what is left of someone else's American dream at a pittance to someone else who decides to buy five of them at a go, I'm a little sick to my stomach.
I remember as an exchange student long ago in the late 80's a discussion I had with one of my Chinese friends about adoption. She thought it was terrible that American couples were adopting Chinese babies, despite the fact that the kids were unwanted, abandoned, and would doubtless have much better lives ahead of them. I couldn't quite get my head around why. "Because we should be able to take care of our own," she said, "we shouldn't have to rely on parents in other countries to do it for us."
I think I understand a bit more now about what she meant.