As Japanese parents grow increasingly dissatisfied with their Government's response to the ongoing release of radiation at the Fukushima nuclear reactor accidents, they are taking matters into the own hands, with the assistance of independent scientists and medical experts. This article called Protecting Children from Radiation Exposure is among the best introduction to the science of radiation epidemiology for the public that I've seen. Produced by the SAY-Peace Project, with editorial Supervision by Dr. Matsui Eisuke, Gifu Environmental Medicine Research Institute, the Introduction: Our Basic Stance chapter is translated into English here, by John Junkerman, and is well worth you time to glance out just for the graphics.
This comes as a reaction to a pamphlet issued in April by the Japanese Government called "Don't Worry To Much," which by comparison is mindless and misrepresentative of radiation science accepted around the world.
The Linear, No Threshold Model - Dose Response accepted by the majority of scientist holds there is no safe level of radiation. Cancer risk is directly proportional to exposure, but sometimes greatly delayed.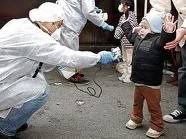 This website is produced by Japanese student volunteers, and has some of the best graphics explaining key ideas you will find anywhere.
For example, here is a picture the Linear No-Threshold Model of the dose -response curves for cancers caused by radiation exposure, we've been talking about since the Fukushima disaster. Notice there is no "safe" level of radiation. Risk is proportionate to exposure.
This doesn't mean you shouldn't have x-rays, of medical procedures, or fly in airplane --- these are all benefit-cost or risk calculations we must make in life.
When you here the word "safe levels" it just means some expert has done this benefit risk calculation for you.
The March 11, 2012 nuclear accidents at the Fukushima Daichi power plant have released large amounts of radiation into the environment of northern Japan.
Everyone should avoid unnecessary exposure, especially children who can be up to 15 times as sensitive to radiation's harmful effects, due to the growth rates of their body, and the required uptake of elements for nutrition and growth.
This brochure by the students is brilliant compared to the pathetic "Don't Worry About Radiation" BS, put out by the government. The officials producing that piece of disinformation should apologize to the Japanese people, for their shameful work product, now bested by volunteer students.
The students say:
There are still many things we do not know about the physical effects of radiation, but this lack of understanding should not lead us to relax. Rather, it is important to maintain this stance: since we do not know, we should exercise the utmost caution, and avoid exposure to radiation to the furthest extent possible.

We hope this pamphlet will be of use in protecting children from exposure to radiation.
These students write as if they were tenured faculty radiation epidemiologist, like their advisor who did help some.

In fact, a committee of the National Academies of Science in the US issued a report in 2005 that concluded that there is no threshold: the risk of exposure exists in direct proportion to the amount of exposure, beginning at low levels. Minimal exposure represents a potential danger to humans. Even the International Commission on Radiological Protection (ICRP), which uses measurement techniques that underestimate internal exposure and low-level radiation exposure, supports this "linear no-threshold model" and acknowledges that doses of radiation under the threshold of 100 millisieverts annually still increase the risk of developing cancer. In other words, it is now accepted wisdom internationally that, even at low levels, radiation affects the human body.
As a consequence, the proper approach when thinking about radiation is not to say, "It's OK to be exposed to this amount," but rather, "We should exercise the utmost caution, and avoid exposure to radiation to the furthest extent possible."
What are the Effects on Fetuses and Babies?
Fetuses, babies, and young children are far more susceptible to the effects of radiation than adults. It has been estimated that babies and infants are four times as vulnerable as adults in their 20s or 30s, so the risk of exposure is much greater. This is because cell division takes place much more vigorously in small children, so cells that are damaged by radiation are reproduced before they can be repaired.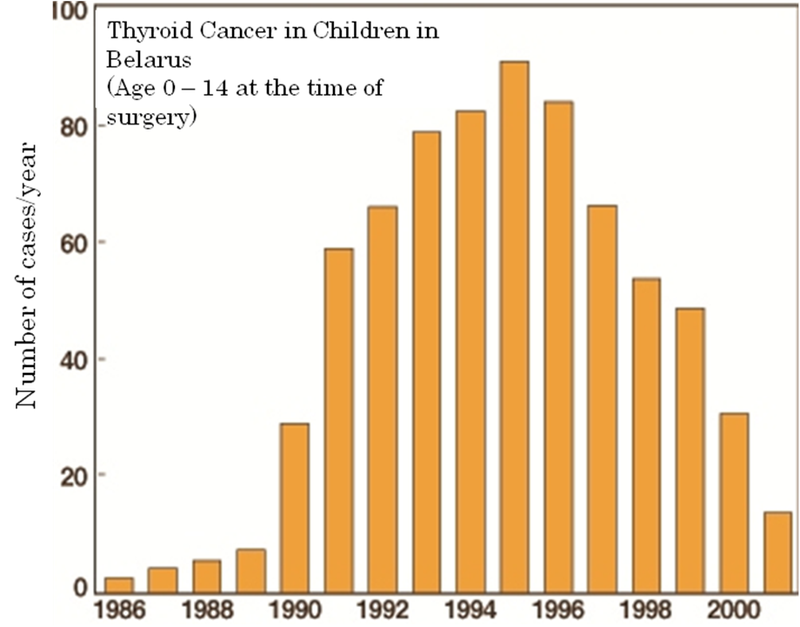 Based on data in J. W. Gofman, Radiation and Human Health (Sierra Club Books, 1981). "10,000 person-sieverts" means the collective dose of 1,000,000 people exposed to 0.01 sievert of radiation in a year (also equivalent to 100,000 people being exposed to 0.1 sievert in a year). "15,000" for age zero means the expected number of deaths when 1,000,000 babies are exposed to 0.01sievert (10 millisieverts) in a year.

Here's a small snippet of this very long pamphlet. Since it is for public distribution, I think can quote a bit more of it than usual within Fair Use Guidelines.


Summary of Protection Measures
Here we summarize the protection measures that have been suggested. It is difficult even for specialists to agree on such measures, and these steps will not necessarily ensure one's safety. Rather, they are no more than some areas where we can exercise caution in our daily lives. In giving first priority to safety, evacuation measures taken by the national and local governments are an indispensable element of prevention, to protect the lives of children. Evacuation must be seen as a right, with the government bearing the burden of moving expenses and employment measures, rather than something that is the responsibility of the individual.
Below is a list of temporary measures that individuals can take.

Air: This applies particularly to areas that are contaminated hot spots.
Remain indoors as far as possible. Keep outside air from entering (It is difficult not to use air conditioners, fans, or to keep windows closed in the summer time. Some air conditioners allow very little outside air to come indoors. Please consult with manufacturers).

When you go outdoors, wear a facemask or cover your mouth and nose with a towel.
Wear a hat, do not expose skin, and wear a jacket that will not collect dust.
Before entering the house, with the facemask still on, brush dust off your clothing.
Even outside of hot spots, radiation is highest during and after a rainfall. In areas surrounding the Fukushima Daiichi plant including the Kanto area, avoid getting wet in the rain. Avoid going out. Wear a facemask.

Breastfeeding: We cannot simply generalize that mothers should avoid breastfeeding, considering nutritional (immunity) and safety benefits of breast milk, especially when babies less than three-months old are concerned. Regardless of whether breastfeeding mothers live in hot spots or not, it is necessary to minimize internal radiation exposure and to increase the testing of mother's milk in order to develop appropriate protection measures.

Tap water: Until the government tightens safety standards, pregnant women, nursing mothers, and small children should use tap water only for bathing and washing clothes and dishes. It should not be used for mixing formula. Avoid drinking tap water as far as possible.

Food: For the time being, abstain from eating leafy vegetables, herbs, and wild plants from contaminated areas. Also avoid milk, meat, and fish, which can be highly contaminated due to bioaccumulation. It is necessary for municipalities and schools to thoroughly disclose where food comes from, and increasing the testing of radioactivity in food is urgently required.
In Conclusion

Since March 11, many people have found it difficult to relax in their normal lives, out of concern for earthquakes and the nuclear accident. At the same time, we are told repeatedly, "There is no need for excessive worry, which is actually bad for your health." Or, "There is absolutely no problem with food on the market." Or, "Misinformation and rumors are causing harm." Some of us may feel that we are the only ones who are worried, or that those around us think that we are being alarmist.

However, it is only natural to be concerned. With radiation, it is not possible to say, "You'll be fine as long as you limit your exposure to this level." We do not understand with any certainty the physical effects of radiation. If we assign the highest priority to safety, then exercising utmost caution and adopting the strongest preventive measures is not out of line. It is the obvious thing to do.
But it is also true that there are limits to the preventive measures that individuals can adopt. No matter what you do, if there are radioactive materials present, you will be exposed. The best possible route is to remove oneself as far as possible. Those who can evacuate should do so. It is very dangerous for those people in highly contaminated areas of Fukushima to remain there. Policies and measures for evacuation should be implemented to the furthest extent possible.
It is best not to worry over radiation in isolation. There are many people living close by who share your concerns. It is important to talk with these people, to make connections, and to provide mutual support.
The nuclear accident and the scheduled power outages that followed have caused us to think a great deal about our own lives and the problems of electricity and energy. If we didn't have nuclear power plants, we wouldn't have to be concerned like this about the risks of radiation.
Japan is beginning to reconsider its nuclear energy policy. The Hamaoka nuclear power plant in Shizuoka, which is at risk of causing a catastrophic radiation disaster if the predicted Tokai earthquake occurs, has already stopped operation. The time has come to think about how society could function without relying on nuclear energy.

Contacts Information:

What is the SAY-Peace Project?

SAY-Peace Project is a non-profit organization run by young people in their teens and 20s, who have come together under the slogan "Solidarity among the Asian Youth for Peace." We provide a space for young people to learn about, think, and act for peace. We engage in a variety of activities with the aim of bringing about peace, from Asia, through dialogues about disarmament and history.
Contact information:
SAY-Peace Project
Coop Matsuo #103, Daizawa 5-7-8, Setagaya-ku, Tokyo 157-0032
Tel/Fax 03-4413-3929 E-mail: mail@saypeace.org Home page: SayPeace.org.
Dr. Matsui Eisuke, editorial supervisor
Born 1938. Director, Gifu Environmental Medicine Research Institute. Previously taught radiology at Gifu University School of Medicine. Japanese Respiratory Society certified specialist. A special member of the Japan Lung Cancer Society and the Japan Society for Respiratory Endoscopy. One of the few specialists in Japan to address the problem of internal exposure to radiation. Matsui has been involved for many years with class-action suits over the certification of atomic-bomb victims, and has also written extensively on the health effects of asbestos. His latest book is Mienai kyôfu: Hôshasen naibu hibaku (Invisible Terror: Internal Exposure to Radiation) (Junpôsha, 2011).
NORIMATSU Satoko, an Asia-Pacific Journal coordinator, is Director of the Peace Philosophy Centre, a peace-education centre in Vancouver, Canada, and Director of Vancouver Save Article 9. She leads youth and community members in promoting and learning about Article 9, historical reconciliation in Asia, Hiroshima/Nagasaki and nuclear disarmament, and issues surrounding U.S. military bases in Okinawa.
John Junkerman is an American documentary filmmaker and Asia-Pacific Journal associate, living in Tokyo. His most recent film, Japan's Peace Constitution, won the Kinema Jumpo and Japan PEN Club best documentary awards. It is available in North America from First Run Icarus Films.
For updates on the Fukshima nuclear crisis in English, see Green Action's blog Fukushima Update, and follow Twitter accounts @FukushimaEng, @nonuke_jp (both in English), and @PeacePhilosophy (Japanese and English).
Recommended Citation: Say-Peace, Protecting Children Against Radiation: Japanese Citizens Take Radiation Protection into Their Own Hands, The Asia-Pacific Journal, Volume 9, Issue 25, No. 1, June 20, 2011.
http://japanfocus.org/...
I congratulate these students for an excellent job, of the most outstanding writing and information we seen from any pamplet I've seen for public education. This works exhibits "best practice" that it should receive many awards. I encourage all of you to please go there and hotlist this as a set of sources you will want to come back to many times.