I missed the President's press conference. It sounds like he is doing the right thing. But, he can't do it alone. We really need to keep an eye out for "calls to be reasonable" and "shared sacrifice". There is ALOT at stake and people don't walk away from this type of opportunity. Here is how it could play out if where not careful.....
Here is the setup. We all know the country is in "crisis". Just check out this chart to see how bad it is: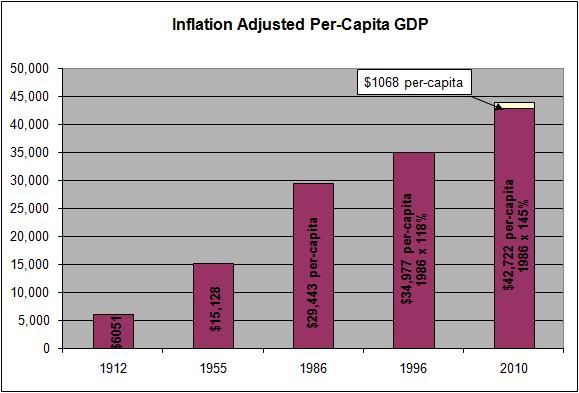 I've posted this before. It is inflation-adjusted per-capita GDP at various times in our past. The little white box represents our current crisis, it is where GDP would be if we did not have the recession. Instead of being 46% better then the 80s under reagan, we are only 45% better, so it is a crisis.
Now in a crisis, obviously the "reasonable" thing to do is cut taxes. But, we've been cutting taxes for 10 years as this next chart shows:

This is effective tax rate from 2001 through 2009 for various income ranges. Mostly rates have come steadily down. That is fair, right? Well, obviously not fair enough because as taxes have reached a low point and federal income has reached a min, tax protests erupted:

So, why sould we keep an eye on Social Security? Well, first it is an entitlement: that means after paying for it for 40 years you show up and expect to collect. Secondly, it is not funded by income taxes but instead by a separate rate system. And its rates have remained unchanged for the last 10+ years. This next chart shows social security taxes + medicare taxes binned by income group: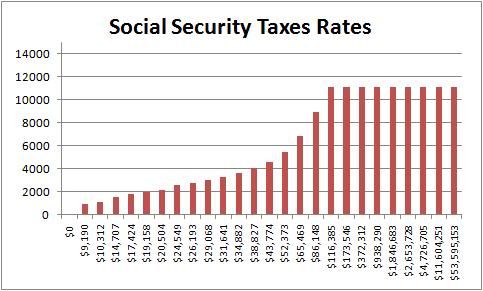 Now if you line up social security taxes paid to income tax cut received, you get this: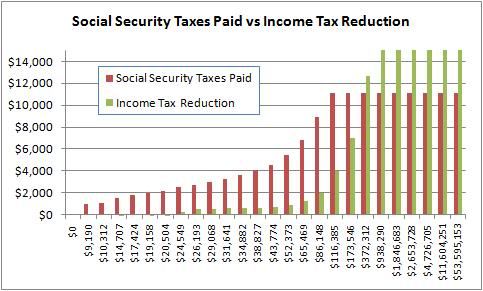 To get a true appreciation though, we need to zoom out a bit: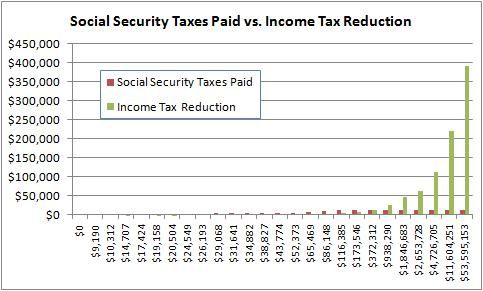 And, one more zoom out:

Now, you might look at this and say: "Gee, your worries are silly! How can those tiny orange boxes so small you can't see them on the last chart pay for those big green bars?"
To answer that, we need to add a distribution of where the tax returns are. Adding the number of return is gives this:
Now if we just sum the products of number of returns by social security taxes paid and income tax reductions, we get: $826B in social security taxes paid in and $302B in tax cuts paid out in 2009. There is almost 3x the money paid into social security as tax cuts given out. So now calls to be "reasonable" on social security are simple calls to accept this transfer of wealth. And what a transfer of wealth it is:
Anyone below about $150k in gross income will lose money. This is money YOU paid in that is being diverted to tax cuts. Any reduction of benefits, increase in retirement age, modifications to "make it solvent for 75 years" is a simple excuse to increase pay-ins or decrease pay-outs to subsidize the tax cut. And, here is the big problem:
They already have the money and don't want to pay it back.
All those "worthless vouchers" Bachman rambles on about? That is social security money converted to bonds used to fund the general budget. It has already been spent on tax cuts. Taxes HAVE to be raised to pay it back. They know it and they really really really don't want to pay it back.
Finally, a couple of notes:
I used IRS tax tables for the calculations. My calculation of $826B in Social Security revenues is slightly higher than the actual value of $822B, but overall pretty darn close.
And, who cares about payouts exceeding revenues? Does a bank close your account when you start withdrawing more than you deposit no matter how high your balance? Calls to "extend sovlency" are bird-calls to keep the borrowing going."
Thats about all I have for now. Hopefully "reasonable" is off the table.