Let's assume, for the sake of argument, that Shelly Silver for once decides not to go along with Dean Skelos's proposed State Senate map next year. Or, Andrew Cuomo follows through on his threat to veto the gerrymanders that both the Senate and the Assembly produce for their respective chambers. What might a court master draw?
It is hard to 100% know this because unlike, say, Minnesota, where the courts have regularly drawn maps, there is no previous precedent of this occurring in New York State. Rather, since 1982, the Assembly just rubber-stamps the Senate map and vice-versa. But if I had to take a guess at what a court master would draw, based on neutral objective standards, these would be the following:
1) The VRA will be fully followed. Technically the state senate map does this, of course, because it has to earn pre-clearance because three counties are covered by Section 5 of the VRA. A court might go further, though, and create "minority-majority" seats (2 of them) actually out in LI. A big part of the reason why the GOP most years is able to earn a 9-0 delegation out of LI has been a creative splintering of minority communities. I see no reasonable reason why a court would continue this practice.
2) Townships have to be kept whole in all cases where they are smaller than the size of a district. This is the operative standard for New York State districting: counties may be sliced and diced, as can cities be, but you are not allowed to divide townships. As a former resident of New York State, and a political geek to boot, I happen to know the township lines fairly by heart. If those of you who are working on maps who don't have this prior knowledge, you can access handy maps on the census bureau's map page. In the smaller population counties, Dave's app already does this for you, but in many larger jurisdictions his "city/town lines" are frankly unhelpful except in cases like where there are larger cities like Buffalo, Rochester, Syracuse, etc. This perhaps might stem from a different definition in other areas of the country what a town is. In New York, as in New England and a few other places, every square inch of territory is either a city or a township. Villages are technically part of townships and do not count for purposes of districting. Townships may never be split (except in the cases of LI townships where they are often larger than a single district), but cities can be.
3) Population variation should be kept to a minimum. Obviously you need to have some slight population variation given you cannot split townships (which matters a great deal upstate), but no court would ever in my view sanction such an egregious bending of +/- 10% population variance as currently is the case in both the State Assembly (where upstate is screwed and NYC is favored) or the State Senate (the reverse) maps.
4) Wherever possible, aside from the largest counties in the state that can fit more than one state senatorial seat within them (Erie, Monroe, Westchester, Suffolk, Nassau, Queens, Kings, New York, and Bronx counties), counties should not be split more than once. In those above-mentioned cases where more than one districts fits within a district, I tried to make sure that only one district crosses. This is not a hard standard that I was able to follow in all cases. Because of the rigidity of the townships cannot be split rule enshrined in the NYS Constitution, it is necessary at times to cross counties more than once. In Lower Westchester/Bronx it is necessary to have two districts cross in and out because of the VRA (Mt. Vernon needing to be put together with the northern Bronx into a majority African-America VRA protected seat). If counties were split between two districts, I tried to use my common sense and put together reasonably good community-of-interest districts. Thus, in the Albany area, Schenectady plus part of Saratoga, the rest of Saratoga, part of Washington, and the rest of Rensselaer (sp?; which then enables me to throw together the rest of Washington in with the entire North Country).

We start in Long Island, out in Suffolk County.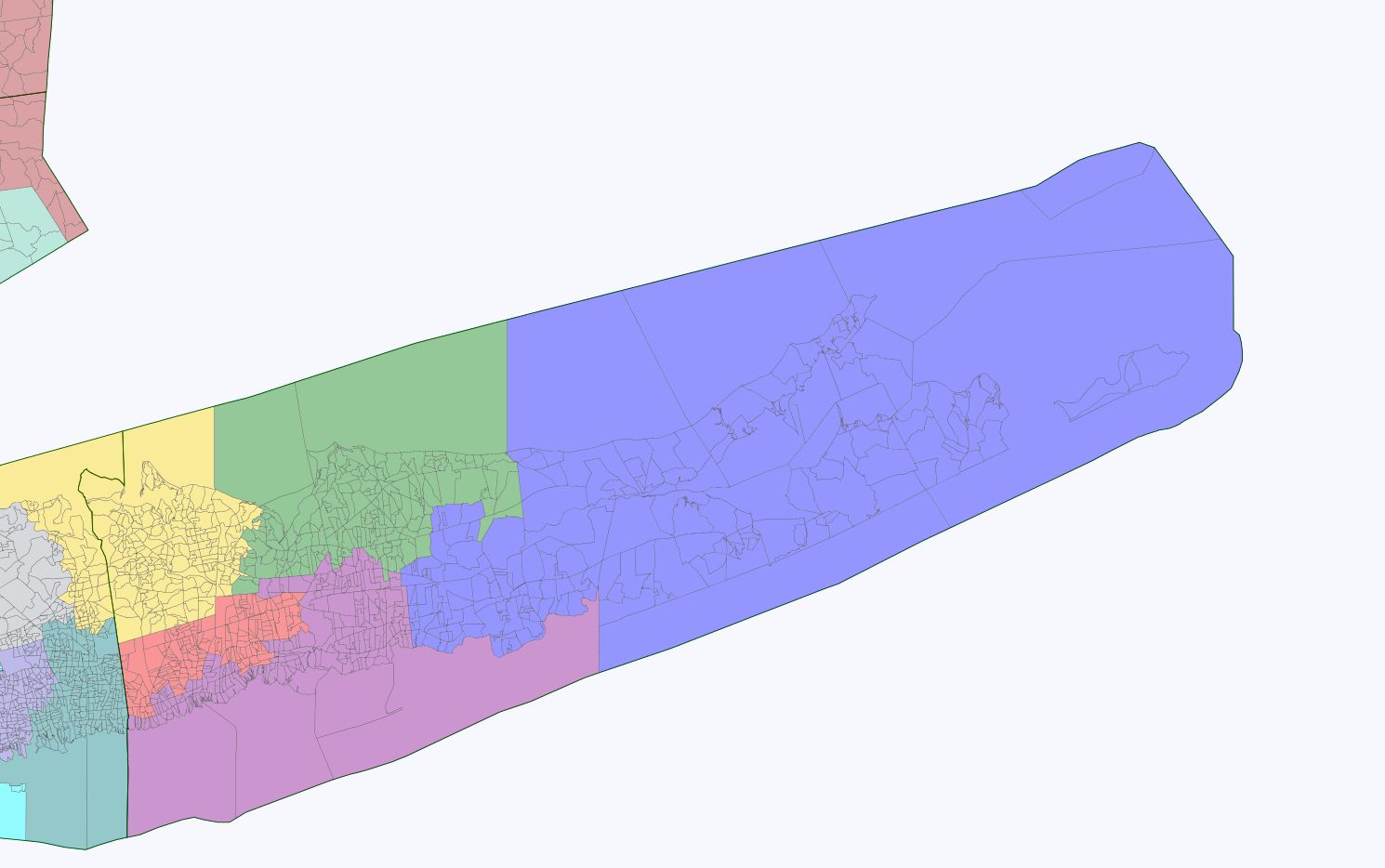 District 1 (blue) 54.2% O - 44.8% M Tossup but probably stays Republican
District 2 (green) 49.3% O - 49.7% M GOP Retention
District 3 (purple) 46.0% O - 53.0% M GOP Retention
District 4 (red) "minority-majority Hispanic influence district" w 39.1%-h 37.1% - b 18.4%
66.2% O - 33.0% M Dem Takeover +1
District 5 (yellow) 51.7% O - 47.5% M GOP Retention
Nassau County...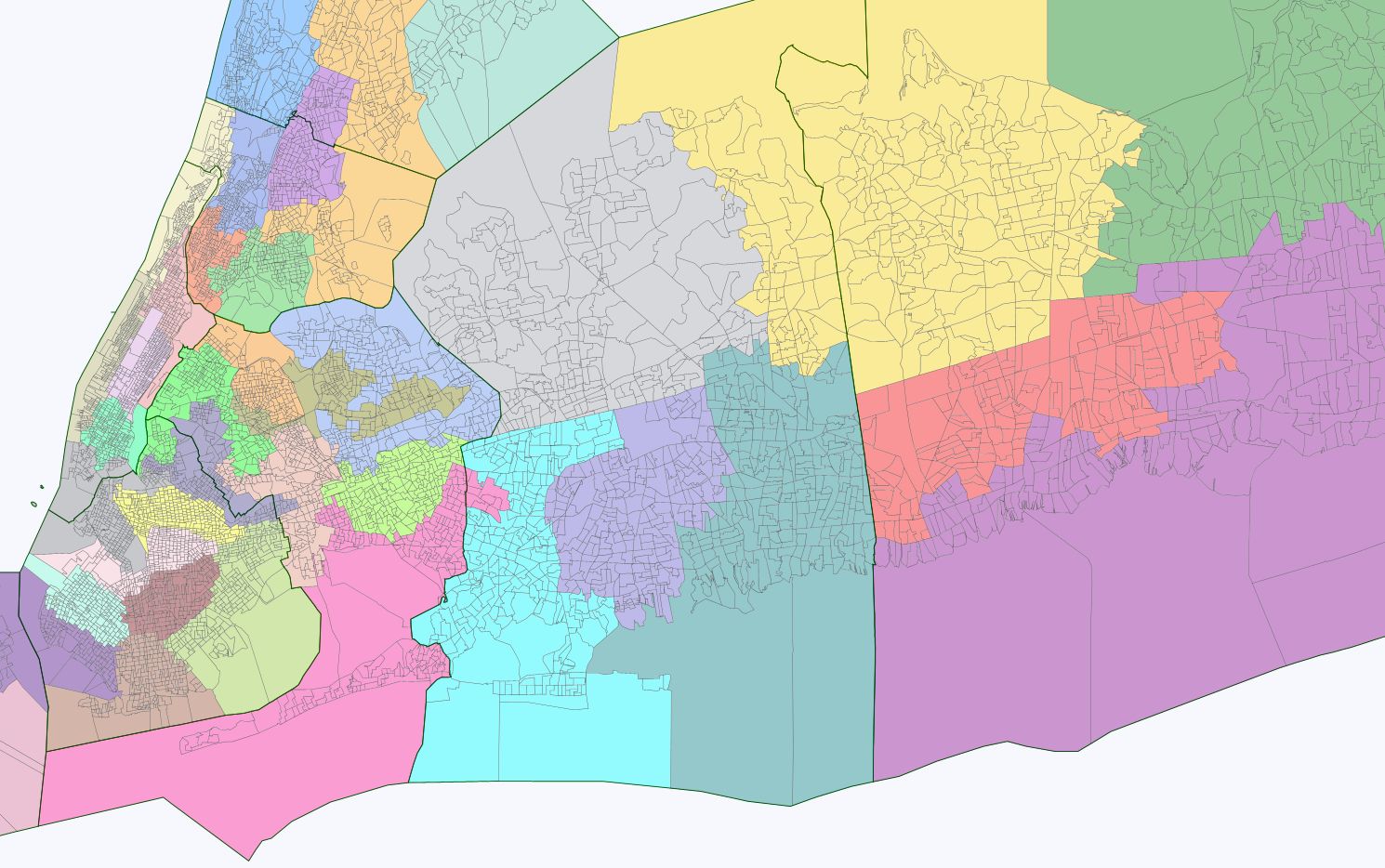 District 6 (teal) 44.7% O - 54.5% M GOP Retention
District 7 O 55.1% - M 44.1% Tossup - North Shore district could genuinely go either way
District 8 (purple-blue) "minority-majority white plurality district" w 42.7%, b 25.8%, h 25.4% O 66.2% - M 33.2% Dem Takeover +2
District 9 (sky blue) O 49.3% - M 50.0% GOP Retention
Queens... Now we move into NYC proper.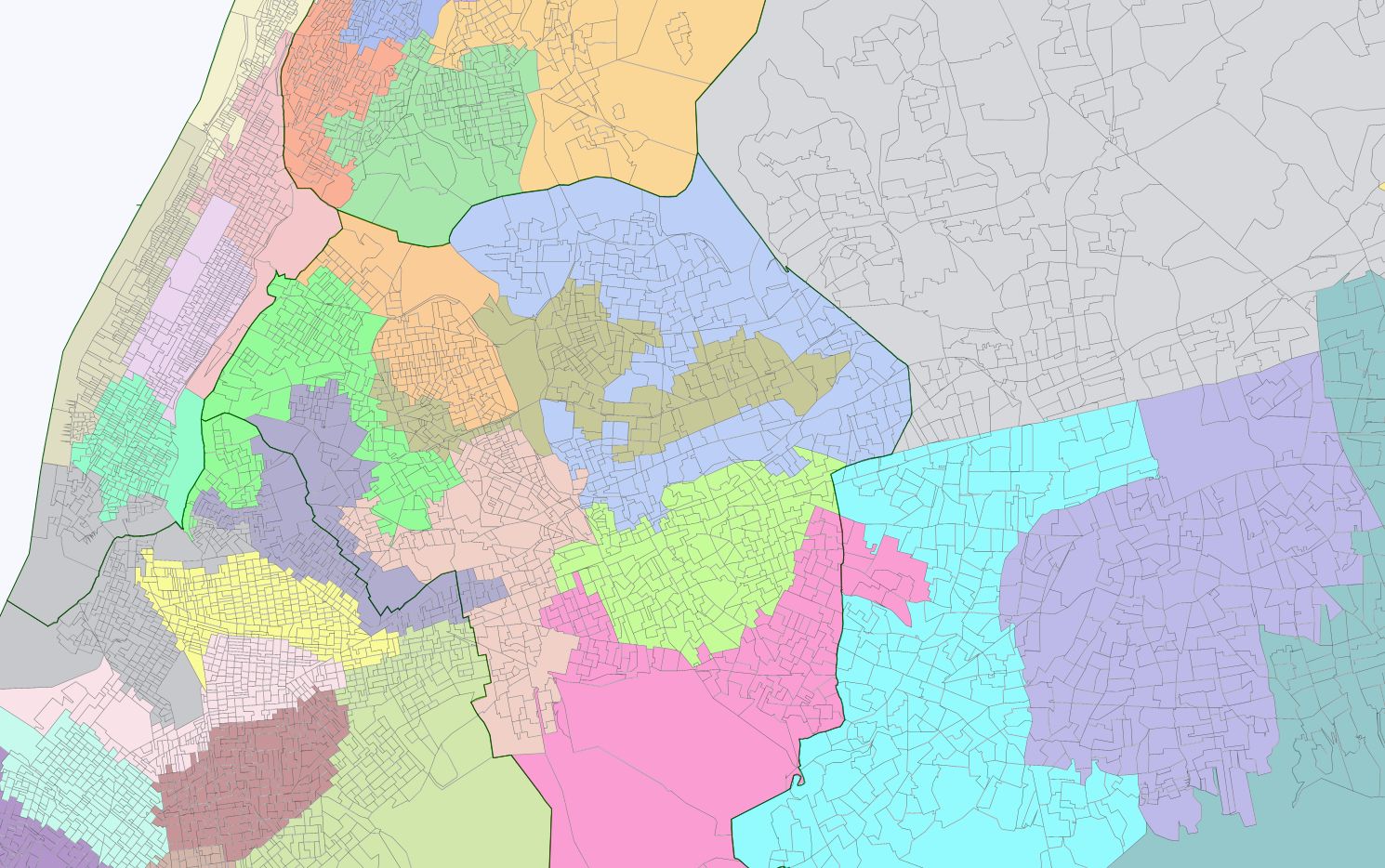 District 10 (pink) contains a bit of LI's population excess from having a bit more than 9 seats. Customarily it is standard practice not to have any districts cross over between LI and Queens. However, in this case, the VRA trumps political custom; it is very hard to fashion two majority African-American districts in southern Queens without the 20,000 or so mostly African-American residents I pulled out of Valley Stream and neighboring areas.
53.3% b, O 84.3% - M 15.3% Safe Democratic
District 11 (light green) 53.3% b, 93.2% - M 6.6%
District 12 (midnight blue) Has weird shape to accommodate the creation of a majority-Asian VRA seat. 47.4% w with 28.7% a so even with the creation of an Asian VRA seat, there are still enough Asians left in NE Queens to have the 12th be a potential "influence" district. 61.7% O - 37.4% M Safe Democratic (although this was the sort of district that Padavan won for freaking forever)
District 13 (salmon) 48.6% w, 27.4% h. O 63.2% - M 35.9% Safe Democratic, although again, this is the type of district that Republicans used to win within NYC way back when.
District 14 (khaki) 59.3% a, 18.1% w, 17. 1% h O 67.2% - M 32. 1%. Safe Democratic. Without knowing the CVAP data, I tried to ensure that this district was as close as possible to 60% Asians and that Asians were more than twice the size of the next racial/ethnic group in the district.
District 15 (orange) 61.2% h, 16.1% a, 14.1% w O 81.7% - M 17.7% Safe Democratic.
District 16 (lime green) w 52.8%, O 74.9% - M 24.0%. Safe Democratic. The remaining white areas of Queens. I decided that it made sense, from a communities-of-interest perspective, to attach Greenpoint with Astoria even though that meant that two districts crossed between Brooklyn-Queens rather than just one.
District 17 (dark purple) h 58.7%, w. 19.7%. Again, tried to get this as close as possible to 60% not knowing the CVAP numbers. Also, tried to ensure that the Hispanic population within the district came close to tripling the next largest ethnic/racial group.
Now we move into Brooklyn. Here the guiding principle was maintaining the existing VRA seats and then tidying the lines. No court, in my view, is going to draw the spaghetti like seats that currently exist in South Brooklyn. Oddly enough, this didn't necessarily result in the elimination of a GOP seat, as I assumed might be the case. In other words, there is really no good reason, even from a partisan point of view, for the GOP to have such a messed up map in south Brooklyn as they currently have.
Districts 18-21 are, as they are now, VRA African-American seats. I tried to follow the existing map as much as possible, given the tension that exists between Caribbean and native American blacks in Brooklyn.
District 18 (yellow) 59.2% b 97.5% O -2.5% M Safe Democratic
District 19 (greenish yellow) 58.5% b, 84.8% O - 15.0% M Safe Democratic
District 20 (pink) 57.7% b, 91.9% O - 7.7% M Safe Democratic
District 21 (maroon) 58.5% b, 82.4% - 17.4% M Safe Democratic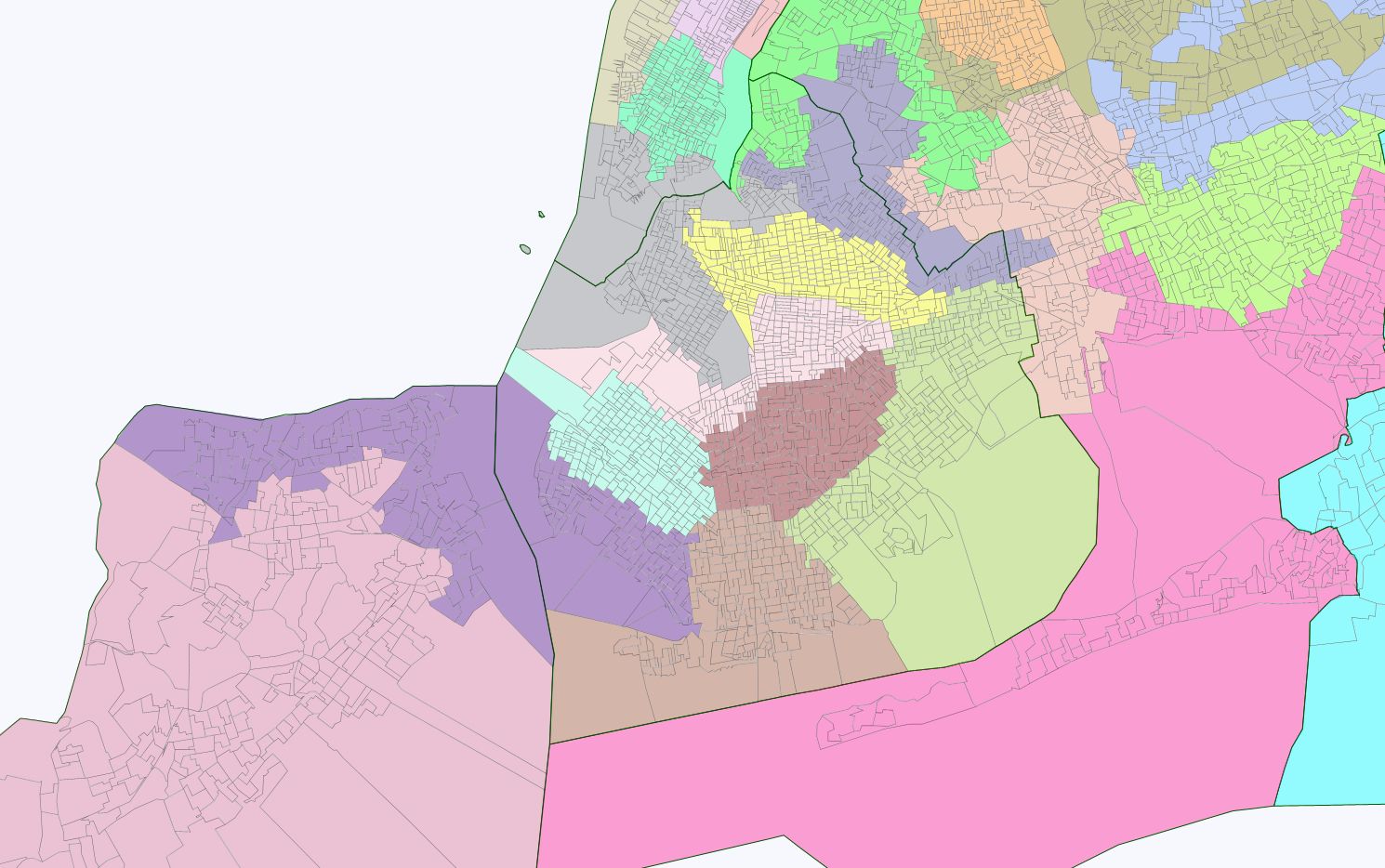 District 22 (brown) 47.4% O - 51.9% M Republican probably?/Tossup perhaps? Once I put the Brooklyn VRA seats in (17-21), and then drew the Staten Island seats, I tried to draw the rest of Brooklyn coherently based on geography. Southern Brooklyn plus Coney Island seems to this ex NYC resident a logical community-of-interest. Although the top line suggests a Republican seat, this district contains a lot of orthodox Jews who tend to vote Democratic on the local level, so I am really not sure how this district will fall.
District 23 (light blue) w 46.3%, a 28.3%, h 22.3% O 51. 4% - M 47.8% Lean Republican?/Tossup? This seems to me to be a logical district, again following geographic considerations. I also wanted to see whether I could maximize the influence of Asians and Hispanics in Sunset Park and other places nearby.
District 24 (dark purple) w 46.6%, 62.2% O - 36.9% M North Shore of SI is the Democratic part + Bay Ridge = a safe Democratic seat.
District 25 (mauve) 38.1% O - 61.2% Probably the most Republican district in the entire state - that shows you how Republican most of Staten Island is.
District 26 (dark grey) Crossover district between the Brooklyn parts closest to Manhattan and Lower Manhattan. 83.9% O - 15.3% M Safe Democratic
Now into Manhattan....
District 27 (green) Lower East Side and parts of the West Village and Soho/Tribeca 85.8% O - 13.1% Safe Democratic
District (lavender) 28 O 74.9% - 24.3% A big shoutout to State Sen. Liz Krueger, who I happily helped elect into office back in early 2002 when I went campaigning outside of Gristedes and Food Emporiums for her. Very little changes to her seat. Safe Democratic for as long as Krueger wants it; Tilt Democratic if she retires (or seeks Congresswoman Maloney's district when she retires) given the wealthy ticket-splitters in this district.
District 29 (tan) 86.5% - 12.6% M The West Side finally gets put back together whole again. No more let's try to screw over now NY Attorney General but then State Sen. Eric Schneiderman. Safe Democratic.
District 30 (pink-red) 43.2% b, 36.8% h, w 13.0%. 95.7% O - 3.8% M. It is no longer possible to draw a majority African-American state senatorial seat in Upper Manhattan and Harlem. It is barely possible even to do it crossing into the Bronx but the ungainly shape might not past Gingles muster. Thus, I opted for this coherent district instead. Safe Democratic
District 31 (cream) 61.2% h, 23.7% w. 87.9% O - 11.3% M. The current district once held by Schneiderman until last fall has now been made properly into a Hispanic VRA seat.
Now we cross the Bronx River over into da Bronx where I maintained three majority Hispanic seats and, going into Westchester, one majority African-American seat.
District 32 (red) 62.7% h, 33.7% b, 95.9% O - 3.8% M Safe Democratic seat
District 33 (blue) 63.4% h 21.0% b, 89.5% O - 10.1% M Safe Democratic seat
District 34 (green) 62.4% h, 28.6% b, 93.0% O - 6.7% M Safe Democratic seat
District 35 (purple) all of Mt. Vernon plus the Northern Bronx. 57.2% b, 26.4% h. 91.0% O - 8.7% M Safe Democratic seat
And now we cross over out of NYC and into Westchester. From this point onward in the map, the iron-clad rule about townships becomes operative, which forces your hand as to what kinds of districts can be drawn in Westchester and the Hudson Valley where townships don't always add up nicely.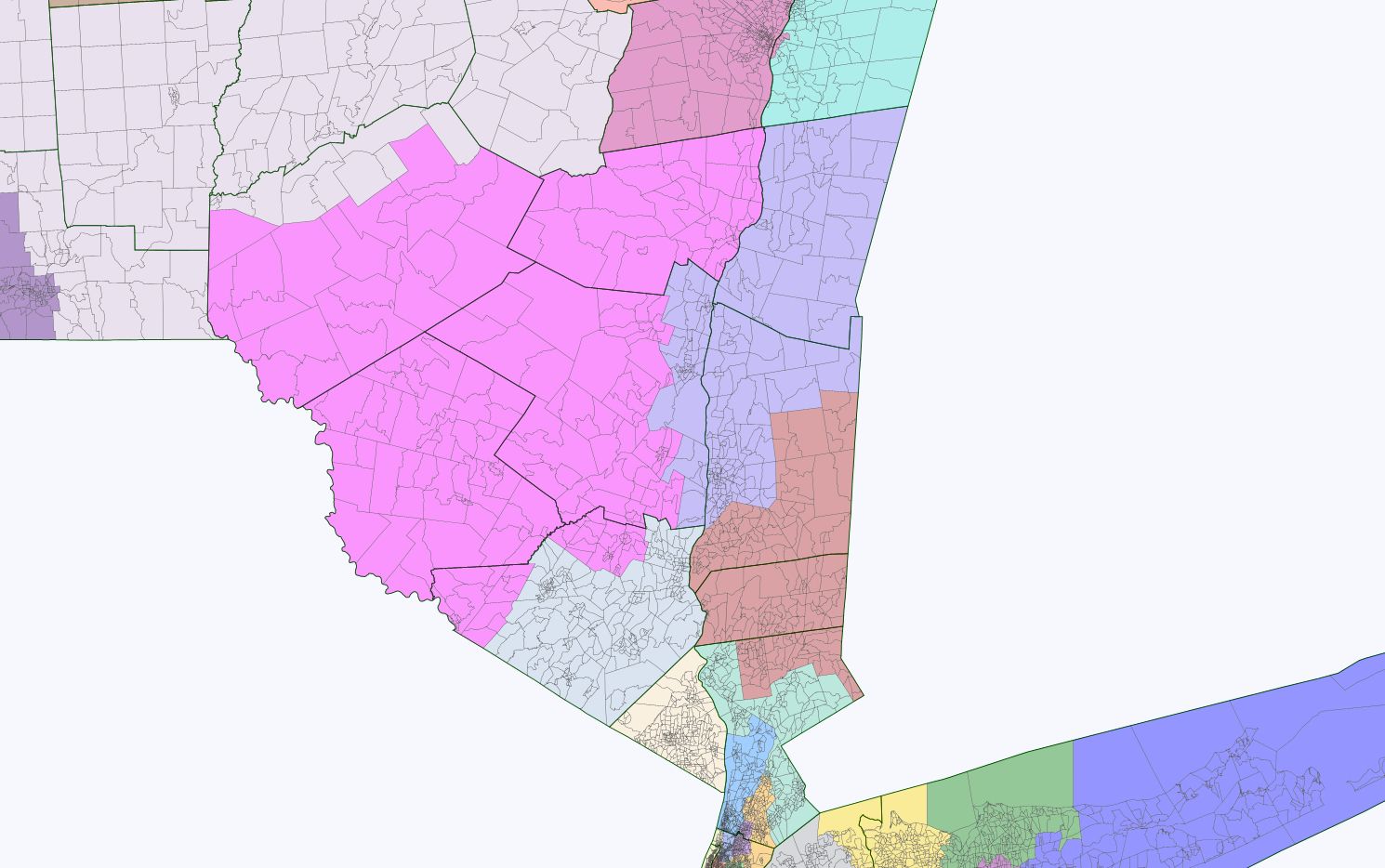 District 36 (orange) The other cross-over seat from Bronx into Westchester, which is unavoidable given the VRA and the need to go into Westchester to retain the 35th district's protected status. That being said, the current district's shape is an utter monstrosity, designed to elect a Republican of course. Here I evened out the lines considerably, as any court would do. In Westchester, contains all of New Rochelle, Pelham, Eastchester, and Scarsdale Townships but splits White Plains and Yonkers (which you are allowed to do given that these are cities). 62.3% O - 37.0% M Independent Democrat Jeffrey Klein probably seems the right kind of Democrat to keep holding this seat.
District 37 (blue) 64.5% O - 34.7% M Mt. Pleasant, Greenburgh, and most of Yonkers makes a nice snug fit and was drawn this way under the old GOP map. I am sure that the court master will likely keep it this way.
District 38 (greenish blue) 62.1% O - 37.0% M The second district contained wholly within Westchester County. It has its weird northern shape given the need to keep townships whole, which means that you have to contort yourself sometimes to keep the population variances reasonably low. Democratic
District 39 (off white) 52.6% O - 46.7% M Rockland County is only about 900 people (less than 1% off of the average size) short of an ideal state senatorial district. So why not just create it as such? Tossup/Lean GOP by the topline numbers yet currently held by Independent Democrat David Carlucci elected last fall.
District 40 (brick red) Northern Westchester, Putnam, southern and eastern Dutchess. Very community-of-interest minded as this area (where I grew up by the way) is rapidly suburbanizing. Still, the ancestral GOP loyalties of the area are still evident. 48.3% O - 50.6% M Safe GOP
District 41 (silver) No reason to slice and dice Orange County multiple ways, when you can fit an entire state senatorial district comfortably within its boundaries. 52.4% O - 46.6% M Safe GOP
District 42 (purple) Columbia, left over part of Dutchess around the Hudson River and parts of Ulster County make up this district. 57.9% O - 40.6% M but as long as the GOP fields Sen. Saland as their candidate, I see no way that he wouldn't continue to win here. Saland by the way is the key reason NYS has a gay marriage law now, which should tell you about what kind of Republican politician he is. But after Saland retires, this is clearly a Tossup if not Tilt Democratic seat given how this region is trending politically as it continues to be absorbed into the outer NYC metro area.
District 43 (pink) rest of Ulster and Orange not already in districts, Sullivan, Greene and most of Delaware counties ("Catskills District") O 53.2% - 45.1% M Probably GOP retention although there are a lot of Jews who live in this district, particularly in Sullivan County, that might make it interesting politically.
And now we move beyond the old 914 area code into further Upstate....
The Albany area is, frankly, one I had a hard time deciding on what a court master might do. If the Democrats were able to retain their slim majority last fall in the State Senate, I know how I would draw this region being a partisan Democrat that I am: I would attach split Albany County and Albany down the middle and attach one part of it to Schenectady and the other to Troy. Bingo, you have two Democratic 59-60% Obama seats rather than just one. But I am not entirely sold that the court master would do that. As we will see later in the upstate map, there are other places where a court master would probably undo egregious aspects of the GOP gerrymander currently existing (like splitting Ithaca three ways) that if you are keeping score, it probably doesn't matter too much that the current Capital District area map is largely followed.
District 44 (reddish) (Albany County plus a bit extra): 63.7% O - 34.4% M Safe Democratic
District 45 (blue) Warren, part of Washington, Saratoga, and Renssalaer counties. Extends a bit further north than now to accommodate the North Country seat on the one hand, and a Saratoga-Schenectady seat on the other. Drawing the map this way allows for fewer county splits in Central New York. 51.4% O - 46.8% M Safe Republican
District 46 (orange) Schenectady-Saratoga 53.4% O - 44.7% M Safe Republican
District 47 (weird white/silver color) If we have a "Catskills District" now we have an "I-88 district" instead of "Abe Lincoln riding a vacuum cleaner" as exists now. This is clearly a community of interest and should be put together in a district. 48.3% O - 49.3% M Safe Republican although the court master probably has discomfited whoever the Abe Lincoln district was drawn for. Oh well.
District 48 (light orange color) This upper Central New York district, along with the one to its west only splits Oneida County. Utica-Rome and Herkimer/Fulton seem like a community of interest to me. 46.5% O - 51.8% M Safe Republican
District 49 (reddish brown) If the court master might keep the Albany area largely the same as now, I believe they would not draw the North Country like currently. This region, instead of being sliced and diced three ways, is put together and forms a lean-Democratic seat now: 57.7% O - 40.7% M.
District 50 (blue) Oswego, Jefferson, Lewis, and parts of Oneida. This seems, again, like a reasonable community of interest. 46.5% O - 51.8% O Safe Republican
Now we move into the Syracuse area....
District 51 (brown) Madison and part of Onondaga. Unavoidable to split Syracuse both from a population equity angle as well as one of partisan competitiveness. 57.3% O - 40.8% M District is about 2,000 short of ideal population but I wanted to avoid splitting counties if I could upstate, and it is within 1% of the population norm so I let it slide. Lean Democratic retention.
District 52 (olive) Cayuga and part of Onondaga. 57.6% O - 40.5% M How easy was that? Probably prime for Democratic takeover now.
District 53 (purple) Binghamton-Ithaca. This seems like a logical community-of-interest "major universities Southern Tier" seat, although it would likely elect a Democrat so it has never been drawn this way. A court master probably does not care about Senator Libous's reelection prospects :-) 57.9% O - 40.4% M Probably Democratic takeover now.
And now, finally, Western New York...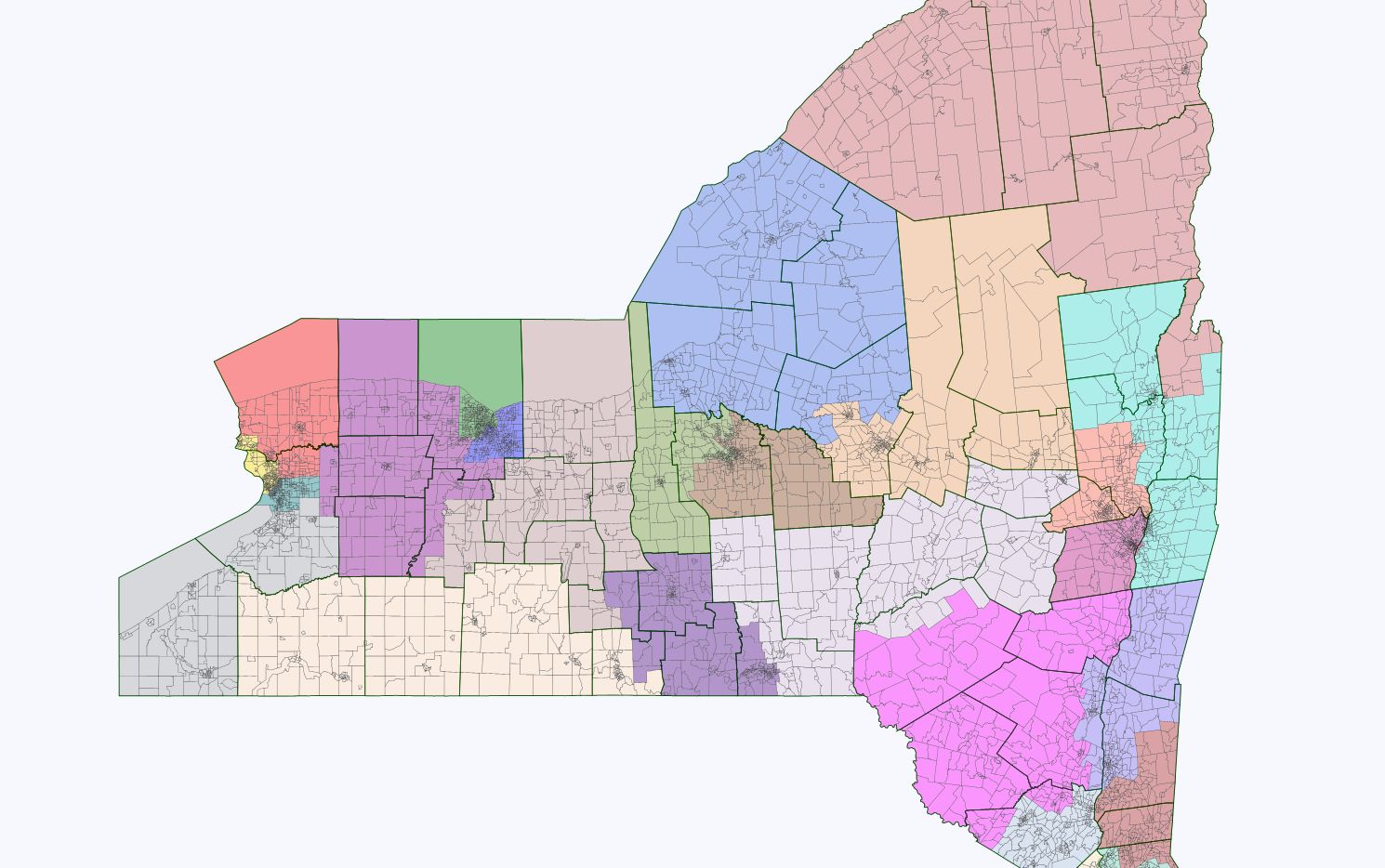 District 54 (cream) Southern Tier with only one county split. Largely rural and very Republican. O 43.6% - M 54.9%
District 55 (brownish color) O 47.2% - 51.3% M Safe Republican Finger Lakes region district.
District 56 (blue) Eastern side of Rochester and suburbs. 59.3% O - 39.3% M Probably lean Democratic takeover except for the fact that Jim Alesi is one of the Republican senators who voted for marriage equality. Still, I would have to think that this map gives Democrats a fair shake at least as opposed to the current monstrosity that divides Rochester three ways.
District 57 (green) Western side of Rochester plus suburbs. 62.7% O - 36.1% M About as Democratic as currently, believe it or not. Joe Robach, the Republican who gets elected here, wins largely because of inertia ("do you want to be the district that risks voting in a Democrat while the rest of the state continued to elect a Republican majority in the state senate?") and because he used to be a Democratic politician so I guess he has cross-over appeal. I would have to believe, though, that with Obama at the top of the ticket next fall, that a Democratic candidate would stand a good chance of prevailing here. In any event, I drew the Rochester area from a communities-of-interest perspective given that it strikes me from driving through a few times that the rest of Monroe County is more rural and less connected to Rochester than the 56th and 57th districts are.
District 58 (purple) GLOW gets its district finally, along with a bit of Erie and the rest of Monroe. Rural Western NY gets sliced and diced currently to elect all kinds of Republicans based in more populous counties to the west. No need for that when the counties fit together nicely to form a district. 41.6% O - 56.8% M, the most Republican district upstate and therefore safe GOP.
District 59 (red) Most of Niagara, Amherst and Clarence townships in Erie. 49.0% O - 49.5% M Safe GOP.
District 60 (yellow) Niagara Falls and Northern Buffalo. 65.7% O - 32.7% M Probably going to flip back to the Democrats with Obama at the top of the ticket next fall, but this is actually a bit of an improvement over the current district that Mark Grisanti represents, so he might actually have a fighting chance. Anyways, it wasn't drawn for that; rather to keep the townships whole and the population deviations as close as possible, the 59th had to add in Amherst and Clarence and subtract out Niagara Falls City and Niagara township, which, together with northern Buffalo, Grand Island, and Tonawanda seem to me to make a coherent district.
District 61 (teal) 63.2% O - 35.3% M South Buffalo and immediate southern and eastern suburbs. Safe Democratic for as long as Kennedy wants the seat.
District 62 (grey) 48.1% O - 50.1% M Southern Erie and nearby Chautauqua County seem to me to make a coherent district that would lean Republican most years.
Whew that was a bit long! I don't know what I am going go do when it comes to presenting my court map of the NYS Assembly.