Despite our global conservation strategy of creating substantial amounts of protected areas, the world is seeing an alarming drop of biodiversity according to scientists would maintain indexes on biodiversity, reports Tom Zeller Jr., of the Huffington Post, in his excellent article Biodiversity On Earth Plummets, Despite Growth in Protected Habitats.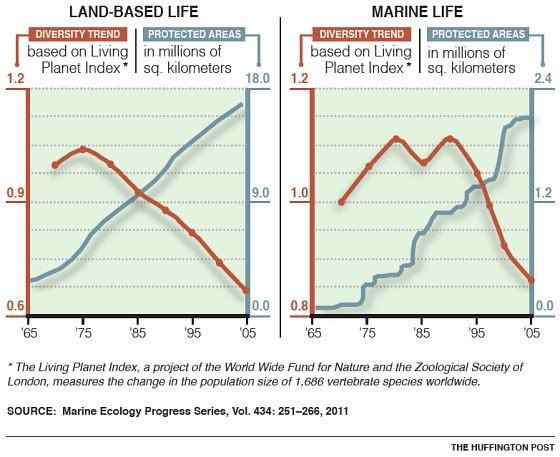 Over 100,000 so-called "protected areas" representing some 7 million square miles of land and nearly 1 million square miles of ocean have been established since the 1960's, noted the analysis, published Thursday in the journal Marine Ecology Progress Series.
And yet, according to a widely cited index used to track planetary biodiversity, the wealth of terrestrial and marine species has seen steady decline over roughly the same period, suggesting that simply protecting swaths of land and sea -- a common conservation strategy worldwide -- is inadequate for preventing the steady disappearance of earth's creatures.

"The problem is bigger than one we can realistically solve with protected areas -- even if they work under the best conditions," said Camilo Mora, an assistant professor in the Department of Geography at the University of Hawaii at Manoa and lead author of the study. "The protected area approach is expensive and requires a lot of political and human capital," "Our suggestion is that we should redirect some of those resources to deal with ultimate solutions."

The biodiversity of our ecosystem is a key measure of health and robustness. This precipitous drop should be like the canary in the coal mine. We need to determine what is causing this, and take whatever measures we can, to remedy these trends to the best of our ability -- or we will face drastic consequences.
With the human population of earth expected to surpass 7 billion by October of this year, we are getting alarming feedback from many different signals, that we are destroying the very ecosystem we need for survival. Yes, our population is still growing and is expected to reach 9 billion by 2050.
The steady loss of biodiversity -- defined roughly as the rich variety of living things -- can, in turn, have profound implications for human civilization, which relies on healthy, variegated ecosystems to provide a host of ecological services from water filtration and oxygen generation to food, medicine, clothing and fuel.

The precise value of such services is difficult to quantify, but one economic analysis estimated they were worth as much as $33 trillion globally.
So, the economic value of the entire ecosystem is worth $33 trillion? This makes it just a bit less value than the entire wealth of the USA. How absurd. We cannot survive without this ecosystems, it is priceless.
And, we ought to be a lot more concerned than we are about. No mention of this study, between the 24/7 coverage of the debt-ceiling crisis, which will seem trivial to the possible end of mankind on earth. ... Just saying, but I digress. Back to our story.
The authors of Thursday's analysis suggest that reversing biodiversity losses will require a vast rethinking of conservation strategy -- one that redirects limited resources toward more holistic solutions. This would include efforts to reduce human population growth -- and its attending consumption patterns -- as well as the deployment of technologies that would increase the productivity of agriculture and aquaculture to meet human needs.

Also needed, the authors wrote: a continued "restructuring of world views to bring them in line with a world of finite resources." Dr. Sale said, "In the final analysis, we have to recognize that we are pushing up against limits set by the way the biosphere functions. Biodiversity loss is one sign of this."

"In the final analysis, we have to recognize that we are pushing up against limits set by the way the biosphere functions." This is the same message we heard long ago by Dennis Meadows, et. al. in Limits To Growth.
Can we be the first species, so far, on planet earth to transcend our biology, and consciously, choose to limit our own population growth to stay within the carrying capacity of the ecosystem?
While we've are making some progress, real questions remain unanswered, if we are, or even can make them fast enough to avoid, the biosphere enforcing the limits on us, against our will -- and with great tragic implications.
So, the odds, to not seem to be in our favor, and we seem to be running out of time, as many of the changes we need to make, are measured in increments of decades to half a century.
WWF/ZSL
Living Planet IndexThe Living Planet Index (LPI), is maintained by the ZSL Institute of Zoology at http://www.zsl.org/....
They explain how it is defined.
The Living Planet Index (LPI) is an indicator of the state of global biological diversity, based on trends in vertebrate populations of species from around the world.
The LPI is one of the indicators designated for immediate testing by the Convention on Biological Diversity as a means of measuring progress towards the 2010 target, specifically focusing on the headline indicator 'Trends in abundance and distribution of selected species'
The work at ZSL is concerned with ensuring the most rigorous and robust methods are implemented for the measurement of population trends, expanding the coverage of the LPI to more broadly represent biodiversity, and disaggregating the index in meaningful ways (such as assessing the changes in different taxonomic groups, looking at species trends at a national or regional level and exploited or invasive species).
The Living Planet Database currently holds over 8000 population trends for more than 1,800 species of fish, amphibians, reptiles birds and mammals and data are continually being added from a variety of sources such as journals, online databases and government reports. Results are produce biennially in the WWF Living Planet Report and are used in publications such as the Millennium Ecosystem Assessment and the UNEP Global Biodiversity Outlook.

To calculate the LPI, generalised additive modelling is used to determine the underlying trends in each population time series. These rates are then aggregated to the species level and then each species trend is aggregated to produce an index for the terrestrial, freshwater and marine systems. The three system indices are weighted equally to produce the global LPI. The current LPI reveals a global decline of 27% between 1970 and 2005. The terrestrial index declined by 25%, freshwater by 29% (this index is calculated to 2003 due to the lack of data available for latter years), and marine by 28%.

This is sad news, indeed, Kossacks. We need a much stronger global response by all the citizens of the world, and our governments. Even more sadly, the US is lagging, and holding back these efforts more than leading them, in part, to the radical ideology of the extreme right-wing Republicans who object to any infringement of US autonomy they see implied by global cooperation on global issues.
What we are seeing is the environmental "footprint" of mankind bumping up against the global "carrying capacity" of the planet. From everything from CO2, and methane emission to our atmosphere, to pesticide, chemical, and other run-off from our farmlands, and industrial areas, to habitat destruction, to over-fishing of marine resources, we are on an unsustainable trajectory.
If we do not collective choose and enforce our own limits, based on reason, compromise, and human action, the system will do it for us, based on the sheer tragic savagery of nature.
The choice may be ours.
Do we have what it takes as a species to make choices to improve the probability of our own survival?
Time will tell.
And, it looks like we may know in the next 100 to 200 years.