The Associated Press reports After traveling 1.7 billion miles to get to Jupiter, space probe Juno, will still be able to generate 400 watts of power, with three wings of solar panels, each the size of a truck. If in orbit around earth, solar collectors of this size would generate 25 times as much power.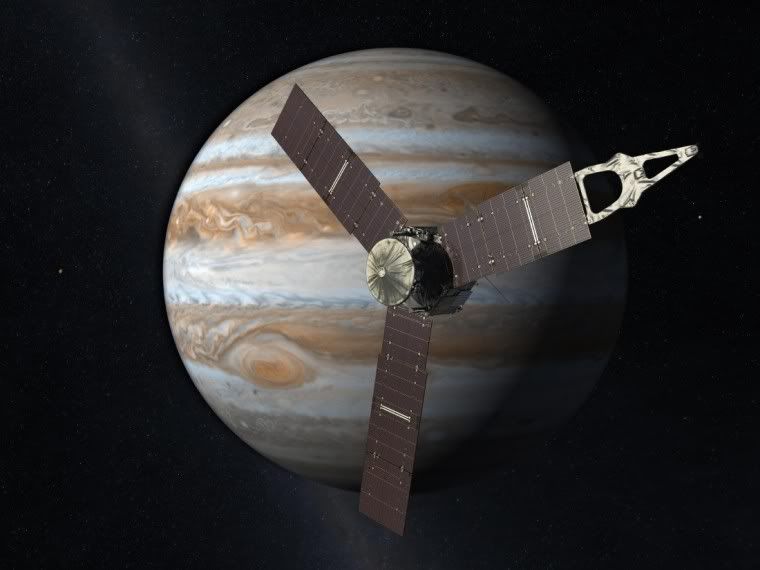 Artist Rendition of Juno in Orbit Around Jupiter, Courtesy of NASA
NASA's upcoming mission to Jupiter can't get much greener than this: a solar-powered windmill-shaped spacecraft. Robotic explorer Juno is set to become the most distant probe powered by the sun. Juno is equipped with three tractor-trailer-size solar panels...

Jupiter, a planet several NASA spacecraft have studied, is so vast it could hold everything in the solar system, minus the sun. Scientists hope to learn more about planetary origins through Juno's exploration of the giant planet, a body far different from rocky Earth and Mars.

It will take Juno five years to reach Jupiter, which is five times farther from the sun than Earth. ... No spacecraft has ventured so far powered by solar wings.
Each of Juno's three wings is 29 feet long and 9 feet wide, necessary given that Jupiter receives 25 times less sunlight than Earth. The panels, folded for launch, emanate from the spacecraft much like the blades of a windmill.

At Jupiter, nearly 500 million miles from the sun, Juno's panels will provide 400 watts of power. In orbit around Earth, the panels would generate 35 times as much power.
I suspect this last sentence contains a typo, when it says Juno's solar panels would generate "35" times as much power if in orbit around the earth. Jupiter is just over five times as far from the Sun, as the Earth, so the inverse/square law suggest the ratio should be 25, not 35.
Unless, we've been on the "darker side of the sun, all this time, and didn't know it." (Spacey humor)
Mon Aug 01, 2011 at 10:33 PM PT: BentLiberals's OND is carrying this link to a much more detailed and richer discription of Juno's mission to make detailed measurements of Jupiter's electromagnetic fields. This article is worth a full read. OND
Artist's rendering of Juno courtesy of NASA
http://www.yourhoustonnews.com/...
By Elizabeth Zubritsky

NASA's Goddard Space Flight Center
When it comes to magnetic fields, Jupiter is the ultimate muscle car. It's endowed with the biggest, brawniest field of any planet in the solar system, powered by a monster engine under the hood.


Figuring out how this mighty engine, or dynamo, works is one goal of NASA's Juno mission, which is scheduled to begin its five-year, 400-million-mile voyage to Jupiter in August 2011. Juno will orbit the planet for about a year, investigating its origin and evolution with eight instruments to probe its internal structure and gravity field, measure water and ammonia in its atmosphere, map its powerful magnetic field and observe its intense auroras.




The magnetic field studies will be the job of Juno's twin magnetometers, designed and built at NASA's Goddard Space Flight Center in Greenbelt, Md. They will measure the field's magnitude and direction with greater accuracy than any previous instrument, revealing it for the first time in high-def.




"Mapping Jupiter's magnetic field is one of the very few ways available to learn about Jupiter's deep internal structure," says Juno's project scientist, Steven Levin of NASA's Jet Propulsion Laboratory in Pasadena, Calif., which manages the Juno mission. That's because Jupiter's atmosphere is compressed so much by its powerful gravity field that it becomes impenetrable to most sensing techniques.