Today we're going to talk about origami, the art of paper folding, specifically we're going to talk about origami cranes. Before we do, let's watch some real cranes for a moment, these birdies are hanging along the coast in Taiwan:
After the flip, we'll wander somewhere dark and frightening for a moment, and also learn some more about folding paper cranes...
Background — The Little Boy and the Little Girl
This diary is dedicated to the memory of an event whose anniversary is this Saturday, when a little boy visited a city in the southern Japanese Islands, met a little girl, and changed the course of her life. Sadly, this is not a happy "boy meets girl" tale...
The little boy was a hunk of tragic metal, built at great expense and under a cloud of secrecy. We started building Little Boy because Werner Heisenberg told his friend Albert Einstein that the Nazis were having him develop one, and Einstein in turn told President Roosevelt, who agreed with Einstein that the world shouldn't be a place where only Nazis have nuclear weapons. By the time we were ready to send this Little Boy somewhere, the Germans were already taken care of.
The Japanese, however, scared the crap out of us. By all measures of warfare that we considered sane, they were a defeated people, yet they refused to surrender, and were using suicide soldiers and pilots to continue to harm us despite the impossibility of victory. We decided to send Little Boy over for a visit, perhaps we wanted to send a message to the world that America can be even more insane than other nations.
The little girl was Sadako Sasaki, a toddler growing up in southern Japan. More precisely, she was growing up near the Misasa Bridge, one of the dozens of bridges spanning the Ōta River Delta amidst the bustling port and manufacturing city of Hiroshima, population roughly 350,000. Her father had been drafted into the army, and she lived with her mother, who ran the family's barbershop.
It was August 6, 1945, a beautiful summer morning, and the sky was clear and bright. At about 7am, the air raid sirens went off, but soon after the "all clear" was given (only six planes, spread out over a wide area, was assumed to be a reconnaissance mission). Sadako probably didn't notice, at about 7:30am, a bomber fly past, miles overhead, checking out the weather. Sadako knew about air raid sirens, but not about being bombed, during the course of the war, one and only one bomb was ever dropped on Hiroshima, and that was almost an hour in the future.
At 8:15 AM local time, three more bombers flew overhead, and Little Boy dropped in for a visit, about a mile south (two bridges downstream) of where Sadako lived and played. A quick flash, a giant cloud, and her life was changed forever.
About 70,000 of her neighbors were killed instantly, mostly to the south of her home, and a similar number considered "injured". The blast literally launched Sadako out of her home, but she wasn't burned or otherwise visibly injured. Her mother grabbed her and fled, amidst the black rain and the burning houses. They took shelter with relatives who lived a little further north.
By December, the war was over, but the tragedy continued. Almost half of the people from the city of Hiroshima had died, including people who had seemed uninjured. Sadako and her mom were hibakusha, survivors affected by the explosion. By 1947, life seemed to be returning to normal, the family opened a new barbershop, and Sadako, apparently healthy, entered Elementary school.
By 1954, she was an apparently healthy girl, known in her school for her kind heart and her running skill. However, when she caught cold late that year, her family discovered found lumps around her neck and behind her ears. In 1955, almost ten years after the bomb, the lumps had grown, and been joined by purple spots. She was diagnosed with leukemia, and entered the Hiroshima Red Cross Hospital (itself a survivor of the blast). The hibakusha had a vastly increased risk of cancer, especially leukemia, skin cancer and lung cancer. Sadako had just turned twelve years old.
She wasn't the only one with radiation-induced cancer in that hospital, and she certainly wasn't the only person injured by the bomb. The reason we remember her in particular begins when her friend Chizuko visited her in the hospital, and offered her an origami crane.
Dharma Chat — Folding an Origami Crane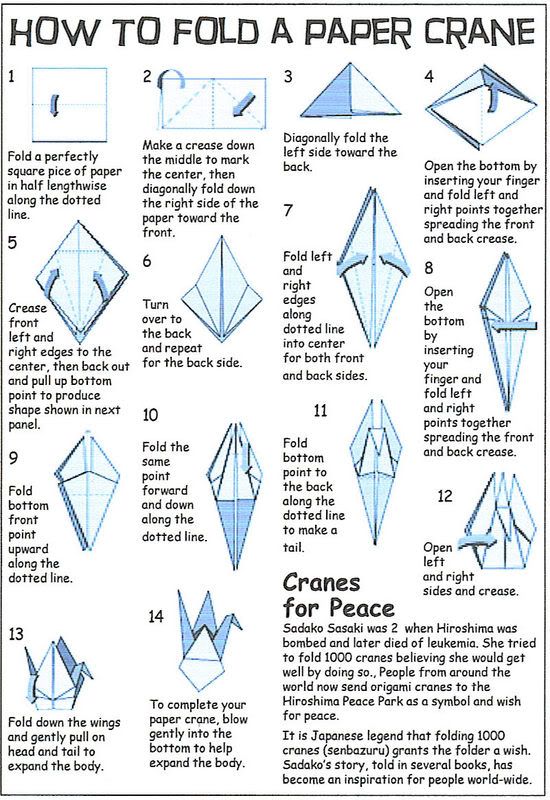 Origami is the art of paper folding, it's typically practiced with a square piece of paper. Often the paper is decorated on one side, but using a piece of notebook or printer paper, trimmed to be square, should be just fine (you might want to put a drawing on one side, if only to be able to keep the sides straight during the instructions).
I was going to write instructions here, but I ran short on time to edit them for clarity. So I'm going to give you other people's instructions. They don't necessarily match each other precisely, that's OK. There's more than one way to fold a crane, it's all good. It's best to do it slowly and mindfully, try to be very careful about positioning the paper before creasing it, and when creasing, don't be shy about making the crease, the crisper the better.
If you click on the image to the right, it should open up, full size and easier to read, in a new tab or window. Below, you should find two step-by-step videos on youtube. Still frustrated, here are detailed step-by-step directions from wikiHow, also set up to open in a new window/tab, or ask for help in the comments.
Go ahead and make one, I'll wait ...
Unless you're way more talented than me, your first crane is going to look a little goofy, not quite right. My first crane was certainly funny looking, I expect I could fold cranes for a thousand years and still not make a perfect one. That's fine, the intent and practice counts more than the final form.
Senbatsuru and Sadako's Cranes
Cranes live a long time, traditional Japanese legend has them living a thousand years (a thousand here is much like the biblical forty, a placeholder for many many). Legend has it that someone who makes a senbatsuru, a string of a thousand origami cranes, will be granted a wish, or health and long life.
When Chizuko gave the crane to Sadako, she reminded her of the legend, and Sadako resolved to make a senbatsuru. She devoted most of her waking hours to this task. Paper was still somewhat scarce, so she used medicine wrappers, she visited other patients and asked them for wrapping paper from gifts from their family. The nurses all got involved, Chizuko and her other classmates would gather spare paper and bring it to her, visiting her while she folded cranes.
Sadako indeed made many many cranes before she died that October, of complications from her Leukemia. One popular version of the tale has her only making about 800 or so cranes, but the hospital and her memorial insist that she made many more than a thousand, and given her devotion to the task, I suspect that version is more accurate.
Because, in a sense, she got her wish. While she's no longer around to share it with us, she still lives on in the hearts of millions. She also, through her heart and her diligence, turned the crane into a symbol not only of long life, but of peace, and of healing from the horrors of war and nuclear disaster.
Cranes Today
So you might wish to fold some cranes. String some in your window to declare your intent to live for peace and healing.
This Saturday, August 6, is Hiroshima day, in remembrance of the day we split the atom to destroy people's lives. You might consider bringing a crane, or a thousand, to a children's peace memorial near you. Or perhaps leave one on the doorstep of your local national laboratory, military base, military contractor, nuclear power plant, what have you.
It seems worthwhile to me to spend a moment practicing peace. It also seems worthwhile to me to keep practicing those moments until the peace spreads throughout the world. Care to join me?
The floor is open, questions, concerns, frustrations folding the damn piece of paper...