Today I've watched the heartfelt work of a group of kossacks hit the rec list and roll off almost immediately.
Extremely saddening was in the last few hours. ASiegel's, "48forEast Africa: Shadows ... Out of Sight, Out of Mind ...
He hits it right on target here:
These 'others' are starving out-of-sight and certainly out-of-mind of most Americans as we focus on the political soap operas and, more typically, soap operas like Glee.
It's not a secret that there's a beehive of back channel communication among kossacks that would put the most complex and largest of beehive communities to shame.
Now is the time to use that.
Alan Grayson, icebergslim, ericlewis0, slinkerwink, teacherken, nyceve, ministryoftruth, theses are just a few of the many kossacks who have the network to shoot diaries to the rec list and keep them there. I am imploring all of you that are listed hereon a regular basis to please spread the word about this blogathon.

800,000 children are expected to die in the weeks to come.
That has to be more important than any single pet political issue we have.
It's important enough to me to challenge this community to care enough to get Adam's diary back on the rec list and donate.
From now until bluejerseymom posts in the morning, we will match every dollar donated, up to $500.01.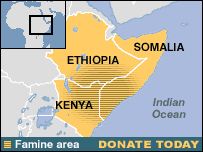 East Africa Food Crisis: 48 Hours of Action
This weekend, Daily Kos is participating in 48-Hour Fundraiser hosted by environmental websites and nonprofit organizations to benefit the 12 million people struggling for survival in the East African countries of Somalia, Ethiopia, Kenya and Djibouti. Last week, the United Nations announced famine -- already declared in two districts -- is likely to spread throughout southern Somalia. This week, the UN issued a warning that food insecurity in northern Uganda is sufficiently alarming to raise the possibility that the country might become the fifth nation impacted by the worst drought in the Horn of Africa in sixty years.
Also participating in this weekend of action are 350.org, Oxfam International, WiserEarth, tcktcktck, DeSmogBlog, MIT Climate CoLab, BPI Campus, Climate Change: The Next Generation, RedGreenAndBlue.org, Cool HIVE, MedicMobile, and The Enough Project.
Over the course of the weekend, experts in the field of humanitarian assistance will join environmental writers to outline the history of the region and detail how geopolitics, colonialism, ongoing civil wars, climate change and geographic vulnerabilities have combined to create the perfect storm now ravaging East Africa.

Each participating organization is choosing its particular group for donated funds. Daily Kos is donating all monies raised to directly support the work of Oxfam in the Horn of Africa. Please add $.01 to your donation so it ends up being $5.01, $20.01, $50.01, $100.01, and so on. This will enable Oxfam to keep track of all Daily Kos donations.
Click here to Go directly to Oxfam's donation page, which will enable us to keep track of how much money we raise.
Please read this if you live outside the United States - to make a donation, click this link and scroll down a bit to find your country. If not listed, please Google Oxfam in your country.

This is a giant leap from what I had intened to post, but it is from my heart. Please share a piece of your heart with a rec, tip, comment, donation, whatever you can.
Thanks, community!