This cycle the state of Georgia's redistricting process is controlled by Republicans. As such, GA mapmakers will likely try to maximize the number of seats for their party. Most discussion about redistricting here has focused on Republicans targetting Rep John Barrow, the last white Democrat in the Deep South, while shoring up freshman Rep Austin Scott. This map does that while also targetting Rep Sanford Bishop, creating a map that for most of the decade should result in a 11-3 Republican delegation.
Statewide: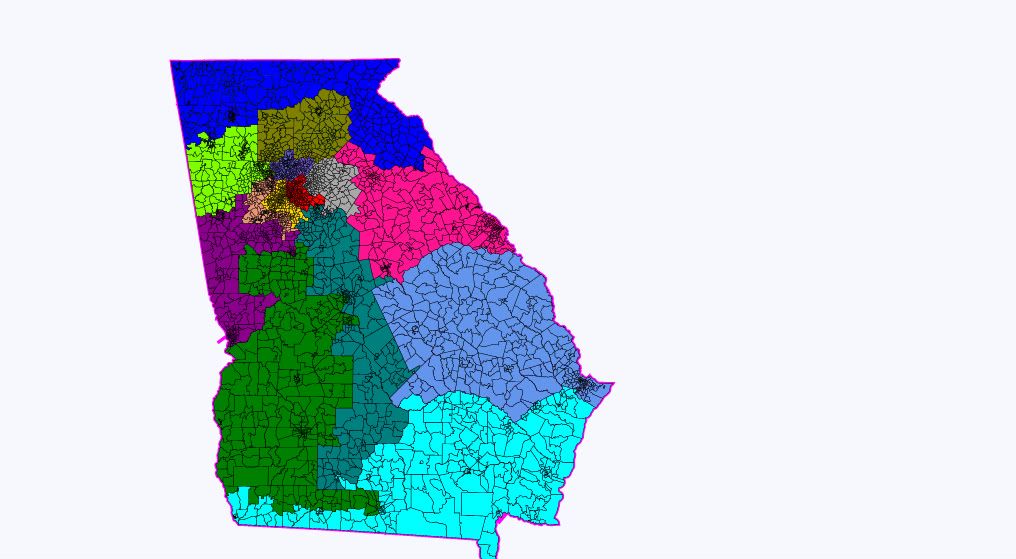 And heres a close-up of the Atlanta area:

District 1: Jack Kingston (Cyan)
Obama: 39.0 McCain: 60.7 Dem: 43 Rep: 57
This district remains very Republican. I managed to remove Savannah proper and its heavily Democratic precincts out of his district and shifted it west to eat up rural but Democratic southwest GA including Thomasville, Bainbridge, Valdosta and Cairo. Kingston would have no problem here.
District 2: Sanford Bishop (Green)
Obama: 47.9 McCain: 51.4 Dem: 50.5 Rep: 49.5
Bishop just survived his toughest fight ever in 2010, but under this map he would only have a tougher time. By losing cities like Thomasville, Valdosta and Cairo to Kingston and using Rep Westmoreland to eat up the heavily Democratic city of Columbus, his district goes from a 54 percent Obama seat to a 48 percent one. While not solidly Republican, it should certainly give the notoriously bad campaigner Bishop a very tough time as rural GA shifts even more Republican.
District 3: Lynn Westmoreland (Purple )
Obama: 40.5 McCain: 58.6 Dem: 41.6 Rep: 58.4
Still a very Republican district, absorbs the Democratic city of Columbus but overall still very safe for Westmoreland.
District 4: Hank Johnson (Red)
Obama: 79 McCain: 21
VAP: 50.1 AA 31 White
The first of the 3 Atlanta-area black majority seats, very heavily Democratic.
District 5: John Lewis (Yellow)
The second of the black majority seats, my version keeps it at around 55.3 percent black VAP.
District 6: Tom Price (Slate Blue)
Obama: 36.9 McCain: 62.2 Dem: 34.9 Rep: 65.1
Still an Atlanta suburbs district that remains heavily Republican. Barely any changes to the overall shape.
District 7: Rob Woodall (Grey)
Obama: 39.1 McCain: 60.0 Dem: 37.3 Rep: 62.7
Another Altanta suburbs seat that remains safely Republican.
District 8: Austin Scott (Teal)
Obama: 41.1 McCain: 58.0 Dem: 43.3 Rep: 56.7
Here was where some interesting decisions had to be made. I decided not to crack Macon, instead removing Warner-Robbins from the district and some southern parts. I bumped the McCain numbers up a little so I think with newer territory and more Republican performance, Scott should be safe from a Marshall comeback attempt.
District 9: Tom Graves (Blue)
Obama: 27.1 McCain: 71.6
Safely Republican, its Gov Nathan Deal's old seat. It had to shift east due to heavy population loss to make the new 14th district. Other than that its largely the same.
District 10: Paul Broun (Pink)
Obama: 47.2 McCain: 51.9 Dem: 48 Rep: 52
Broun is the real loser under this map. His district becomes more competitive to eliminate John Barrow by gaining the Democratic and heavily black city of Augusta. Perhaps I couldve shifted some precincts around to make it a little more Republican but the basic idea is removing the Augusta area from Barrow to make his district a McCain seat.
District 11: Phil Gingrey (Lime Green)
Obama: 32 McCain: 66
Central West GA, very Republican and very rural. Nothing really changes much with this district.
District 12: John Barrow (Cornflower Blue)
Obama: 46.4 McCain: 52.9 Dem: 48.2 Rep: 51.8
Robbed of the city of Augusta, this district becomes a seat that voted for John McCain instead of the current Obama district. I also gave the district the whole city of Savannah to make Jack Kingston safer and to encourage a stronger primary challenge to Barrow. While the territory is still competitive, Barrow should be doomed under these lines.
District 13: David Scott (Dark Salmon)
Obama: 70 McCain: 29
VAP: 52 AA 31.8 White
The last black majority Atlanta area seat. Safely Democratic
District 14: Open (Olive)
Obama: 24.5 McCain: 74.5
This is the new Atlanta surburbs based district, gained as a result of reapportionment. Safe Republican and will likely be that way for years.
There you have it, a map that would most likely create an 11-3 Republican delegation, though in wave years is possible to create an 8-6 delegation. I think with some minor changes, this could be passed by the legislature.