Unlike North Carolina, in which Democrats are very much favored on the congressional level - it's almost impossible to draw a map which really favors Democrats in Virginia. Almost every Republican running for Congress outperformed John McCain in 2008 and Republicans swept Virginia house seats in 2010. They now hold a 8-3 majority over Democrats in the delegation. I don't know if it is just the weakness of Virginia's Democratic party or what - but Democrats did horribly this cycle in what would appear, on paper, to be a GOP dummymander.
Tea Party Gov. Bob McDonnell may actually want to go for an 9-2 map if Democrats lose the state Senate this November. So, Bob, you can thank me later, here's a map that would likely give the GOP an impressive 9-2 majority in purplish-blue Virginia.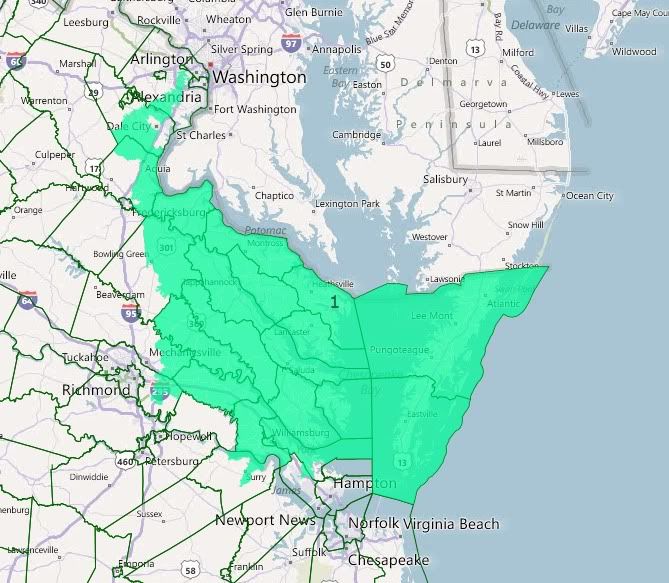 District 1: Rob Whitman (R-Montross)
52/48 McCain
54/46 Republican
68% White, 16% Black, 8% Hispanic, 6% Asian
Whitman won handily here when it was 1 point less conservative, and the district in this shape would almost certainly elect a Republican.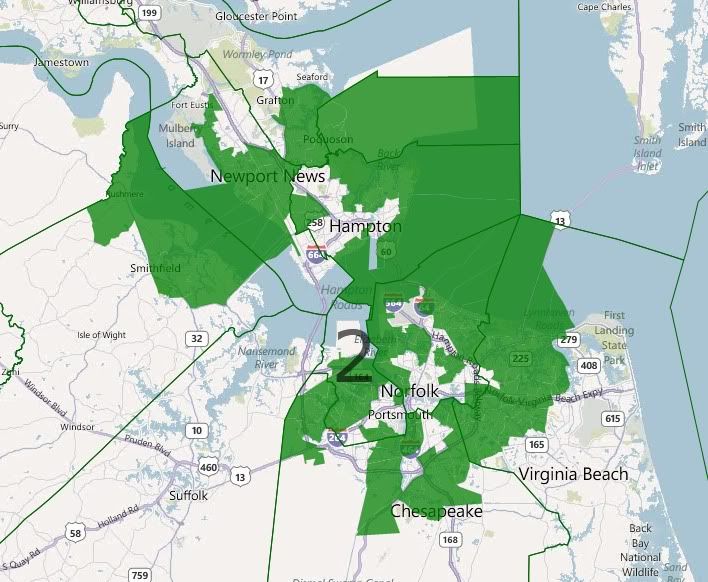 District 2: Scott Rigell (R-Virginia Beach)
51/49 McCain
53/47 Republican
66% White, 22% Black, 5% Hispanic, 4% Asian
This district takes in some of the redder precincts from Bobby Scott's district. It's quite ugly, but it actually becomes two points more conservative than before. The military is a big issue in this area. Freshman Dem. Rep. Glenn Nye lost to former car salesman Scott Rigell here in 2010, and Rigell, who at least seems like a nice guy and not a bitter partisan, would probably win again here in the future.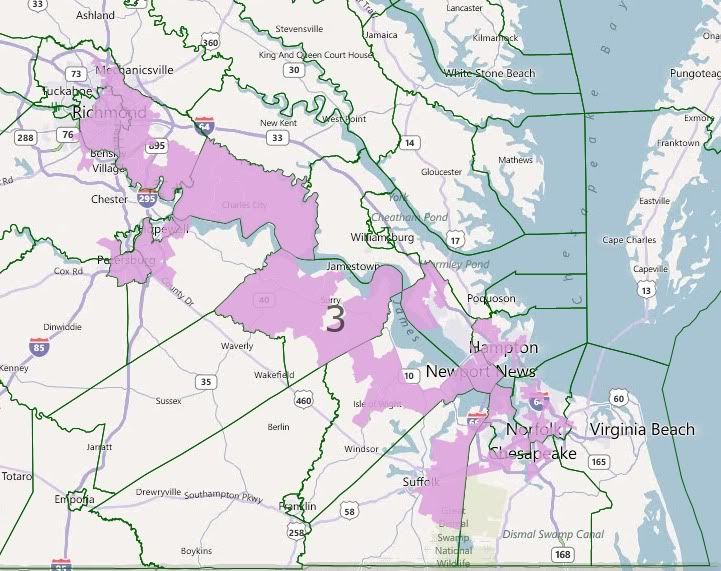 District 3: Bobby Scott (D-Newport News)
84/16 Obama
79/21 Democratic
62% Black, 29% White, 5% Hispanic, 2% Asian
The 3rd district as I've drawn it would probably win the award for ugliest-shaped district in the country. Criss-crossing the James River about half a dozen times, this district takes in the most heavily Democratic precincts from Richmond to Virginia Beach. This is one of two districts in Virginia that is safe for Democrats.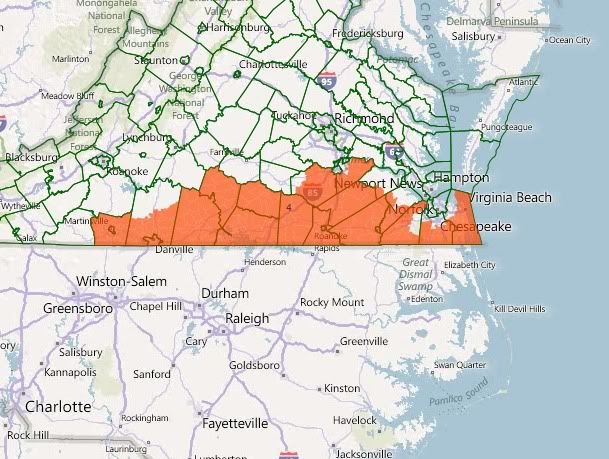 District 4: Randy Forbes (R-Chesapeake) vs. Robert Hurt (R-Chatham)
53/47 McCain
55/45 Republican
66% White, 27% Black, 3% Hispanic, 3% Asian
Randy Forbes would probably hold onto this district pretty easily; but Robert Hurt lives here too and he would have to move up to Richmond or Charlottesville to avoid running against a fellow Republican.
District 5: VACANT
54/46 McCain
57/43 Republican
75% White, 14% Black, 5% Hispanic, 4% Asian
Open seat. Robert Hurt could move up here to run. One-term Dem. Rep. Tom Perriello would have little to no chance of returning to Congress in the fifth district, where most of his base (Charlottesville) lives.
District 6: Bob Goodlatte (R-Roanoke)
56/44 McCain
56/44 Republican
79% White, 15% Black, 2% Hispanic, 2% Asian
The district shifts to the south and east a bit, but Goodlatte would still win easily here.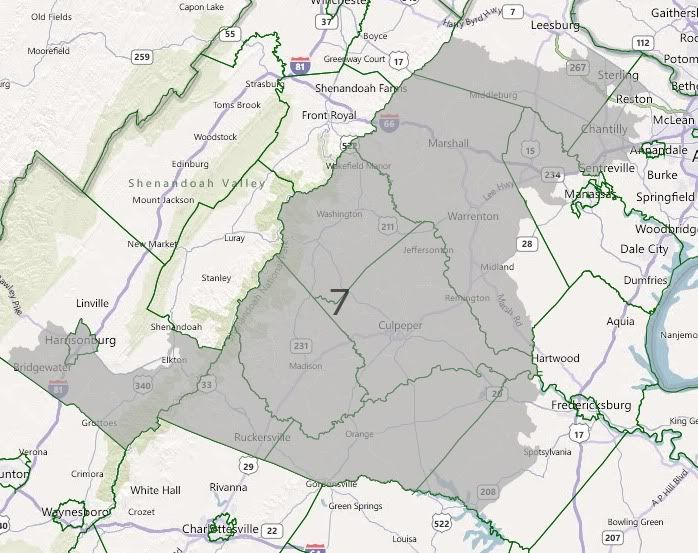 District 7: Eric Cantor (R-Culpeper)
50/50 McCain
55/45 Republican
69% White, 12% Asian, 9% Hispanic, 8% Black
House Majority Leader Eric Cantor's district moves up towards the DC area. It just barely went for John McCain in 2008 - but in Northern Virginia that is certainly enough to elect a Republican congressman.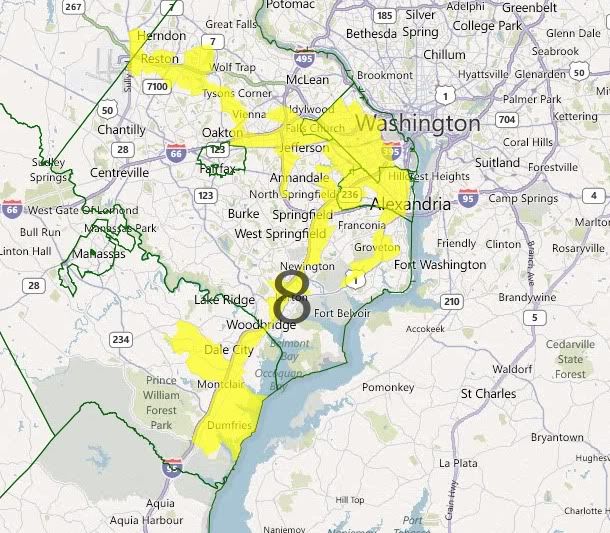 District 8: Jim Moran (D-Arlington)
70/30 Obama
67/33 Democratic
The 8th takes a much uglier shape in this map, but becomes majority-minority and slightly more Democratic. This is the only district in No. Va. that is safe for Democrats.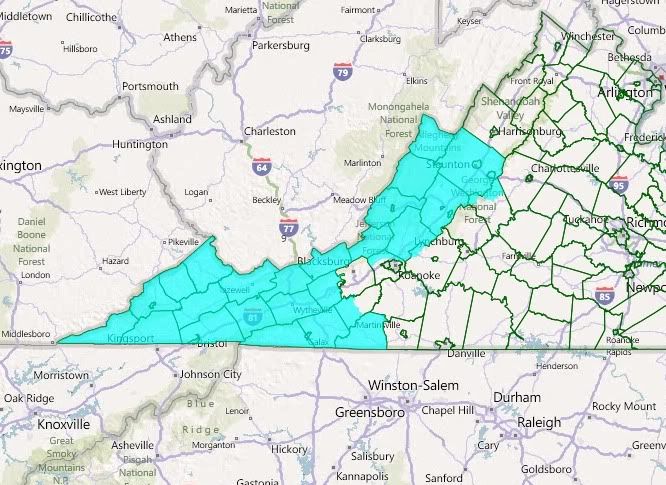 District 9: Morgan Griffith (R-Salem)
63/37 McCain
59/41 Republican
94% White, 4% Black, 1% Hispanic, 1% Asian
Morgan Griffith actually lives in the 6th, but just barely - Salem is about a mile outside of this district. Ironically, Democrats would probably have the best chance of taking the 9th, the most conservative district, out of all GOP districts in Virginia - that is, if Rick Boucher were running again. However, he's probably the only Democrat who would have a good shot here.
District 10: Frank Wolf (R-Vienna)
50/50 McCain
52/48 Republican
77% White, 8% Hispanic, 7% Asian, 6% Black
Frank Wolf should have no problem winning in this ugly baconmander district, since he won handily in 2008 year in a 53-47 Obama district.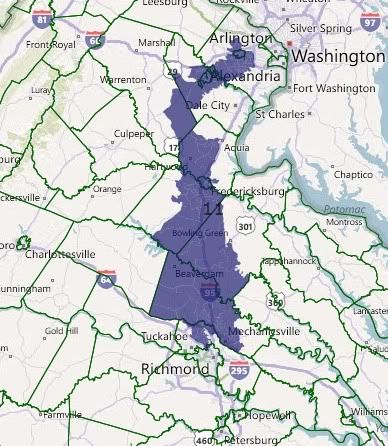 District 11: Gerry Connolly (D-Fairfax)
51/49 McCain
55/45 Republican
Gerry Connolly just barely held on in what was previously a 57% Obama district in 2010, and under-performed Obama in 2008. Mathematically, Connolly stands almost no chance in a district that is made 8 points more Republican.