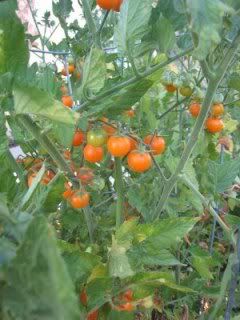 The Hollywood blockbuster season is coming to a close and hoping for a few big finales before having to hunker down and wait for the cold of Christmas season for a revival. There have been some off the beaten track features this summer that have been well worth a trip to the cine while some still on the horizon seem promising enough.
So, let's now turn round and have a look back at our cinematic harvest. The summer ends and we must face another way. Our roles reversed, we harvest the last row to store against the cold....
Undo the garden that must be undone.
We grieve beneath this frigid sun
To see the earth's green fountains dried,
And fallen every work of light.
You do not speak
And I regret this downfall
Of the good we sought
As though the fault were mine.
I bring a spade
To turn the leaves and bent stems
Back into the dark,
From whence they might return.
I see you leaving our bright land,
The last cut flower in your hand. - Ben Bernanke's statement on the economy.
Someone get the lights, plz, as we try to find our way through the darkness to our seats down in this chilly theater's front row...
Small Town Murder Songs


Small Town Murder Songs opened July 1st, 2011 and still may be showing in some theaters currently as well as DVD availability. In the rural small town setting of a predominantly Mennonite farming community in Canada's Ontario province, a man tormented by his own violent tendencies (and nature?) struggles to not only over come these essential threats to any person's positive fulfillment while also dealing, urgently though responsibly (he hopes) as a member of what really could stand for the community of mankind, all of humanity, when assaulted by the horror and indignity of the discovery of a young woman's crumpled body, a victim of an unsolved murder and rape whose perpetrator is still at large. The perp, whoever it might be, is on the loose and Canadian Constable of the Peace, Walter, thinks he knows who done it - a suspicion only complicated by the reality that his prime suspect is currently living with his former estranged lover for whom he still harbors unresolved feelings, remorse and shame over his over the line rage and violent streak which frightened them both irreconcilably. The who-done-it genre quickly takes the back seat to this internal battle already going on inside the film's protagonist now brought to a boil through the dire urgency of a critical moment for everyone in not just the safety of the community but the vital essence of what makes community itself.
Walter is confounded by having to show some grace in seeking justice when his impulse is to lash out in rage not only for the honor of the victim and her family but also for the entire community that could allow for such a perversion of basic human dignity to transpire without a clue. Walter struggles with his own innate rage, whether it's related to the inherent nature of injustice in the world as it is is never made explicit though it may be implied. He's been trying for some time to be "born again", remade by his faith in a loving, merciful though pacifist God who must be equally distressed by the rebellious, destructive nature of his children who have not been able to transfer his ministry of love towards one another in any manner that might bring lasting glory let alone meaningful social change.
This is a powerful film which does not shy away from the ugly realities of what is often the coarsest of behavior from men and women in a society which is plagued by simplistic thinking, incompetence, naiveté, willful ignorance, greed and lust.
The film is regularly punctuated with quasi hymns by the Canadian indie rock band Bruce Peninsula that dramatize Walter's torment. These spare, harshly percussive, folk-gospel numbers shouted by a choir lash out like bursts of fire and brimstone; you feel assaulted by unseen forces of righteousness swinging bundles of sticks.

Religious exhortations in capital letters are flashed as chapter headings. "Repent and profess your faith," reads one. "If someone strikes you on the right cheek, turn and offer him your left," reads another. The soundtrack and the prophetic warnings evoke the consciousness of a man whose sorry personal history is suggested only in brief flashbacks of him giving a beating. NY Times

Perhaps one of the most contentious verses from scripture left out but related to the other passages that suddenly and dramatically appear to float by over lovely but lonesome lakes and farmlands in bold though bleak banners underlined by mournful hymns would have been "Do Not Resist The Evil Doer". This film is all about resisting the evil acts of others (as well as our own) and the intense conflict inherent in that.
This film may very well be the Blue Ribbon 701 lb. pumpkin at this year's Celluloid County Fair while we still wait for the criminal banksters from Wall Street involved in strangling and raping the middle class and our American Dream to finally be arrested. Those "traders" who've lashed us unmercifully through swinging their own massive bundles of unseen stocks and phantom derivatives as if they were leather whips upon our backs, taken all our money and have not yet been cornered or charged let alone earnestly investigated by the government authorities. Can there be grace where there is no rage, and if so, what is it worth?
God meets us where we're at, indeed.
This is part of the film's haunting but intense soundtrack: a Sacred Harp, or Shape Note hymn, Antioch 277, featured in the film as performed by a congregation in rural Alabama and an intriguing video to watch as well.
The clip should be subtitled Led By A Child (which really is not a bad thing at all for Christians, at least, to be).
Winter's Bone

Winter's Bone is also the product of the same filmmakers who brought us Small Time Murder Songs recommended above. The film debuted a couple of weeks earlier in June when I'd first called it "Trouble in Sarah Palin's Real America". The film paints a grim picture of rural America's poor, white, criminal and blatantly misogynistic thread that pervades a sub-culture of Americana we rarely want to talk about or acknowledge. A culture that too often not only discriminates against young women and girls but goes farther in this extreme and desperate example. Thinking nothing of imposing their own brand of justice through violence and intimidation, even to the point of execution when one clan daddy says "It was discussed" about Ree's fate, all to maintain a callous and dominant, uncaring authority and absolute control in a deprived and under privileged tribal network.
Even before the real trouble starts — with suspicious lawmen on one side and a clan of violent drug dealers on the other — Ree Dolly faces more than the usual litany of adolescent worries. Her father, locally renowned for his skill at cooking methamphetamine, has vanished, and her emotionally hollowed-out mother has long since abandoned basic parental duties, leaving Ree (Jennifer Lawrence) to run the household and care for her two younger siblings. The family lives in southwestern Missouri, a stretch of the Ozarks that is both desolate and picturesque, words that might also suit "Winter's Bone," Debra Granik's tender and flinty adaptation of a novel of the same title by Daniel Woodrell.

"Winter's Bone," warmly embraced at this year's Sundance Film Festival, belongs, at least at first glance, to one of that festival's familiar genres: the regional-realist morality tale. These days, American independent cinema abounds in earnest stories of hard-bitten people living in impoverished corners of the country, their moral and emotional struggles accompanied by acoustic guitars and evocative landscape shots and generally uninfected by humor....

This is not a story about drugs and family life in a particular region of the United States, even though it displays some impressive local knowledge (much of it derived from Mr. Woodrell's book). It is more deeply about tribal ties and individual choices, about a stubborn girl's sense of justice coming into sharp and dangerous conflict with deep and intractable customs.
Jennifer Lawrence stands out as Ree, a 17 year old (practically a child herself) who has taken on responsibility for providing for what's left of her decimated family and does so with the kind of courage and personal character that is truly welcome to see from such a young actress in the leading role of any film, not equaled in strength or quality since the Cohen Brother's release of True Grit which showcased Hailee Steinfeld as Mattie Ross in that memorable blockbuster (another worthy entry into our summer time movie cornucopia).
Here's hoping we will see more of Jennifer Lawrence in many more stand out feature films yet to come along with several other Ree's and Mattie Rosses who may just have a POV and concerns worth hearing out and giving more weight to.
LAST YEAR'S GARDEN PRESERVES
Children Of God

Michelle Bachmann'srise to the top of the heap in the GOP Ames Iowa Straw Poll for top Republican presidential hopeful along with her new found reticence to talk openly or honestly about what had previously been her un-apologetically discriminatory stance against the LGBT community and gay equality should push this film to mind as we consider the far too limited movie industry and media complicity in this summer's smoldering issues. The island nation of the Bahamas has been plagued by repeated assaults and even gangland style murder/executions of gay men and women for several years now at least going back to 2005 which shows little signs of receding where even the most hopeful trends toward progress and forward motion in their community are undercut andforcefully opposed. The Bahamas may seem like paradise to many, for many others has been an island wracked by a fierce Caribbean tempest. It seems to have been particularly struck by a combination of conservative Christian contempt for the LGBT lifestyle (or simply presence) characterized by violence. That there may actually be some connection between these two repugnant driving social factors should not be disregarded out of hand, just as Bachmann's well documented record of verbal and even legislative assaults against the LGBT community in America speaks volumes more than anything else she might add at this point as much as she seems to realize her candid hostility to the LGBT community would only further erode what little support she may currently hold on to. America should be ashamed to even rank any politician with Bachmann's degree of contempt and hostility toward any others they decree are enemies among our collection of "leaders".
An assault against any gay person any time, any where, any how, is an assault against a child of God. (PERIOD.)
Our own nation should not try to avoid calling out hatred and contempt for others based on the most absurd and antiquated notions especially when politicians make their move toward attaining even greater power and influence. I personally have no idea what God Bachmann thinks she's worshiping though I'm sure its definitely not mine.
Children of God is an excellent film on many levels with a set of interconnected characters whose lives all bump up against one another's with numerous stand out performances though none greater than the sensitively handled growing trust and intimacy of the film's two main characters. They come to be blessed to discover themselves in one another. Needless to say that relationship is tragically undercut by the social realities they find themselves surrounded by and the different strategies they each employ in dealing with or trying to avoid them. It's hardly a perfect film, but its close. I have my own misgivings about needing greater character development among the films minor actors especially when these characters wind up playing such a critical role in the film's conclusion. But, as someone once said, we are all bit players in some other actors movie (I suppose). The question still comes down to one of finding a way for grace to prevail over our cruelest nature (whatever it may be spurned on by).
End Credits / Closing Remarks:
Given that the greater part of our site's purpose here on the Street of Prophets is to provide a place where people who might describe themselves as faithful progressives can come together to explore not only faith but the larger questions that revolve around it and our hopes of impacting the world in a positive, progressive way, I am providing these sometime weekly film reviews (whenever). I thought that submitting reviews of controversial or off-the-beaten-track films that often nudge this kind of thought and discussion might be a plus. I'll be offering this each week on Fridays (as the Spirit moves me) and would happily entertain recommendations for future reviews. Feel free to post comments about the films reviewed here today as well as your own recommendations of films you feel may fall along these lines.
Wendell Berry is the author of the poem, The Summer Ends, recited from memory at the opening of tonight's Film Reviews, that is, he is so far as I can ascertain from my own limited search capabilities. If anyone else knows this poem and its author as any different please let me know.
My religion is to seek for truth in life and for life in truth, even knowing that I shall not find them while I live. Miguel de Unamuno