Given the massive flooding in VT, it's likely that many Vermont Kossacks have been affected. Major roads that are closed are indicated by red circles w/a white line across the center: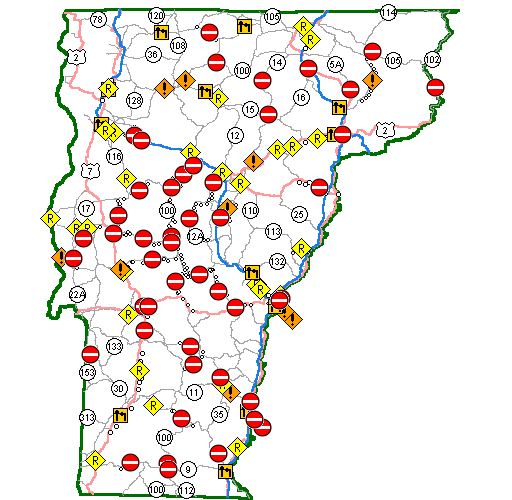 If you're from VT, please check in and let us know you're OK and whether there's anything those of us who have come through the storm relatively unscathed can do to help.
In our case, we've lost our driveway, but have access to a convenience store/gas station and the highway. I parked out at the end of the driveway on a high spot, so I'm not trapped, it's just a long hike to get out.
The road just downhill from us is largely gone - it's not a major road so it's not on the state's "closed roads" list.
Be sure, if you're venturing out (assuming you can get out), to drive slowly on any back roads. Shoulders may have been undermined by water, and washouts have a habit of appearing just the other side of a blind curve.
Here's hoping everyone is unharmed and in good spirits after a hell of a storm!
9:25 AM PT: I've created a LotsaHelpingHands page for the community: https:/www.lotsahelpinghands.com/c/646125 to help coordinate volunteer efforts. You have to specify a zip code, so I put in Montpelier, but I intend it to be a state-wide clearing house.
9:27 AM PT: Also, the Vermont 211 phone mail box is full, so those looking for assistance may have to wait a while for them to clear out their existing messages.
I spoke with a FEMA rep, and Vermont has not been declared a disaster area at the federal level, yet. She suggested filing with the state first.
9:37 AM PT: Vermont Emergency Management asks people to call 511 for road closure information. Please do NOT call 211 for road closure info.
211 is to find needed assistance and to start filing for disaster recovery claims
511 is for road info
2:20 PM PT: From Vt Irene Flood Relief Fund facebook page VTrans reports that there are over 260 road closures on both the state and town roadway system and major damage to the state owned rail lines as well as the New England Central Rail Line. Amtrak service on both the Vermonter and the Ethan Allen has been discontinued until further notice.
2:50 PM PT:
Water-rescue - a minivan that did not turn around, tried to drive through water flowing across he road, and nearly drowned. Please, please, play it safe. Luckily the couple was saved, but they put themselves and the water rescue teams in jeopardy.
No matter how inconvenient it may seem, please make yourself adhere to the mantra: turn around, don't drown.
7:38 PM PT: VERMONT EMERGENCY MANAGEMENT NEWS RELEASE
Date: 08/29/11
FEMA Distribution Center to be Established at Camp Johnson
BURLINGTON, VT – Thirty Federal Emergency Management Agency (FEMA) trucks carrying emergency supplies are scheduled to arrive in Vermont tonight to provide aid for the thousands of Vermonters affected by Hurricane Irene.
FEMA vehicles, carrying supplies such as food, blankets and other necessary items, will be establishing a distribution center at Camp Johnson in Colchester. From there, the relief supplies will be distributed to the Vermont communities in greatest need starting at sunrise on Tuesday, August 30.
Some communities are unreachable by roadways, so helicopters will be dispatched to distribute those supplies. National Guard will distribute the supplies to the communities reachable by land.
"Our goal is to reach all Vermonters who have been affected by the storm and find themselves in need at this time," said Gov. Peter Shumlin. "We are utilizing all available resources – local, state and federal – to get commodities to those in need."
"This identified objective of commodity distribution is consistent with the Governor's goal of assuring the safety and stability of all Vermonters affected by this storm," said Department of Public Safety Commissioner Keith Flynn, "and is done with the cooperation of our federal, state and local partners."
Officials ask the public not to come to Camp Johnson to pick up supplies but to wait for their distribution on Wednesday morning.