This should blow one of the most persuasive arguments for building the Keystone XL pipeline, Energy Security, RIGHT OUT OF THE WATER!
Report: Exporting Energy Security: Keystone XL Exposed

The Keystone XL Pipeline: Oil for Export, Not for U.S. Energy Security

Industry Documents Reveal Scheme to Reach Lucrative Markets Abroad


Steve Kretzmann

A new report from Oil Change International lays out the case, based on data and documents from the U.S. Energy Information Administration and the Canadian National Energy Board, corporate disclosures to regulators and investors, and analysis of the rapidly shifting oil market.

The facts:

* Keystone XL is an export pipeline. The Port Arthur, Texas, refiners at the end of its route are focused on expanding exports to Europe, and Latin America. Much of the fuel refined from the pipeline's heavy crude oil will never reach U.S. drivers' tanks.

* Valero, the key customer for crude oil from Keystone XL, has explicitly detailed an export strategy to its investors. Because Valero's Port Arthur refinery is in a Foreign Trade Zone, the company can carry out its strategy tax-free.

* In a shrinking U.S. market, Keystone XL is not needed. Since the project was announced, the oil industry acknowledges that higher fuel economy standards and slow economic growth mean declining U.S. oil demand, even as domestic production is booming. Oil from Keystone XL will therefore displace American crude from new, "unconventional" domestic fields in Texas or North Dakota.

"To issue a presidential permit for the Keystone XL, the Administration must find that the pipeline serves the national interest," said Stephen Kretzmann, executive director of Oil Change International. "An honest assessment shows that rather than serving U.S. interests, Keystone XL serves only the interests of tar sands producers and shippers, and a few Gulf Coast refiners aiming to export the oil."

This revelation strips away the smokescreen relieving the real agenda behind building the Keystone XL pipeline: pumping its oil into tankers for overseas export. Routing Canadian Tar Sands Oil across the U.S. by pipeline is only the least expensive short cut to the end users most of whom won't be living in the United States.
Roger Fox's excellent post earlier today looked at three other pipelines to the Pacific for Canadian tar sands oil in the planning stage: 3 Pipelines battle for Tar Sands oil
Here is one of the maps from Roger Fox's post: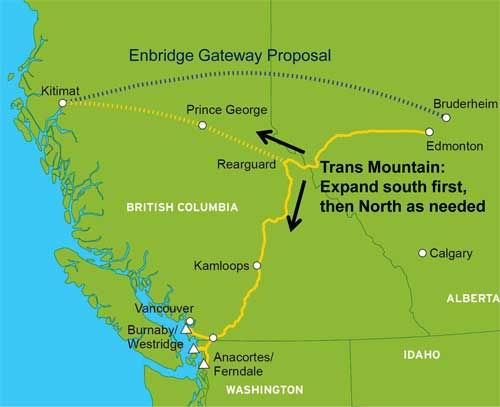 I live 30 miles from Anacortes.