Good morning everybody-
I see weatherdude is under the weather (hah!) so I'm putting up a diary for TS Lee. Check below the squiggle for some ugly pictures.
First of all, here is the most recent wunderground severe weather map-this one made me "Yikes!" out loud.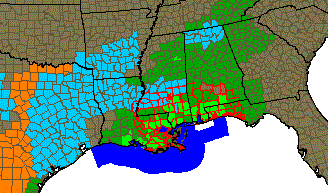 The light blue is high wind advisory, red is tornado watch (the solid red bits are current tornado warnings), the dark blue offshore is a tropical storm warning, and the greens are flash flood watches/warnings.
Here's the satellite image from NOAA: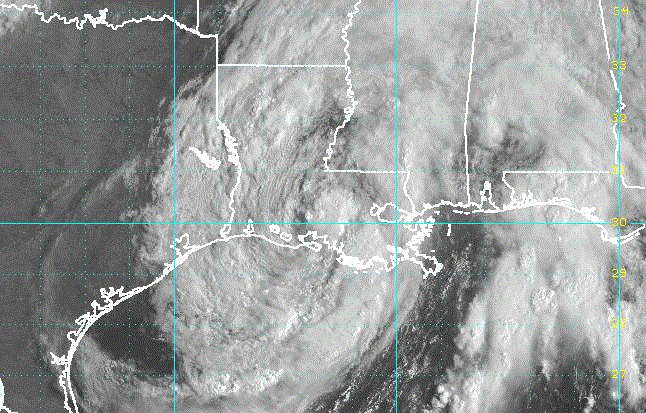 The rainfall prediction for the week from weather.com:
And, last but not least-TOR-CON warning levels from weather.com. Alabama isn't out of trouble yet but the threat is moving into Louisiana and Mississippi:
Forecast for Sunday, September 4
AL south - 5
FL panhandle - 5
KY - 2 or less
LA southeast - 6
MD west - 2 or less
MO boot heel - 2 or less
MS south - 6
MS central - 4
NJ north - 2 or less
NY - 2 or less
OH - 2 or less
PA - 2 or less
VT - 2 or less
WV - 2 or less
Other areas - less than 2
If you are in these areas you already know what is happening. If you are in the projected path of the storm, watch for it! We've got a cold snap here in Minnesota (high of 68 today, the high tonight is supposed to be 48) and it's going to interact with TS Lee in really unpleasant ways: