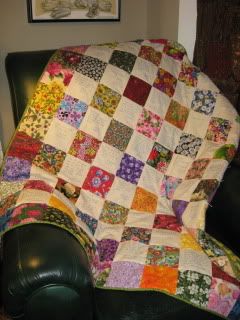 Michelle Caudle's quilt, "Flowers for Michelle"
One of our early community quilts was done for Michelle Caudle. Michelle was not a member of the Daily Kos community but her story touched the hearts of many Daily Kos readers. You may remember it -- her husband joined the Army in order to keep Michelle in cancer treatment even though that meant he would be separated from her for long periods. It was a story that put a tragic and very real human face on the dysfunction of our health care "system", poignantly told by journalist Mark Johnson. We answered with a quilt filled with messages of love and support, something that touched Michelle Caudle very deeply, even though we were strangers to her.
It is with deep sadness that I relay the news that Michelle Caudle lost her battle with ovarian cancer on Friday. Mark Johnson wrote a beautiful obituary. Here is a small piece of it, focusing on the positive effect Michelle's story had on awareness of warning signs of ovarian cancer:
Like Bill, Michelle never sought attention for their dilemma. When approached by the Journal Sentinel, Michelle agreed to talk in the belief that her story might make other women more aware of ovarian cancer, a stealth disease that lacks breast cancer's self-exam and public awareness.

The warning signs that had led Michelle to the doctor's office back in the fall of 2006 seemed almost banal: a tenderness in the abdomen, constipation.

"If I could get just a few women to take the time out to go to the doctor. It doesn't hurt to check these things out. I kept saying, 'I've got time. I've got time. I've got time,' " she said, turning to the present. "Time is disappearing faster."

Her message reached a large audience. The family's story set a record for traffic on jsonline.com, with 1.7 million page views; it was linked on websites around the globe.

"She improved awareness of ovarian cancer, and of how difficult it is for some people to get health coverage," said her doctor, Peter Johnson at Aurora Women's Pavilion in West Allis. "She showed what it was like to be a cancer survivor and to live with grace and dignity."
Mr. Johnson contacted me yesterday to let me know that Michelle Caudle had died and to let me know how dearly she treasured that quilt and the messages that it bears. In fact, the family is now considering whether or not to bury it with her, it meant that much to her.
Mr. Johnson also said this, something I am sharing here for it is for all of you that contributed to the quilt project for Michelle Caudle, not just me:
I've been a reporter for 25 years. That quilt remains one of the nicest things I've ever seen people do. At a time when there is so much cruelty and so little empathy (especially on newspaper comment pages), what you did restored a little of my faith in people.

Thank you--for Michelle's sake, and mine.
Rest in peace, Michelle. You took a personal tragedy and turned it into something that will help other women going forward. May your family find comfort as they honor you. Rest now.
From Michelle Caudle's obituary:
Memorials

The Caudle family has asked that memorials in Michelle Caudle's name be sent to the Wisconsin Ovarian Cancer Alliance, 13825 W. National Ave., Suite 103, New Berlin, WI 53151.

Warning signs of ovarian cancer

* Bloating and gas.
* Pelvic or abdominal pain.
* Difficulty eating; feeling full quickly.
* Urinary symptoms, either urgency or frequency.
WISCONSIN OVARIAN CANCER ALLIANCE WEBSITE -- CLICK HERE TO DONATE ONLINE