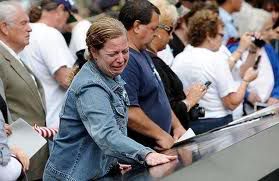 I am grateful for Kos's post tonight about civility, which, heaven knows, is a value I support. In my mind, it's a progressive value to be civil to our fellow community members.
Thank you, Markos.
Just as valuable, I think, is compassion. And while I think we do that well, as a community, in the moment, I think we could all do better at it (and I include myself) in the long haul.
As anyone who has lost a loved one, or been faced with a horrific personal challenge, can probably tell you, it's not the first few days or weeks that are the hardest . . . it is the endless days and weeks afterwards.
When my Dad died very suddenly in 2000, the love and solace I received from friends, neighbors and others overwhelmed me and my family. We received letters from people we barely knew (or, sometimes, did not know at all), food from neighbors, kind words and tributes at the dinner after my Dad's memorial service. The letters were particularly uplifting. As it turned out, my Dad had been corresponding for years with so many people my Mom and brother and I barely knew . . . but his letters and thoughts had meant so much to them and discovering this secret aspect of my Dad and finding out how much he had meant to others was a joy.
The same was true when my Mom and I attended the 50th reunion of his college class some four months later. So many of his classmates were generous with their stories about how he had saved their bacon academically with his past-light's-out-assistance with their homework. We also heard stories we never knew about his participation in undergraduate antics that, given the fact that my Dad was the most straight-laced of shoes, made me laugh out loud.
I still like to talk about my Dad, and I still like hearing stories about him from those who knew him before I did.
Which brings me to this.
Our community may have originally been about electing more and better Democrats, and it certainly still is. But our community has evolved into so much more. And I think that's for the better. When we support each other, through death and divorce and job loss and depression and hurt, we all gain from this. We gain because, by supporting each other, we demonstrate, as a community, what progressivism really means. At least to me.
Because, to me, progressivism means not just electing more and better progressives (although that is so important) but, also, supporting basic progressive values in our personal lives. And these include civility, kindness and compassion. And, by doing so, being reminders, every day, that none of us is alone.
Let us never forget to reach out to those members of our community who are in distress, of whatever kind. And not just when they ask us to. If you know of a community member who is sad, lonely, in need of compassion, please reach out to him or her -- if only with an email or a post on his or her Facebook page, or a letter or post card, if you have his or her physical address.
The days and weeks and months after a crisis can be so devastating. Even the years, as we saw so poignantly in so many photos on the 10th anniversary of 9/11.
Grief, pain, sadness may linger. Each of us can help someone else feel better. And doing so is what we are all about.