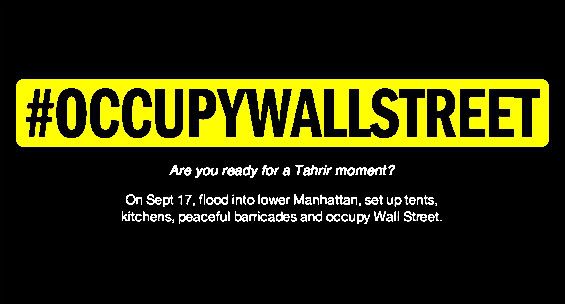 Alright you redeemers, rebels, radicals and utopian dreamers out there,



A worldwide shift in revolutionary tactics is underway right now that bodes well for the future. The spirit of this fresh tactic, a fusion of Tahrir with the acampadas of Spain, is captured in this quote:

"The antiglobalization movement was the first step on the road. Back then our model was to attack the system like a pack of wolves. There was an alpha male, a wolf who led the pack, and those who followed behind. Now the model has evolved. Today we are one big swarm of people."
— Raimundo Viejo, Pompeu Fabra University, Barcelona, Spain -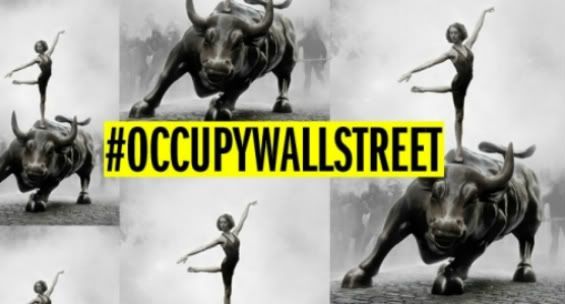 The time has come to deploy this emerging stratagem against the greatest corrupter of our democracy: Wall Street, the financial Gomorrah of America,
Occupy Wallstreet
On September 17, we want to see 20,000 people flood into lower Manhattan, set up tents, kitchens, peaceful barricades and occupy Wall Street for a few months. Once there, we shall incessantly repeat one simple demand in a plurality of voices.
Occupy Wallstreet
The beauty of this new formula, and what makes this novel tactic exciting, is its pragmatic simplicity: we talk to each other in various physical gatherings and virtual people's assemblies … we zero in on what our one demand will be, a demand that awakens the imagination and, if achieved, would propel us toward the radical democracy of the future … and then we go out and seize a square of singular symbolic significance and put our asses on the line to make it happen.
Occupy Wallstreet
Hey Moneyman the crowd is outside. The past, the future and the now is outside. The teachers and cooks and the drop-outs too. Word on the street is they looking for you…



Hey Moneyman they saying what's the score? And how much blood have you spilled on the butcher shop floor? Those numbers keep running but what they running into? The crowd is outside and they asking of you…

Hey Moneyman Moneyman the mayor's on the phone. He says he wants to know if all those people went home. Those momma's and poppa's and students and cooks. Those teachers and preachers, one second I'll look…

Hey Moneyman Moneyman the tents are still up, the songs are still singing and the coffee's in cups. The nights due to fall and the sun's going down but its still a whole mess of good folks hanging 'round…

They eyes are wide and their voices are loud. Its white and black and colorless proud. The signs are big and the smiles are bright. By heaven I reckon its gone be one hell of a night!

Hey Moneyman poor Moneyman you should slip out the back. Cuz' the forces of greed are under attack. No bombs or bullets or rocks or guns. Just hashtags and voices at the tops of their lungs!

And Moneyman Moneyman I wont need a ride. But if you need me…

You can find me outside.

By Wasalu "Lupe Fiasco" Jaco
#OccupyWallStreet
Reflections on a Revolution
"There are those who don't want us to speak. I suspect even now, orders are being shouted into telephones, and men with guns will soon be on their way. Why? Because while the truncheon may be used in lieu of conversation, words will always retain their power. Words offer the means to meaning, and for those who will listen, the enunciation of truth. And the truth is, there is something terribly wrong with this country, isn't there? Cruelty and injustice, intolerance and oppression. And where once you had the freedom to object, to think and speak as you saw fit, you now have censors and systems of surveillance coercing your conformity and soliciting your submission. How did this happen? Who's to blame? Well certainly there are those more responsible than others, and they will be held accountable, but again truth be told, if you're looking for the guilty, you need only look into a mirror."

V for Vendetta
Eisman was genuinely shocked. "It never entered my mind that this could possibly happen," he said. "This [the Household Finance Corporation] wasn't just another company — this was the biggest company by far making subprime loans. And it was engaged in just blatant fraud. They should have taken the CEO out and hung him up by the fucking testicles. Instead they sold the company and the CEO made a hundred million dollars. And I thought, Whoa! That one didn't end the way it should have.'
Reflections on a Revolution
October 2011 is the 10th anniversary of the invasion of Afghanistan and the beginning of the 2012 federal austerity budget. It is time to light the spark that sets off a true democratic, nonviolent transition to a world in which people are freed to create just and sustainable solutions.
Us Days of Rage
The October2011 Movement protests corporatism and militarism because they prevent solutions to our current crises which would create a more peaceful, just, and sustainable world from being implemented. Instead concentrated corporate interests rule our elections and political process so that wealth continues to be funneled to the top 1%.



US Day of Rage is calling for free and fair elections, not elections manipulated by the economic elite, special interests, or corporate media, where choices are limited to bought candidates and two corrupt parties. US Day of Rage is organizing with OccupyWallStreet to create a tent city in the financial district of New York beginning on September 17. October2011 and OccupyWallStreet have endorsed each others' actions.
Us Days of Rage
On September 17, we want to see 20,000 people flood into lower Manhattan, set up tents, kitchens, peaceful barricades and occupy Wall Street for a few months. Once there, we shall incessantly repeat our one simple demand until Barack Obama capitulates.
8:21 AM PT: - Important Update -
Word is that twitter is blocking our hashtags from trending. Any chance someone could look into that?
8:26 AM PT: Apparently Twitters Trending Topics algorithm favors "novelty" over popularity. So instead of #OccupyWallstreet use #takewallstreet on Twitter.