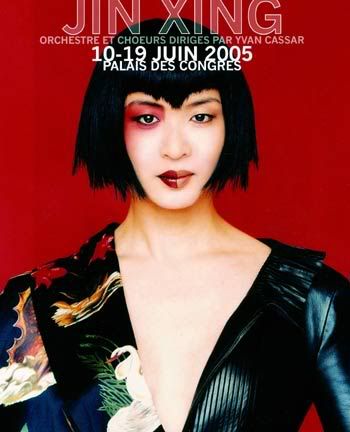 1
Jin Xing, 44, was booked to be a judge for eight weeks on the Chinese television program
Fei Tong Fan Xiang
which is a Chinese version of American Idol for professional singers. She is a retired dancer, first as a colonel in the Chinese military with the
People's Liberation Army
dance troupe and later as China's prima ballerina and the foremost figure in Chinese contemporary dance.
She has been told that she will not be allowed to fulfill that booking because of her transsexual identity.
He [the show's director] told me that the reason for my removal, according to the regulator's letter, is because I am transsexual, which will have negative effects on society.

--Jin Xing
Who knew Keith Ablow had another job controlling what is seen on Chinese television?
Jin Xing was one of the first people in China to undergo sex reassignment surgery in 1996. Der Spiegel published a lengthy article about her six years ago. It's quite interesting.
It's a great pity! I will not be able to appear on the show finals this weekend because the production team has received an order from Zhejiang Province Radio, Film and Television Bureau that I was to be banned from the panel because I'm transgender! I am infuriated! It doesn't matter to me whether I get to be a judge or not, but as a citizen, I won't accept being discriminated against because of my gender identity!

--Jin Xing
The decision by the Zhejiang authorities has been widely criticised. Actress Song Dandan, who has recently become a darling among China's LGBT community for speaking up against the homophobic views of actress Lu Liping, told Jin Xing, "We're standing together with you." Media critic Tan Fei slammed the decision as "insane" and award-winning director Jia Zhangke is said to have called Jin Xing to offer his support.
2
Houston Community College English teacher Donny Leveston decided a good subject for discussion in his class would be a paper he had written entitled Taboo: Incest and Homoeroticism. After referring to transpeople as "freaks" and "weirdos", he closed the discussion with the words, "I don't care what those people do, as long as they keep it away from me."
A transgender student in the class emailed the teacher and said that his comments made her feel unwelcome in his class.
Leveston responded that "everyone was entitled to his or her own opinion" and that he had every right to feel uncomfortable around transpeople and the student should respect this right.
Daniel Arguijo, chief communications officer for HCC, said the college is aware of the situation, and has reached out to both the student and Leveston to begin the process of addressing the allegations.

Lesa Spivey, director of public relations and media at HCC, said the school values diversity.

"We want all of our students and staff to feel comfortable in class," she said.
This is the same campus upon which transman Lance Reyna was attacked by an assailant armed with a knife who yelled homophobic slurs during the attack. Reyna suffered a concussion from being kicked in the head.
3
A civil lawsuit has been filed by an unnamed former inmate of the State Correctional Institution Pittsburgh accusing guards of systematic abuse and their superiors of ignoring the abuse.
The complaint also laid out a "conspiracy to sexually abuse, physically abuse and mentally abuse inmates who were homosexual...transgender...[or] who were convicted of sexual crimes."

In January 2010, according to the complaint, the inmate known as John Doe was approached by Corrections Officer Harry Nicoletti Jr. He was given three choices, it said: be anally raped, perform oral sex, or touch the officer's genitals. He was threatened with "physical abuse" and the filing of "fraudulent misconducts" if he "did not chose [sic] how he was to be sexually assaulted that day," it said. So he chose the third option.
Mr. Nicoletti denies there being any truth in these allegations. He is currently on suspension, along with seven of his coworkers.
Another former SCI Pittsburgh inmate, Rodger E. Williams, filed a pro se complaint two months ago, making a slew of complaints about the treatment of transgender inmates like himself at both the Woods Run prison and SCI Greene. Among them: that Mr. Nicoletti raped him, and "doled [him] out to other corrections officers and a [prison] inmate into forcibly committing sexual acts."
DOC spokeswoman Susan McNaughton has declined to comment.
In April, news broke that eight guards, including Mr. Nicoletti, had been suspended. Ms. McNaughton would not comment on their status, and leaders of their union could not be reached.

In May, four top SCI Pittsburgh officials were replaced. Ms. McNaughton said they are no longer employed by the department.

They were superintendent Melvin Lockett, superintendent for facility management Martin Kovacs, deputy superintendent for centralized services Janice Niemiec and major of the guard John Wiser. All are named defendants in the lawsuit filed by the inmate called John Doe.
The preceding inevitably brings us to this story:
4
Inmate loses bid for taxpayer-paid sex-change operation. Lyralisa Stevens is serving 50 years to life for the shooting death of a San Bernardino County woman with a shotgun in a dispute over clothes.
On Wednesday, the 1st District Court of Appeal in San Francisco denied the 42-year-old prisoner's surgery request, ending — at least for now — her two-year legal battle to force the state to pay for removal of her male genitalia.
It is not surprising that she did not win her case. Sex reassignment surgery has never been approved for any transgender inmate in the US.
Stevens had argued that hormone therapy is no longer adequate to combat the emotional distress caused by her disorder, making surgery the medically necessary next step. She also wanted her penis and testicles removed so corrections authorities, who decide prison placement according to an inmate's genitalia, would be compelled to transfer her to the relative safety of a women's lockup.

Stevens, who has a slight build and silicone injections to feminize her physique, said in a court filing that she feels under constant threat of sexual assault in a men's prison.
Her lawyer says that Stevens spends almost all of her time alone in her cell because she fears for her safety if she were to go out in the yard. She has to be very careful when she showers.
The court on Wednesday said Stevens was reasonably safe in a men's prison as long as she is housed in a single cell but promised to hear her petition again if her living arrangement changes or her "safety is otherwise compromised."
Translation: Come back after you have been actually raped.
5
Karen Clarke-McIlwain owns True 2 You, a candle and incense business at Trails End farmer's market in London, Ontario for the past three years. This past summer her new boarder, Dani Dominick was offered the job of staffing the booth. Trails End manager Ed Kikkert has taken offense. He has demanded that Clarke-McIlwaine terminate Dominick and two of her friends who were also staffing the booth because they are transgender.
Kikkert claims he has had multiple complaints about "men dressed as women". He has multiple times mentioned that his is a "family friendly" market.
That depends on who is in the family, apparently.
If they have to go to the washroom, what washroom would they use?
I run a family market, and when I get complaints like that I have to deal with it.

--Ed Kikkert
Clarke-McIlwain says that she would close down her business rather than compromise her ethics or violate someone's human rights.
Complaints have been filed with the Ontario Human Rights Commission.
I've filed lots and lots of human-rights cases against people and companies, and never once in all of eternity have I had a slam dunk like this.

They have left us with absolutely no choice. There is [no] negotiation or discussion available, the legal recourse is all that is left to us. And Karen needs to be compensated for her loss of business.

--Michelle Boyce, executive director of Alphabet Community Centre
A protest was organized for yesterday by a woman who heard about the incident and was outraged.
What can help? Liberal MP Hedy Fry and NDP MP Randall Garrison have both reintroduced legislation which would add "gender expression" and "gender identity" to the list of prohibited ground of discrimination in the Canadian Human Rights Act. That legislation made it to last reading last year but became tabled when the government was dissolved.