Since we retired from teaching high school in Austin we have been traveling a great deal, and when not traveling we have been dividing our time between Austin/TX Hill Country and Santa Fe, NM.
Adjusting to Santa Fe has been a slam dunk for two dfh progressives. What's not to like, its a progressive city with a lot of history, a living wage law and a live music scene....only big downer is that now the Governor is a Republican who is slashing jobs.....
Can't blame the travesty that's been visited on the US Postal Service on her, though. The federal law screwing the Postal Service was passed under another Republican, GW Bush, and a Republican Congress.
We volunteer for WildEarth Guardians but have really had little to do with politics in Santa Fe other than participating inMoveOnactions during HIR. This outing was a first with our union brothers and sisters, and it was really fun and informative.
Full Disclosure: I worked for the Postal Service under a program for low income college students back in the late 60's/early 70', back in the day when I was dating my wife, kossack Jakkalbessie
One day I was in the college student loan office applying for my National Defense Student Loan (3% interest and could get forgiveness for part of the loan if I would become a teacher, which I later did), and the college adviser asked if I was working. I said yes, I was working too many hours in retail for a pittance. He described the Postal Service 'excepted position' and said I would be limited to 16 hours a week, but the pay was double what I was making in retail! (Now why is this program not available today?) What a difference that made in my ability to achieve and finish college!
During my three years with the Post Office I gained a life long appreciation for the complex job postal workers have. Sad to say, I was unaware of their current plight until I got an email from
AFLCIO BLOG describing their plight and urging me to attend thenational rally.
Then Dkos began carrying stories about the rally as well.
We were all set to ride our bikes down to the Indian School area and it began to lightning/ rain, so ended up driving the two miles to the rally.
Santa Fe is beautiful this time of year, the big sky over town always changing, flowers blooming, and just up the mountain aspens are starting to turn. Great day for a rally!

Save America's Postal Servie Rally in Santa Fe, NM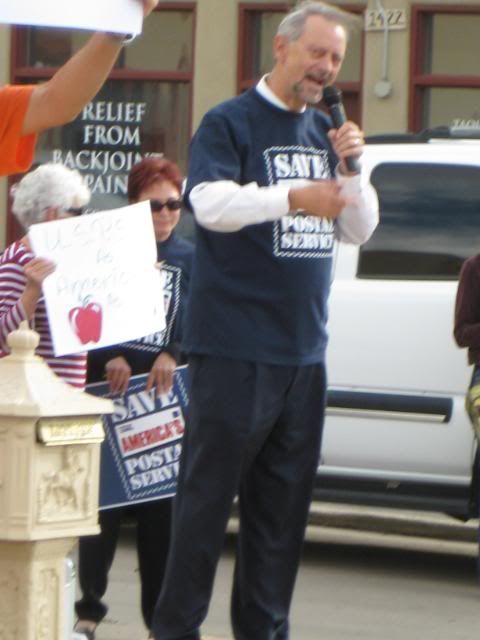 Santa Fe Mayor David Coss a Democrat with spine,, addresses the rally participants. The Mayor concluded his remarks by repeatedly saying that that the Republicans congressional actions in relation to the Postal Service are not ' political, not ideological, they're pathological!'

No, this picture is not from the rally. But Nancy Pelosi was recently in Santa Fe (( see my diary, Nancy Pelosi Talks SS/Deficit in Santa Fe; PBO Talks 1 Million Jobs!) here), and standing with her were Santa Fe Mayor Coss, and Representing New Mexico's Third District ...US Congressman Ben Ray Lujan .-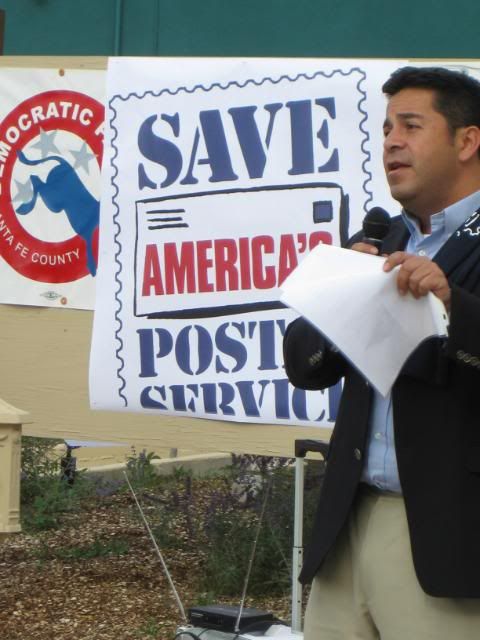 Congressman Lujan also addressed the rally, and he was clearly popular with the postal folks: he is one of the co sponsors of H.R.1351 . He talked about how closing of rural post offices were adversely affecting senior citizens who depended on the Postal Service to deliver their medicines .
120,000 jobs are at stake.
Its a union busting privatization action by the Rethugs like the private prisons scam, no money will be saved, and instead of dedicated public servants we end up with underpaid non unionfolks working for little or no benefits and we still get charged more so that ceo's ... oops, don't want to slip into a rant here.
Here's the scoop

Background: A congressional mandate is killing the U.S. Postal Service.

A 2006 postal reform law requires the USPS to pre-fund 75 years' worth of future retiree health benefits within just 10 years. At the behest of the Office of Personnel Management and the Government Accountability Office, and to make the law appear not to cost the government money (i.e., to be "revenue neutral"), Congress included in the law that destructive pre-funding mandate.

No other federal agency or private enterprise is forced to pre-fund similar benefits like this, especially on such an aggressive schedule.

This postal-only mandate costs the USPS $5.5 billion per year. It accounts for 100 percent of the Postal Service's $20 billion in losses over the past four years.

It also accounts for 100 percent of the rise in the Postal Service's debt in recent years.

Without the mandate, the USPS would have been profitable over the past four years, and rather than having to use up its $15 billion line of credit from the U.S. Treasury to cover the pre-funding obligation, the Postal Service would have had significant borrowing authority to ride out the bad economy it now faces.

The $47 billion the Postal Service has deposited so far into its retiree health fund over the past four years instead could have been spent on operating costs.

The Postal Service and its employees don't want a taxpayer bailout. We have not received any taxpayer funds in nearly 30 years.

What we do want is the freedom to use our own surplus pension funds to pay down the pre-funding obligation.

But this can only happen if Congress changes the current law.

About this event

Over the next month, Congress will be forced to make major decisions about the future of the Postal Service.

We all must do our part to ensure that the concerns of both the customers and the hardworking men and women of USPS are taken into consideration.

"Save America's Postal Service" rallies were informational events taking place in every congressional district in the United States on Sept. 27 from 4 p.m. to 5:30 p.m. (local time).

They were designed to encourage Congress to pass H.R. 1351, legislation that addresses the financial crisis facing the Postal Service.

Events engaged the public through speeches, handouts and gatherings to make our voices heard. They were not protests.




A wide variety of supporters also participated in "Save America's Postal Service" rallies, including small business owners who use the mail to advertise, businesses that consistently ship products using the Postal Service, and faith leaders and progressive allies who have concerns for the plight of working men and women.

Our combined dedication and activism will contribute to returning the Postal Service to solid financial footing.
Sign the Petition
Petition

We want as many people as possible to show our representatives that we have the backing and support of thousands who cannot be present that day—our family members, friends, neighbors and members of our communities...anyone who has an interest in saving America's Postal Service.

Print out the appropriate petition below, then get as many signatures as you can. (Feel free to print as many copies as you need.) Please be patient—depending on your Internet connection speed, it might take a few moments for the PDF file to download and open up.

If you are using Internet Explorer, you may also right-click on the link and select "Save target as..." to download the PDF. (In Mozilla Firefox and Google Chrome, right-click and select "Save link as..." In Apple Safari, in right-click and select "Download linked file as...")

If your representative is a co-sponsor of H.R. 1351, please click this link to download a cover letter (PDF), then print the letter and attach it to the petition sheet(s) that you are mailing to that representative's office.
If your representative is a not co-sponsor of H.R. 1351, please click this link to download a cover letter (PDF), then print the letter and attach it to the petition sheet(s) that you are mailing to that representative's office.

Click here to determine whether your representative is a co-sponsor of H.R. 1351.

If he or she is a co-sponsor of H.R. 1351, click here to download a petition geared toward co-sponsors.

If he or she is not a co-sponsor of H.R. 1351, click here to download a petition geared toward non-co-sponsors.


Click here to sign an online petition.
Looking for fliers and other materials? Click here