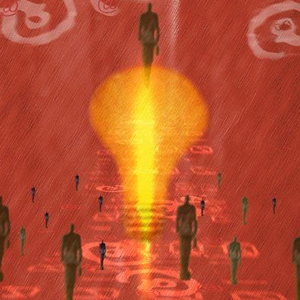 Commentary: African American Scientists and Inventors
by Black Kos Editor, Sephius1


George Edward Alcorn, Jr. (March 22, 1940) was born on March 22, 1940, to George and Arletta Dixon Alcorn. His father was an auto mechanic who sacrificed so Alcorn and his brother could get an education. Alcorn attended Occidental College in Pasadena, California, where he maintained an excellent academic record while earning eight letters in baseball and football. Alcorn graduated with a B.A. in physics in 1962, and in 1963 he completed a master's degree in nuclear physics from Howard University. During the summers of 1962 and 1963, Alcorn worked as a research engineer for the Space Division of North American Rockwell, computing trajectories and orbital mechanics for missiles. A NASA grant supported Alcorn's research on negative ion formation during the summers of 1965 and 1966. In 1967 he earned his doctorate from Howard University in atomic and molecular physics.

(con't.)
After earning his Ph.D., Alcorn spent twelve years in industry. He was senior scientist at Philco-Ford, senior physicist at Perker-Elmer, and advisory engineer at IBM Corporation. In 1973, Alcorn was chosen to be IBM Visiting Professor in Electrical Engineering at Howard University, and he has held positions at that university ever since, rising to the rank of full professor. Alcorn is also a full professor in the department of electrical engineering at the University of the District of Columbia, where he has taught courses ranging from advanced engineering mathematics to microelectronics.
Alcorn left IBM, where he worked as a Second Plateau Inventor, to join NASA in 1978. While at NASA, Alcorn invented an imaging x-ray spectrometer using thermomigration of aluminum, for which he earned a patent in 1984, and two years later he devised an improved method of fabrication using laser drilling. His work on imaging x-ray spectrometers earned him the 1984 NASA/GSFC Inventor of the Year Award. During this period he also served as deputy project manager for advanced development, and in this position he was responsible for developing new technologies required for the space station Freedom. Alcorn served as manager for advanced programs at NASA/GSFC from 1990 to 1992, and his primary duties concerned the managing of technology programs and evaluating technologies which were required by GSFC. He also managed the GSFC Evolution Program, concerned with ensuring that over its 30-year mission the space station develops properly while incorporating new capabilities.
Since 1992, Alcorn has served as chief of Goddard's Office of Commercial Programs supervising programs for technology transfer, small business innovation research, and the commercial use of space programs. He managed a shuttle flight experiment that involved Robot Operated Material Processing System, or ROMPs, in 1994. The experiment involved the manufacture of materials in the microgravity of space.
In 1999 Alcorn was awarded Government Executive Magazine's prestigious--- Government Technology Leadership Award (there were only two awards in all of NASA's ten centers that year) for the development and commercialization of -- THE AIRBORNE LIDAR TOPOGRAPHICAL MAPPING SYSTEM (ALTMS ) . In 2001 Dr Alcorn was awarded special congressional recognition by Congresswoman Donna M. Christian-Christensen (D-VI) for his efforts in helping Virgin Islands businesses through application of NASA technology and knowledge of technology programs.....Read More
-------------------------------------------------------------------------------
News by dopper0189, Black Kos Managing Editor
--------------------------------------------------------------------------------



-------------------------------------------------------------------------------
Mississippi politics. NYT: For Politics in South, Race Divide Is Defining
-------------------------------------------------------------------------------

Ten miles south of Ronnie's Steak and Grill, where Johnny DuPree was making a recent appearance before the Rotary Club, lies the lonely road where three civil rights workers were killed by the Klan one June night in 1964 for registering blacks to vote.
The workers' cause won in the end. That Mr. DuPree, who is black, is running for governor is proof of that.
Seven miles to the southwest of Ronnie's lies the Neshoba County Fairgrounds, where Ronald Reagan kicked off his 1980 presidential campaign with an appeal to disaffected Democrats.
His cause won, too. That Mr. Dupree, who is a Democrat, is considered something of a long shot here is proof of that.
In few places are the current woes of Democrats in the South in such clear relief as they are in Mississippi. It is here that a possibility long considered may soon become a reality, as Democrats ponder the prospect of becoming, definitively, the minority party — in both senses of the word.
At a glance, Democrats may seem to be in better shape here than they are in neighboring states. Republicans won a supermajority in the Alabama Legislature in the 2010 elections and took over the Louisiana Legislature a month later as a result of several party switches, while Mississippi Democrats still control the State House of Representatives. Unlike in Louisiana, Democrats in Mississippi have actually managed to field candidates for a few statewide offices in this year's elections, and hold the office of attorney general.
But the tale told by demographics is a stark one. Mississippi has, proportionally, the largest black population of any state, at 37 percent. Given the dependably Democratic voting record of African-Americans here, strategists in each party concede that Democrats start out any statewide race with nearly 40 percent of the vote.
That is a remarkable head start. And yet Brad Morris, a Democratic strategist, is being optimistic when saying this: "We've hit rock bottom."
Simply put, the votes Democrats count on automatically may be the only ones they can get.



William Widmer for The New York Times
Mayor Johnny DuPree of Hattiesburg is the Democratic candidate for governor in Mississippi, and is considered a long shot.


---------------------------------------------------------------------------
Dr. Boyce on coalition building. Your Black World: Why Black People Need to Go Occupy Wall Street Too
---------------------------------------------------------------------------

This week, I plan to head to New York City to join scores of American citizens who've decided that Wall Street should be confronted for the financial crimes that have been committed against the American people. It is an awkward reunion for me as a Finance Professor, since I have hundreds of former students who've gone on to make millions as Wall Street employees. So, perhaps it is because of my intimate understanding of the gospel of Finance that I can also see the dangers of creating a society that has come to believe that making money is the trump card that justifies nearly all sins against humanity…..almost like the doctor who can tell when the patient has become addicted to the drug that was originally designed to heal him.
There are a long list of reasons that all of us should be concerned, disappointed and even angry about what Wall Street has done to our country. The real wage of the average American worker has remained stagnant, while the gap between the rich and the poor has risen to levels that are unsustainable in nearly any civilized society. We live under the illogical reality that those who caused the financial crisis by taking unnecessary risks were the first ones to be bailed out by politicians who are enslaved by campaign contributions and lobbying groups. Labor unions have been undermined throughout the nation, and while the joblessness problems persists, corporations are sitting on trillions in capital that could be used to hire American workers.
I am honored to be an American when I see that thousands of us have simply taken our country back from those who've denied their responsibility to properly regulate the power of capitalism in our society. Free enterprise can be a wonderful thing, but when capitalism is not properly controlled, it can become as deadly as an economic forest fire.
The African American community has every reason to be on the front lines in this battle for our nation's economic soul. Black unemployment has skyrocketed to levels that haven't been seen since Michael Jackson released Thriller. Nearly half (40%) of all black children are living below the poverty line. Black wealth has continued to shrink, as the burst of the real estate bubble left many African Americans either homeless or upside down in their mortgages. Black families have been destroyed by the prison industrial complex, where Wall Street firms earn billions each year from slave labor. Also, several Wall Street banks deliberately targeted black and brown communities for predatory loans that put grandma out of the house she'd lived in since Malcolm X was alive.



--------------------------------------------------------------------------------


-------------------------------------------------------------------------------
Sonya Clark puts herself into her art, a story told in pieces fashioned from nappy tresses. Philly.com Mirror, Mirror: A life in hair
------------------------------------------------------------------------------

When I see Sonya Clark's provocative art that shows kinky black hair as abacus beads or fashioned into a set of vintage pearls, I am warmed with pride.
To me, the pieces say that African American hair in its natural state is a beautiful medium. After all, my nappy knots could be a part of Clark's solo exhibition that opens Friday at Snyderman-Works Galleries.
But pride isn't Clark's intention. Nor is defiance. Clark uses hair as a medium to tell a personal story, that of a first-generation African American woman whose parents immigrated from the Caribbean. Clark's story isn't one of anger or revenge, nor is it one that begs to prove equality or self-worth. (Although I think the series of five-dollar bills on which Clark adds an Afro to Abraham Lincoln makes a racially charged, in-your-face statement.)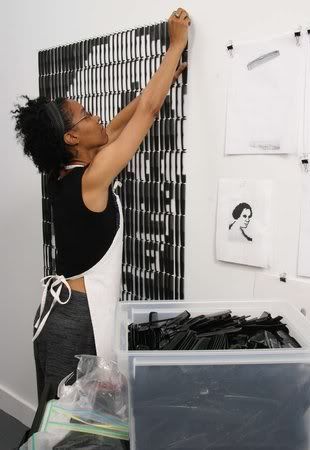 Sonya Clark works in her studio on the "Madam CJ Walker"… ("Afro Abe," TAYLOR DABNEY)


--------------------------------------------------------------------------------



---------------------------------------------------------------------------
Namibia Skulls Repatriated IPS: No Official German Apology
---------------------------------------------------------------------------

A delegation of Namibian government representatives and leaders of the indigenous Herero and Nama people who came to Germany to repatriate 20 skulls of their ancestors were once again disappointed in their hopes for dialogue and an official apology.
The skulls were of victims of the mass murder of 80,000 Herero and Nama between 1904 and 1908, which were stolen by the former colonial 'Kaiserreich' for racial research some 100 years ago.
"When the Great Powers partitioned Africa in 1884, unfortunately we were allotted to the Germans," said Advocate Krukoro of the Ovaherero Genocide Committee, one of the 60 Namibian delegates, during the Sept. 27-Oct. 2 visit to Berlin.
In 1904, some 17,000 German colonial troops commanded by General Lothar von Trotha launched a brutal war of extermination against the Herero and Nama people, after they revolted against the continued deprivation of land and rights. Following their defeat at Waterberg on Aug. 11, 1904, they were hunted, murdered or driven deep into the Omaheke desert where they died of thirst.
Thousands of men, women and children were later interned in German concentration camps, and died of malnutrition and disease. The territories of the Herero and Nama people were seized, their community life and means of production destroyed. The discussion about the mass murder did not start until Namibia gained independence from South Africa in 1990.
Germany's foreign ministry has routinely avoided the use of the term "genocide" in dismissing the Herero and Nama peoples' claims for compensation, using instead vague phrases such as "Germany's historic responsibility with respect to Namibia."



----------------------------------------------------------------------------
The senate in Haiti has appointed an aide to former US President Bill Clinton as prime minister. BBC:Haiti senate appoints Clinton aide as prime minister
---------------------------------------------------------------------------

Garry Conille was the third nomination put forward by President Michel Martelly, ending months of delay in forming a government.
His first two nominees were rejected by lawmakers in June and August.
Mr Conille worked for Mr Clinton in his role as a United Nations envoy to Haiti.
His approval in the senate came after a 17-3 vote, with nine abstentions.
The lower house endorsed his nomination last month.
Mr Conille, a 45-year-old gynaecologist, has had a long career with the United Nations specialising in development and health issues.
He has worked for the UN in Ethiopia and Niger, as well as in Haiti, where he has been Mr Clinton's chief of staff.


--------------------------------------------------------------------------------


-------------------------------------------------------------------------------
OK I'll admit I've been following this and avoiding talking about this theory on D Kos for some time. A surprising new theory for the continuing crime decline among black Americans. Slate: Is There an "Obama Effect" on Crime?
-------------------------------------------------------------------------------

Until recently, almost all criminologists could agree on one factor: the good economy. Nothing is as taken for granted (at least by liberals) as this connection between crime and economics. The higher are employment and wages, the thinking goes, the less crime people commit—and vice versa.
Advertisement
But then, unexpectedly, the crime decline of the last two decades did not end with the economic collapse of 2008. On the contrary, decreases in violent crime have not just continued in many places since, according to the latest numbers from the FBI's Uniform Crime Reporting Program, but they appear to have accelerated in some cities. In the first half of 2009, homicides plummeted an astounding 67 percent over 2008 in Minneapolis, 47 percent in Seattle, 39 percent in Charlotte, 31 percent in New York, and 17 percent in Los Angeles. As surprisingly, these declines occurred in black communities, which suffer disproportionately from unemployment and stagnating wages and from crime (about half of all violent crimes in the United States involve blacks)—even as the growth in the prison population, also disproportionately black, has halted.
Experts are baffled. "Blacks in the U.S. are like the canary in the mine. Their crime rates go up faster during recessions, and go down faster in good times," says Gary LaFree, director of the Department of Criminal Justice and Criminology at the University of Maryland. Franklin Zimring, a U.C.-Berkeley criminologist whose new book, The City That Became Safe, explores the crime drop in New York, told me: "The crime decline of 2008 to 2010 comes at a really inconvenient time for the conventional wisdom, in two respects. One, the economy is going to hell, and two, this is the first time in forty years that we are not removing more prisoners from the streets than we're sending back."
So what could account for it?
One unlikely explanation that is gaining credence among experts, including some of the biggest names in the field, is a phenomenon tentatively dubbed "the Obama Effect." Simply put, it holds that the election of the first black president has provided such collective inspiration that it has changed the thinking or behavior of would-be or one-time criminals. The effect is not yet quantifiable, but some very numbers-driven researchers believe it may exist.
Rick Rosenfeld, the president of the American Society of Criminology, studies the relationship between consumer sentiment and crime rates, which appear to track closely. Despite the recession, Rosenfeld has found, black Americans are remarkably confident about their economic futures. In 2009, despite being in the midst of the worst economic downturn since the Great Depression, 39 percent of black people surveyed said they were better off than they'd been five years before, as opposed to just 20 percent who answered that question in the affirmative in 2007. In the same survey, there was a 14 percent increase among blacks who said they thought the standard of living gap between themselves and whites was diminishing, and a 9 percent increase in blacks who believed that the future for black people will be better.
"I think there's little question the election had the effect of improving the general outlook of blacks and especially their economic outlook," Rosenfeld told me. "Normally, blacks tend to be more pessimistic about economic prospects, even in good economic times."


--------------------------------------------------------------------------------
OBITUARIES
-------------------------------------------------------------------------------
Two sad good byes.
Dead at 89, the co-founder of SCLC leaves a legacy as a fearless leader. Rev. Fred L. Shuttlesworth, an Elder Statesman for Civil Rights, Dies at 89.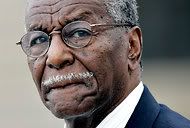 Derrick Bell, Law Professor and Racial Advocate, Dies at 80.