His Sign Read: HOPE ISN'T JUST FOR PRESIDENTS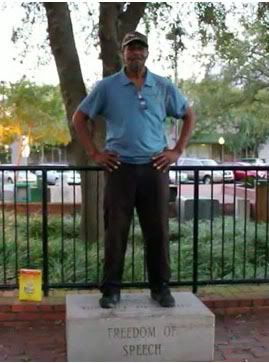 This story is just breaking and I am awaiting more video of the arrest.
After two days of discussion and deliberation on whether to occupy the Plaza without a permit and to reject the City Manager's attempt to mislead them into accepting a 24 hour only permit (which could not be re-applied for within a year) the occupiers of Gainesville Florida's downtown Community Plaza, recently renamed in honor of the area's long-time resident and active citizen Bo Diddley, the police took action to evict the peaceful citizens. (See link below for background story)
Police arrived at 11:30 and gave eviction notices to a group of 70 occupiers - 30 of whom vowed to remain.
Bo Diddley Jr. (Ellas Anthony McDaniel) was one of those who chose to take a stand for the First Amendment and join the Occupation in solidarity with the growing numbers around the country.
Shortly after midnight, although police initially informed the group that no arrests would be made (unless a person had no identification) and would only issue citations to appear in court at a later date, arrests commenced. Several of those arrested took their position at a grey stone in the Plaza on which the Bill of Rights is displayed. It is uncertain at this time how many were arrested.
Six were known to be arrested in the first wave by police. Meanwhile others took to marching around the Plaza so as to technically be actively engaged in free speech acts. Among those arrested the first two were Pat Fitzpatrick a well-known advocate for the homeless in Gainesville and Bo Diddley's oldest son.
The quotes from Bo Diddley, Jr. (McDaniel) encapsulate both the spirit of this movement and the offensiveness of the use of the power of arrest to abridge the fundamental rights of freedom of speech and assembly in citizen efforts to petition their government for redress of grievances.
Here quoted in the Independent Florida Alligator on his arrest:
"This is my father's park," said McDaniel, a Gainesville resident. "For them to arrest me in that plaza is ludicrous. ... I'm an American. This is freedom of assembly."
And quoted in the Gainesville Sun:

"They said if I go back in there, I'll be arrested," McDaniel said. "I'm not a vagrant. My father wasn't a vagrant. If he was a vagrant, they wouldn't have named this park after him. He didn't raise no vagrants. He raised men. He raised me to stand up for what I believe, because he stood up for what he believed."
Earlier in the evening Bo Diddley's son Anthony announced his presence to the General Assembly and that he was committed to standing in solidarity with those occupying the park named in honor of his father.
Those arrested were processed on site rather than taken to jail and then released. They were told, however, that if they did not then return home they would be immediately re-arrested and booked into the County Jail. The charges appear to be Trespassing in a Public Park After Hours.
It is unknown at this time how many people were taken to the jail - but one person, Annette Gilley, has been confirmed as having been booked into the Alachua County Sheriff's Office, Department of the Jail, at 1:39 a.m. EST.
She will appear for Fist Appearance at the Alachua County Courthouse, Criminal Justice Center at 220 South Main Street, in Courtroom 2E (second floor) at 9:00am on Friday, October 14, 2011. First Appearance is public, and individuals are allowed to speak on Annette's behalf.
THE BACKGROUND STORY: SHOULD THEY STAY OR SHOULD THEY GO: Officials Threaten To Shut-Down Florida Occupation
More to come as the information becomes available.
Thu Oct 13, 2011 at 11:37 PM PT: One of the arrest citations: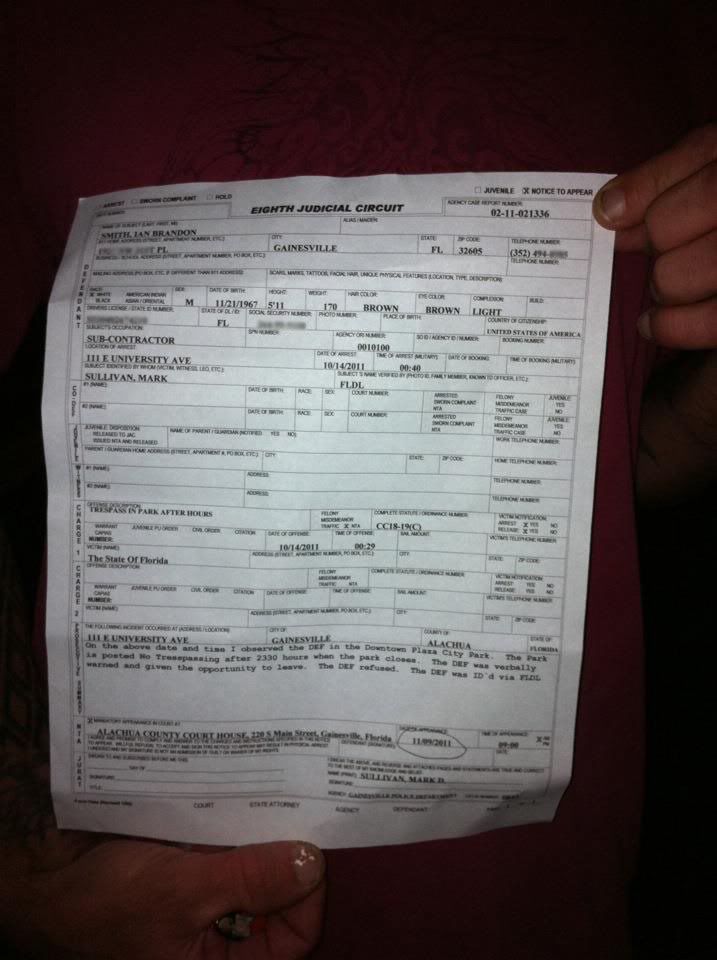 Thu Oct 13, 2011 at 11:45 PM PT: The First Two Arrestees: Pat Fitzpatrick, homeless activist (white shirt) and Anthony "Bo" Diddley Jr. (blue shirt)
12:01 AM PT: Gainesville Sun Breaking News: Diddley's son says he was arrested for not leaving downtown plaza
Alligator (Univ of Florida) Breaking News: Bo Diddley's son arrested during Occupy Gainesville demonstration
1:00 AM PT: The latest reports are that a large number of people have remained but to avoid being arrested have occupied the sidewalks. Reports state that several protesters are now getting to sleep on the sidewalks surrounding the Plaza.
Of course this should show the absurdity of the City's position. Normally a person sleeping on the sidewalk would be asked to move or else cited with trespass or obstructing the pathway. Yet it appears that City officials informed the occupiers that while they could not remain in the Plaza they could remain on the surrounding sidewalks.
The Bo Diddley Plaza is a public square outside of the Alachua County (County Seat) Courthouse and across from the County administration building and the City Hall. It is open on all sides with no fence or gate.
Prominently displayed in the Plaza is a statute and plaque with the Bill of Rights on it. The Plaza was once understood to be the location of the Speaker's Corner in Gainesville.
7:58 AM PT: VIDEO of further arrests. The Occupiers voluntarily get arrested for standing on a stone speaker's podium on which is engraved "Freedom of Speech" and "Freedom of Assembly". They then step down and are arrested.
8:45 AM PT: Here is the Speaker's Corner Stone Podium erected in Gainesville's Bo Diddley Plaza and dedicated to the Bill of Rights and the First Amendment particularly.
Those arrested were arrested for symbolically standing on this platform last night at midnight when told they were not allowed to be there.
11:23 AM PT: The Guardian UK has picked up the story:
6:19 PM PT: Keith Olbermann included in tonight's opening piece for Countdown the Gainesville Bo Diddley Plaza arrests.