Recently some Democrats have said nice things about some of Occupy Wall Street's concerns and goals, validating them. Maybe they are ready to move to seriously address some of them. The Bankers form Wall Street's biggest Banks take it seriously enough to be angry and scared that their astronomical bonuses might even be in jeopardy. So they personally are calling Democratic Party fundraisers and threatening to cut them off!
Wall Street to Dems: you can't have it both ways

After the Democratic Congressional Campaign Committee sent a recent email urging supporters to sign a petition backing the wave of Occupy Wall Street protests, phones at the party committee started ringing.

Banking executives personally called the offices of DCCC Chairman Steve Israel (D-N.Y.) and DCCC Finance Chairman Joe Crowley (D-N.Y.) last week demanding answers, three financial services lobbyists told POLITICO.

"They were livid," said one Democratic lobbyist with banking clients.

The execs asked the lawmakers: "What are you doing? Do you even understand some of the things that they've called for?" said another lobbyist with financial services clients who is a former Democratic Senate aide.

Democrats' friends on Wall Street have a message for them: you can't have it both ways.
Occupy Wall Street has already started to drive a wedge between the Democratic Party and the the deep pockets of the Big Wall Street Banks.
More of this!
Lets make the Banksters even more livid.
We want OUR Party back!
Lets pitch in where each of us can and help Occupy Wall Street to become s force to be reckoned with. A force that will play Hard Ball, and insure Democratic politicians will have to make the stark choice the Bankers have offered them:
You can't have it both ways!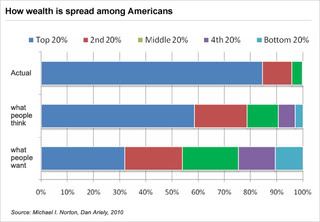 THE CRISIS IN A NUTSHELL:
"This revolution will not be privatized!" —Occupy Toronto protester, on a sign