----------------------------------------------------------------------------------
During our Occupy Santa Fe march last Saturday we chanted "What do we want? JUSTICE! When do we want it? NOW!"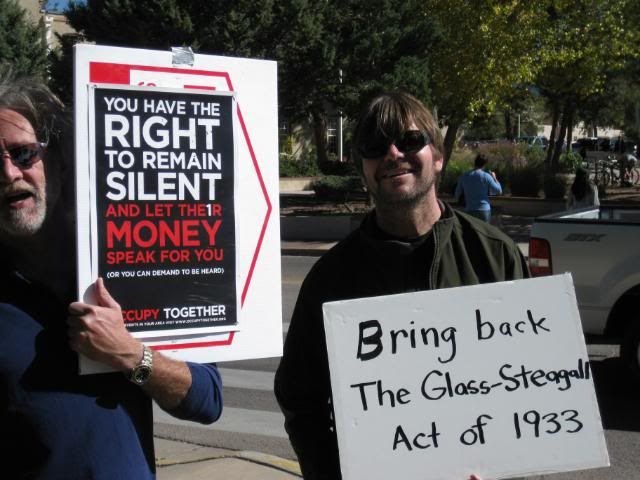 As I walked along chanting with the diverse group of participants I was thinking of the viral video of Alan Grayson where he defends Occupy Wall Street, calls out the Republicans as wholly owned by the corporations and Dems as being too much in support as well, and points out that Wall Streetsters who wrecked the economy have yet to be prosecuted.
Alan Grayson: The Best 2 Minutes On Why We Should All #OccupyWallStreet
Posted on October 10, 2011 by Brandon, MoveOn.org
No wave of perp walks yet, but did see this encouraging sign just now:
latimes.com
Money & Company
Tracking the market and economic trends
that shape your finances.

Rajat Gupta in custody as insider-trading case takes dramatic turn
October 26, 2011 | 7:55 am
One of the most revered figures in U.S. finance, Rajat Gupta, surrendered to the FBI on Wednesday morning to face charges in a wide-ranging government investigation of insider trading on Wall Street.

Gupta, the former head of the consulting firm McKinsey & Co., was first fingered in the probe earlier this year when the Securities and Exchange Commission accused him in regulatory proceedings of improperly sharing information he learned as a member of Goldman Sachs' board of directors.

Gupta was accused at the time of sharing information with hedge fund magnate Raj Rajaratnam about Warren Buffett's $5-billion investment in Goldman at the height of the financial crisis. The revelations came just days before Rajaratnam's trial on insider-trading charges began. Rajaratnam was convicted, partially based on his interactions with Gupta, and recently received the longest sentence ever for insider trading violations.

Since Gupta was accused, though, his case had mostly gone quiet, and there was some speculation that it was being dropped. Gupta sued the SEC this summer, accusing the agency of treating him unfairly by pursuing him through administrative proceedings rather than the more typical lawsuit or criminal charges.

In a dramatic turn in the case, Gupta surrendered to the FBI to face criminal charges at 5:15 a.m. Wednesday morning at the agency's Manhattan headquarters. An FBI spokesman said Gupta has been processed and will be formally charged later today by the U.S. attorney's office. The criminal indictment charging him is still under seal.
.
I'm all in with this!
Question for you: Would more like this from the Administration help increase enthusiasm for working for Dems in 2012?
------------------------------------------------------------------------------
Updated: Video below the squiggle of Rachel Maddow discussing anger driving Occupy Wall Street over Foreclosure accountability with Dem AG Eric Schneiderman
1:02 PM PT: Some bring up action on foreclosure fraud as being needed before they can get enthusiastic. "New York's intrepid AG Eric Schneiderman takes no crap from Feds, other state AGs on bank chicanery

hidnusr10 "
Check out/ pass on Rachel's recent interview NY AG Schneiderman?
4:00 PM PT: Some in the comments are arguing that Gupta is a distraction, keep the focus on Admin inaction on Wall Street heads. Check this out:
Forget Rajat Gupta — Feds Should Train Fire on Wall Street

By Alain Sherter | October 26, 2011
inShare
4:27 PM PT: These authors argue that even after all this time has passed that it is not too late to prosecute:
Should Some Bankers Be Prosecuted?

November 10, 2011

Jeff Madrick and Frank Partnoy
5:39 PM PT: Okay, so a number of commenters are saying that this action by DOJ/FBI is a distraction, is not enough, and have made light of Geithner saying there would be more dramatic evidence that Admin has clamped down.
I like DallasDoc's sig which quotes Meteor Blades:
Don't tell me what you believe. Tell me what you do and I'll tell you what you believe. --Meteor Blades
What will YOU do? Sit back and wait on Obama? Or, perhaps do something like the students did in Italy recently?
http://latimesblogs.latimes.com/...
"Geithner said that there had already been "very, very dramatic enforcement actions," but he said, "I'm sure you're going to see more to come."
Geithner was responding to concerns that Wall Street firms have not faced more legal repercussions for behavior leading up to the financial crisis -- concerns that have recently been voiced by the Occupy Wall Street protests.
Geithner's comments are another sign of the resurgent anger toward the financial sector. Friday morning, Italian students stormed Goldman Sachs' building in Milan, Reuters reported, as protests spread around the globe."
Occupy Together

http://www.occupytogether.org/
7:07 PM PT: What about Dodd-Frank ? Any one here read Simon Johnson? He's not too optimistic about Admin actions but has suggestions:
http://www.businessweek.com/...
"Could the living-will provision make a difference? The FDIC claims it would have handled the problems at Lehman differently if the Dodd-Frank powers had been in effect and if it had full and timely information. But the essence of the argument is that the FDIC would have acted before the problems got out of control. Given the politics of the regulatory process and the predisposition of Treasury not to act early, I am skeptical.
So here is a fair test for this part of Dodd-Frank. Bank of America should clearly be broken up into pieces, spinning off Merrill Lynch along with other structural changes. Will the regulators pursue this course of action? Breaking up the bank would be good for the country, should help stabilize the financial system and could even create value for its shareholders.
Such an action would draw support from both the right and the left. Republican presidential candidates should be drawn to this position (apart from Mitt Romney, who has already taken a lot of money from big banks). So far, the only one to have identified "too big to fail" as a problem, and proposed a course of action, is Jon Huntsman.
When will other politicians and regulators awake from their current complacency? Bank of America should be forced to break itself up. Make the pieces small enough and simple enough to fail. Then let the market decide."