Well I finally was able to make it to an Occupy Portland event yesterday. I've missed other marches and events this last month either do to health or family issues so I was determined to make this one. On the way done I dropped of some beans and rice at the Occupy Portland kitchen at Lownsdale Square. It wasn't much but being a single father on disability it was as much as I can spare at the moment. Just wish I could do more to help those who are out there now in the rain holding down the fort.
I wore the socks my friend Lindsey Bradshaw gave me before he died so he could be there in spirit. He died a few months ago from liver failure after battling stomach cancer for seven long years. I just wish he had lived long enough to see the Occupy movement take off, he would have been so proud. He was an old time hippy, marijuana activist and a Freedom Rider back in the 60's and one of the biggest political influences in my life. Not to mention one of my dearest friends.
Anyway I got down there hoping to spot some people I knew. But the crowd was huge, so I wasn't able to spot anyone I knew. I'm not sure what the total was but I'm guessing was at least in the thousands. But despite having an anxiety disorder that's triggered by crowds of people I was determined to stick it out until the end.
Now I know some at the Occupy Portland site weren't behind this rally. And it was not an Official Occupy Portland event. But I think things like this are important in order to include as much of the 99% as we can. I understand the concerns about the movement being co-opted by politicians and corporate sponsors. It's a fine line that needs to be walked between growing the movement and possible co-option but it's one we must walk as best we can. Besides I believe that the people who put on this event simply wanted to show their support for the movement in a positive way. They weren't trying to co-opt it but simple support it. We all do what we can, the best we can.
Pictures by Marty Davis/Just Out
It was a bit of a small crowd as you can see
Stormy Large and Pink Martini belted out some righteous tunes.
Although there was a glitch in that not everyone was familiar with the full lyrics to "This Land Is My Land" by Woody Guthrie. But we made it work.
Imam Mikal Shabaz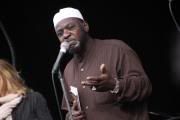 The Reverend Lynne Smouse Lopez of Ainsworth Church of Christ
I have to say one thing For Rep. Earl Blumenauer. He didn't cancel his speech because there might be a few people who disagree with him there. Despite people there protesting his vote on the latest "Free Trade" bill he showed up to speak and show his support unlike some Republicans.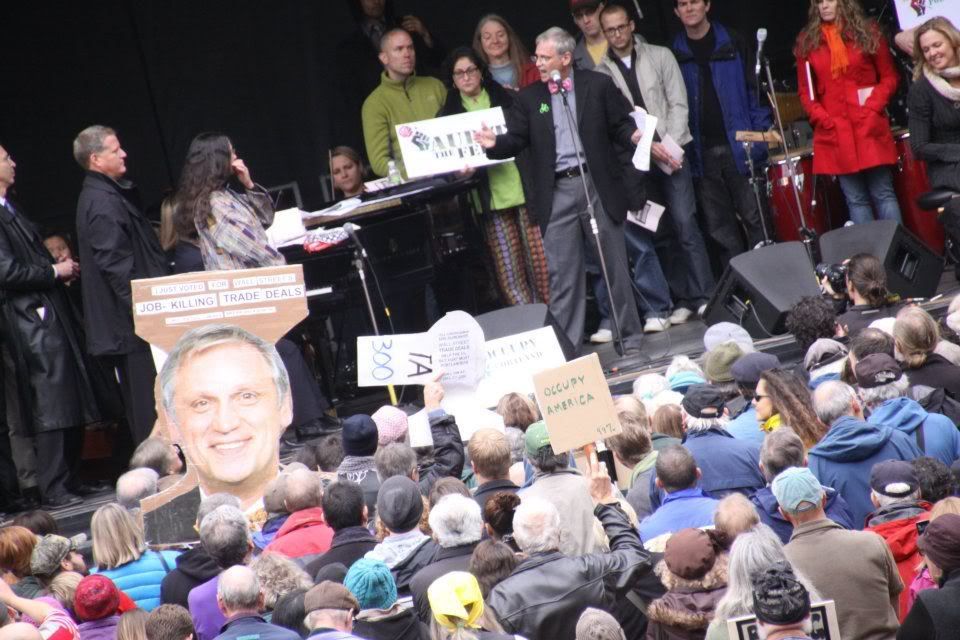 I think Peter Defazio was the one to really get the crowd going with "We're mad as hell and we're not going to take it anymore!"
Oh and here are some great signs to go with it all.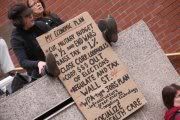 Please forgive the size variance in pictures I'm new to this kind of diary.
SOLIDARITY FOREVER!!!
Occupy The Universe