Science Videos
Three new (well, actually not so new) elements have been officially recognized November 4th by the General Assembly of the International Union of Pure and Applied Physics. Elements 110, 111, and 112 previously known as ununnilium, unununium, and ununbium respectively. If you're interested the new names and a some Periodic Videos hop below the elemental...
The suggested names of three 'new' elements were officially accepted yesterday by the General Assembly of the International Union of Pure and Applied Physics (IUPAP)...
The General Assembly of the International Union of Pure and Applied Physics (IUPAP), taking place at the Institute of Physics in London, today approved the names of three new elements.

Three new elements approved Elements 110, 111 and 112 have been named darmstadtium (Ds), roentgenium (Rg) and copernicium (Cn) respectively.

The General Assembly approved these suggestions from the Joint Working Party on the Discovery of Elements, which is a joint body of IUPAP and the International Union of Pure and Applied Chemistry (IUPAC).

Dr Robert Kirby-Harris, Chief Executive at IOP and Secretary-General of IUPAP, said, "The naming of these elements has been agreed in consultation with physicists around the world and we're delighted to see them now being introduced to the Periodic Table."

The General Assembly includes delegates from national academies and physical societies around the world. IUPAP has 60 member countries altogether.

The five day meeting, which has been running from Monday 31 October and will finish today, has included presentations from leading UK physicists, and the inauguration of IUPAP's first female President, Professor Cecilia Jarlskog from the Division of Mathematical Physics at Lund University in Sweden.IOP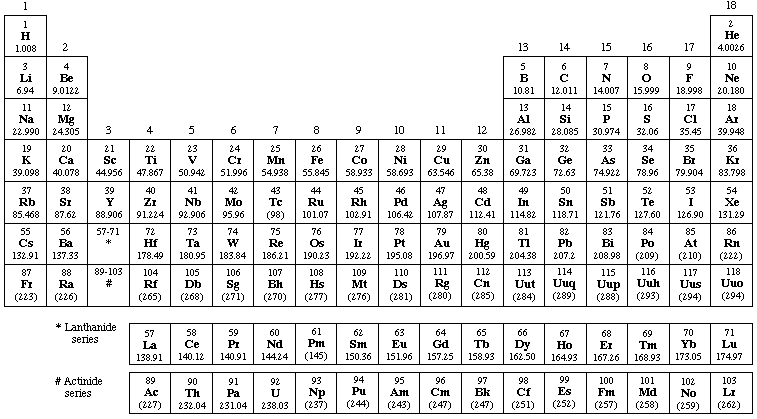 ---
Element #110—Darmstadtium (ununnilium)
Darmstadtium was first synthesized in 1994 by scientists working at GSI (the Gesellschaft für Schwerionenforschung) located in Wixhausen a suburb of Darmstadt,
Drs. Peter Armbruster and Gottfried Münzenberg smashed together isotopes of lead and nickel to produce 4 atoms of Darmstadtium (²⁶⁹Ds) using a heavy ion accelerator.
²⁰⁸₈₂Pb + ⁶²₂₈Ni → ²⁶⁹₁₁₀Ds + ¹₀n
In a second set of experiments Armbruster and Münzenberg fired a different isotope of nickel (⁶⁴Ni) at a lead target and produced another isotope of darmstadtium (²⁷¹Ds).
²⁰⁸₈₂Pb + ⁶⁴₂₈Ni → ²⁷¹₁₁₀Ds + ¹₀n
The IUPAC¹/IUPAP Joint Working Party (JWP) recognised the GSI team as discoverers in their 2001 report [pdf] and of course officially recognized by the IUPAP on November 4, 2011.
---
Element #111—Roentgenium (unununium)
Roentgenium was, like darmstadtium, synthesized at GSI in 1994. Sigurd Hofmann's team was only able to create 3 atoms of the element at that time in a method similar to that used to create darmstadtium. Instead of using lead as a target they substituted in bismuth.
²⁰⁹₈₃Bi + ⁶⁴₂₈Ni → ²⁷²₁₁₁Rn + ¹₀n
The IUPAC/IUPAP Joint Working Group (JWG) didn't find sufficient evidence to accept the discovery in 2001 and the GSI scientists repeated their experiment in 2002. In 2003 the JWG decided that the GSI team did indeed discover the new element.
---
Element #112—Copernicium (ununbium)
When you've got a good thing going you may as well keep it up. Element 112 is also credited to GSI and Sigurd Hofmann's group. They again used the heavy ion-accelerator to produce a single atom of Copernicium in 1996. This time they smashed zinc into a lead target.
²⁰⁸₈₂Pb + ⁷⁰₃₀Zn → ²⁷⁸₁₁₂Cn → ²⁷⁷₁₁₂Cn + ¹₀n
The experiment was successful again in 2000 and the Japanese reasearch institue RIKEN was able to confirm by creating 2 atoms in 2004.
The work was assessed in 2000 and again in 2003 by the IUPAC/IUPAP Joint Working Group which found that there was conflicting data in the 2 groups claims. The JWG did not recommend the claim at that time. In 2009, however, GSI was able to resolve the initial issues and the JWG recognized GSI and Sigurd Hofmann's team as the discoverers of the element.
---
The equations...
²⁰⁸₈₂Pb
Pb is the symbol for lead.
208 its atomic weight. It indicates which isotope of lead was used.
82 is lead's atomic number. It is the number of protons and electrons in a neutral atom.
n is the symbol used for a neutron.
You should note that the equations balance:
208+70 = 278 = 277 + 1 and 82+30 = 112
---