As an elementary school nurse, I have seen an unusual number of head lice cases this year. I am fortunate to work in a progressive school system willing to address the problem head on (no pun intended), but not everyone is so lucky. In many cases, school administrators prefer to ignore the problem, hoping it will go away on its own. It's an unfortunate attitude that only serves to perpetuate myths and negative stereotypes. The following is an information sheet that I sent out to parents at my own school. If you have children, or know someone who does, you might find it helpful.
Lice (singular louse) are tiny, wingless insects that survive by feeding on human blood. Contrary to popular belief, they cannot jump or fly, and they do not burrow under the skin. Lice are known as obligate human parasites, meaning they must live on a human host, most commonly in the hair on the scalp and at the base of the neck.
A case of head lice is referred to as an "infestation." An infestation with head lice does not mean a person is dirty. On the contrary, lice prefer clean, healthy scalps. Head lice are easily spread – anyone can get them. However, head lice are more common in children, who often spread them to each other during close contact while playing. Each year 6-12 million children in the United States are infested with head lice.
Head lice are spread through direct, person-to-person contact or, less commonly, through contact with an infested person's personal items, such as hair brushes and combs, hats, unwashed clothing, bedding or towels. Head lice are commonly spread within households. Head lice can crawl from an infested person or object to a non-infested person. An infested person can continue to spread head lice to other people until he or she has successfully completed a course of treatment that kills all of the head lice and their eggs. Pets cannot spread head lice.
A person infested with head lice may feel itchy (indeed, the mere mention of head lice is enough to make most of us start scratching!), especially behind the ears and at the nape of the neck. But many children have no symptoms at all. While there is some risk of skin infection from excessive scratching, head lice do not spread infectious diseases and, while a nuisance, are not considered a health hazard.
Lice themselves are small, grayish brown insects. Adult lice may be 1/8 of an inch long; immature lice, known as nymphs, are less than half that size. They lay their eggs directly on the hair shaft, close to the scalp. These eggs, or nits, will appear as tiny, white, tan, grey, or brown oval specks on the hair. They are easily mistaken for dandruff, but unlike dandruff they will not shake loose easily. Nits adhere to the hair and must be manually picked off (the origin of the term "nitpicking") or removed with a special fine-toothed comb.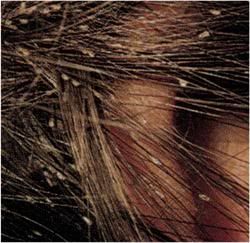 Nits in the hair

Head lice size comparison
The most common treatment for head lice is shampooing the hair with an over-the-counter product such as Rid or Nix, which contain chemicals designed to kill the lice and their nits. A number of companies, such as Fairy Tales offer all-natural lice-control products, which may be used in lieu of or in conjunction with more traditional treatments. Many people have also reported success with vegetable oil, often with a few drops of thyme or tea tree oil added, left in the hair overnight (under a shower cap or wrapped in a towel).
No treatment is 100% effective. Some lice or especially nits may survive. Therefore it is important to thoroughly examine the hair following treatment and regularly thereafter remove any remaining nits.
Lice cannot survive long off of a human host, 24-48 hours maximum. The following steps should be taken to avoid reinfestation by lice that have recently fallen off the head of an infested person:
Wash hats, headgear, pillows, pillow cases, sheets, blankets, towels, and stuffed animals in hot water and, if possible, dry them in a machine dryer on the hot cycle.
Seal any items that cannot be washed in a plastic bag for a minimum of two weeks, long enough for any lice on them to die.
Wash combs and brushes in one of the lice-killing shampoos or soak them in hot water (130°F/54°C) for 5 minutes.
Thoroughly vacuum rugs, upholstered furniture, and mattresses.
DO NOT USE INSECTICIDE SPRAYS TO TREAT INFESTED PEOPLE. These chemicals can be harmful to both people and pets.
Reinfestation is common and extremely frustrating for parents, teachers, and children alike. Prevention is key. Remind children not to share hats, scarves, and jackets. Whenever possible, store these items in backpacks and throw them in the dryer on the hot cycle when kids get home from school. Keep long hair pulled back in pony tails or braids. Finally, and perhaps most importantly, examine children's heads regularly, at least once a week, to ensure that they are lice-free.
Online Resources:
Centers for Disease Control head lice page