This is based on a piece that Nate Silver wrote on Friday about the Gingrich surge in polling. It's well worth a read, but Nate missed something very interesting in his data. While Gingrich is indeed surging, there's another, less talked about, candidate who is similarly on the rise.
That candidate is "None of the Above".
Seriously.
In his piece, Nate plotted the polling trajectories of all 8 of the republican candidates over the last couple of months, and saw that Romney and Cain were trending down and Gingrich was trending up. What he didn't do, however, is add everything up and see what fraction of the primary electorate has actually thrown in with a candidate.
I took his data (using the smoothed curves in each of his individual graphs) and did just that:
This is an accumulation plot, where the support for each candidate is stacked one on top of the other, and the white space at the top is for undecided/other. We see that as of a month or so ago, 87% of the GOP primary electorate had picked a candidate. As of today, that number is down to 82%. Yes, that's right. Even for the Republican electorate, the more they see of all of the candidates, the less they seem to like them.
As a comparison from last time round, I pulled a polling chart from 2008 from Pollster. It's not an ideal comparison because it only includes 4 candidates (Clinton, Obama, Gore, Edwards), but is still instructive: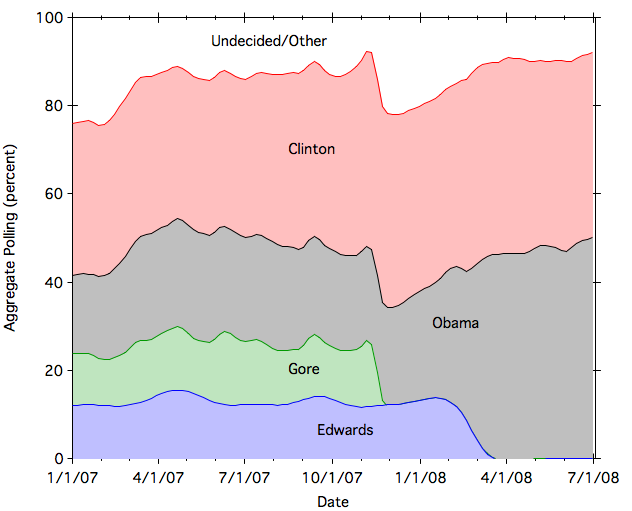 At this stage of the Democratic primary, Clinton and Obama between them had about 65% support, and a combination of "none of the above" and the Dodd/Biden/Gravel/etc. support was around 10%. The second-tier candidates were typically polling at a few percent each, so the true "none of the above" figure was well below 10 percent. There was a temporary rise of Other/none when Gore announced that he wasn't running, but the two front-runners quickly sopped up that pool of voters.
By and large, Democrats in 2008 were happy with their menu of choices. The data suggests that this year's set of Republicans may not be quite so well loved...
PS: Dear Mitt Romeny, we hate you. Signed, the GOP primary electorate.