North Carolina Republicans have released a map that makes 10 Republican Districts and 3 Democratic Districts. This is a reverse of that, a fantasy map of course, which forms 10 Democratic Districts and 3 Republican. It would likely oust 3 Republican incumbents (most likely Walter Jones, Howard Coble and Sue Myrick). It is more aggressive than my first North Carolina map, which was 9D-4R.
Behold: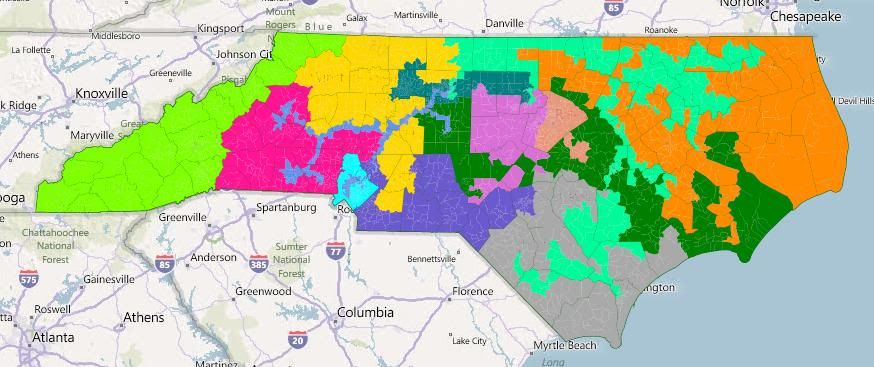 Edit: Gah! Eastern NC was cut off...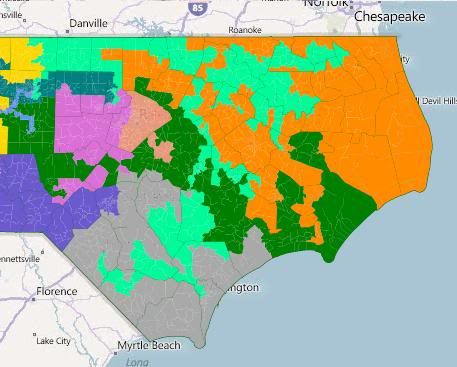 ____________
(all racial data is VAP)
District 1: G.K. Butterfield (D-Wilson)
68/32 Obama
70/30 Democratic
50% Black, 41% White, 6% Hispanic
Unlike the 1st district in my last map, I believe this one is VRA compliant. It includes all VAP mandated counties. This district loses much of it's current Democratic strength in Northeastern NC and replaces it with some AA precincts in Southeastern NC and precincts from Greensboro and Durham. I also managed to make a Democratic district the most partisan district in the state - and still in a Democratic gerrymander. Safe D.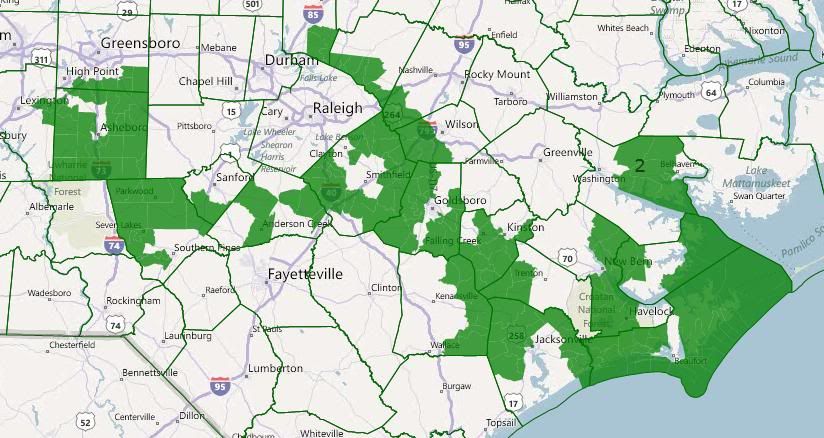 District 2: Renee Ellmers (R-Dunn)
68/31 McCain
65/35 Republican
80% White, 11% Black, 7% Hispanic
This is a Republican vote sink and a very ugly-shaped district. Contiguous at a single-point in many areas. The only GOP incumbent who lives here is Renee Ellmers, but really this district takes in the most heavily GOP areas from three districts - Walter Jones' 2nd, Ellmers' 3rd, and Howard Coble's 6th. Safe R.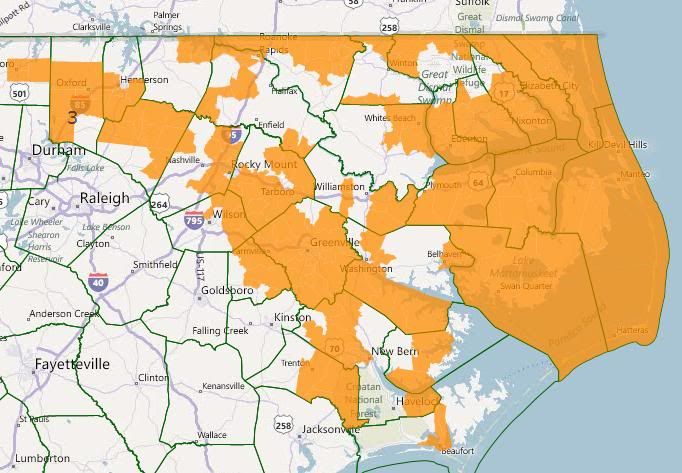 District 3: Walter Jones (R-Farmville)
50/50 Obama
53/47 Democratic
63% White, 31% Black, 4% Hispanic
This district only went for Obama by two-tenths of a percent (49.7-49.5) but it is actually very heavily Democratic. The only Republican who would have good odds of winning here is Walter Jones, who is basically a Democrat (pro-taxes on walthy, pro-Medicare, anti-war), but I wouldn't bet on him surviving a tough primary. Bev Perdue probably got 60% here and Mike Easley maybe 65%. Lean R for Walter Jones, Likely D for everyone else.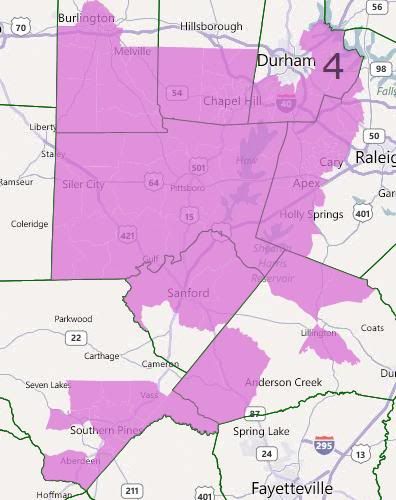 District 4: David Price (D-Chapel Hill)
59/40 Obama
56/44 Democratic
67% White, 17% Black, 9% Hispanic, 6% Asian
This district becomes a few points more Republican, but is still Safe D.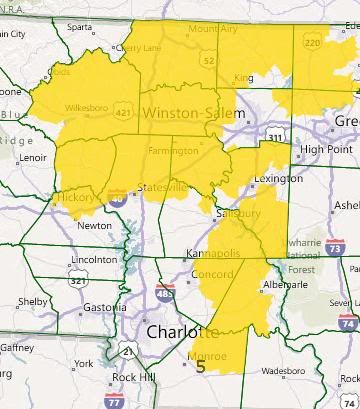 District 5: OPEN
68/31 McCain
67/33 Republican
89% White, 5% Black, 4% Hispanic
This is one of two Republican vote sinks in Western NC. It displaces current 5th district Rep. Virginia Foxx, which screws Republicans over even more. (Touch-point contiguity southwest of Lexington.) Safe R.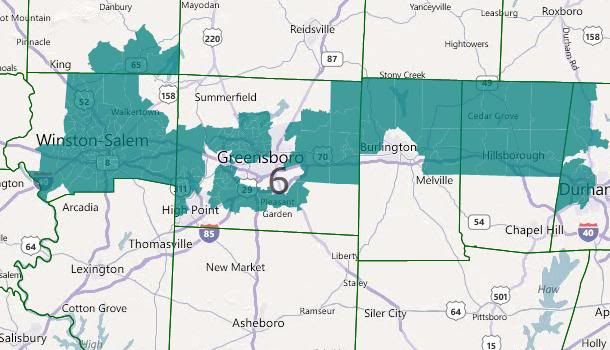 District 6: Howard Coble (R-Greensboro)
55/44 Obama
53/47 Democratic
63% White, 31% Black, 4% Hispanic
Howard Coble is in the worst position of all GOP incumbents with this map. Almost none of his old 6th district is in the new 6th district, and it's 20 points more Democratic than before. The 6th follows the I-40 corridor through Central NC, taking in all of Winston-Salem, leftovers of Greensboro, and the Duke University area of Durham. Likely D.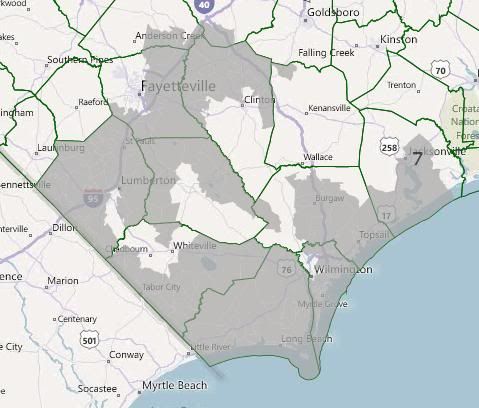 District 7: Mike McIntyre (D-Lumberton)
56/43 McCain
53/47 Republican
69% White, 16% Black, 7% Native, 6% Hispanic
Mike McIntyre is one of the most conservative Democrats in the House, but is still apparently liberal enough to make the Republicans spend hundreds of thousands of dollars to beat (which they haven't). Barring another 2010 wave year, he will be safe here. He won with about 70% in 2002, 2004, 2006 and 2008 - and his district only becomes 4 points more Republican. It also splits Wilmington which diminishes the possibility of a strong primary/general challenge from that part of the district.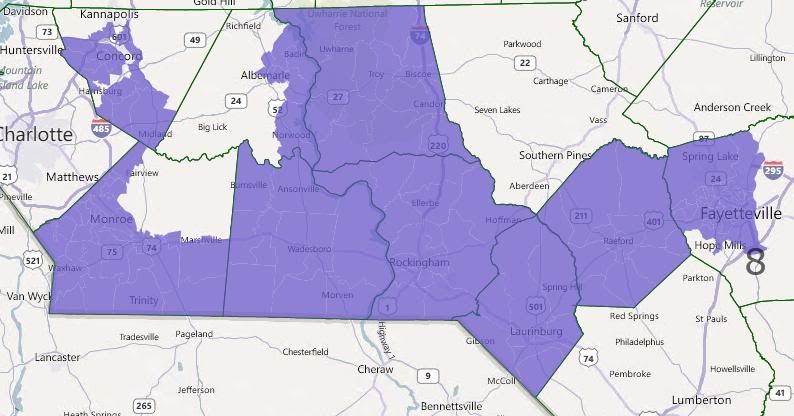 District 8: Larry Kissell (D-Biscoe)
51/49 Obama
51/49 Democratic
60% White, 27% Black, 8% Hispanic
Larry Kissell is a tough incumbent to draw a safe district for in any situation, but given that this district doesn't change much from it's pre-2010 form, he should be able to win here. Lean D.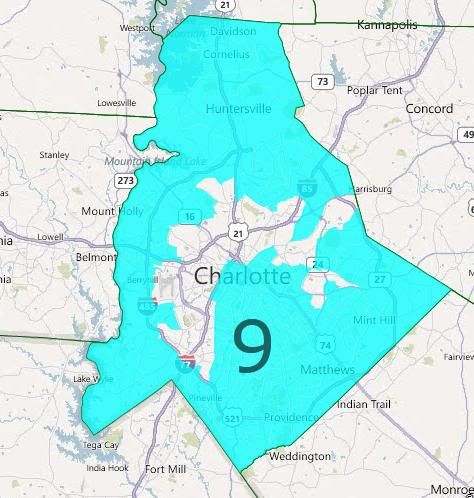 District 9: Sue Myrick (R-Charlotte)
56/44 Obama
50/50 Republican
63% White, 21% Black, 9% Hispanic, 5% Asian
Charlotte has historically been a very Republican city, but has been trending progressive in recent years. Mecklenburg County was one of the few in the U.S. that went for Bush in '00 and Kerry in '04. Sue Myrick is a popular former mayor of Charlotte and has a fair chance of winning here, but she is a staunch conservative and if a good Democrat could point that out, this district is certainly winnable. Tilt D for now, but Likely D by the end of the decade.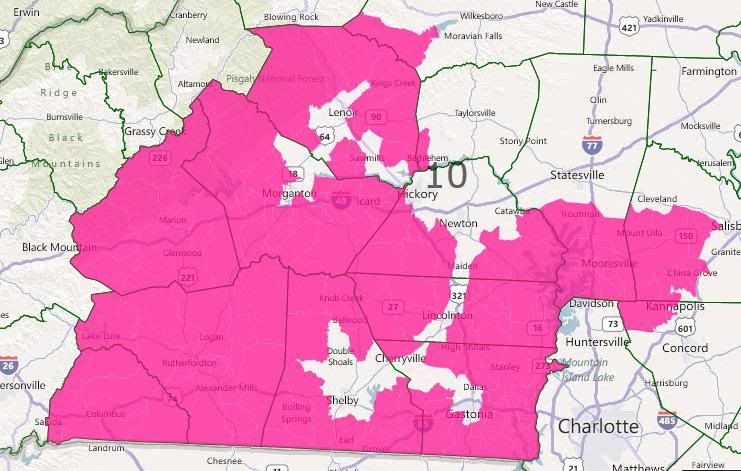 District 10: Patrick McHenry (R-Cherryville)
66/33 McCain
65/35 Republican
87% White, 7% Black, 4% Hispanic
I think Patrick McHenry's little town of Cherryville has actually been moved out of this district - but just barely. Other than that, Patrick McHenry is safe here - which is kind of unfortunate because he's my least favorite NC Republican.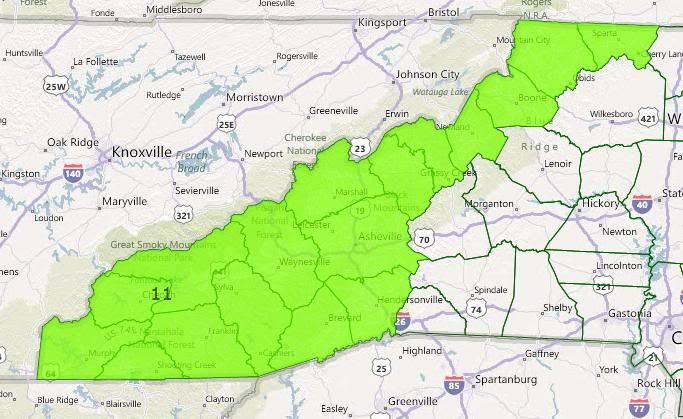 District 11: Heath Shuler (D-Waynesville) vs. Virginia Foxx (R-Banner Elk)
52/48 McCain
53/47 Republican
90% White, 3% Black, 4% Hispanic
This is my favorite district in this map. It is by far the most compact (no county splits!) and it only includes mountain counties (I love the NC mountains!). The election stats haven't changed at all, and Virginia Foxx would not run here - so Heath Shuler is safe in this district.
District 12: Mel Watt (D-Charlotte)
64/35 Obama
63/37 Democratic
49% White, 36% Black, 11% Hispanic, 3% Asian
Drawing this district majority-minority was my greatest feat in making this map. It includes the least-white precincts from Mecklenburg county and the city of High Point, and then criss-crosses through the western half of the state, taking in small towns that vote Democratic. Unfortunately it's congressman, Mel Watt, is owned by the Bank of America. But at least he is a Democrat. Safe D, in any case.
District 13: Brad Miller (D-Raleigh)
57/42 Obama
54/46 Democratic
64% White, 23% Black, 9% Hispanic, 3% Asian
This district becomes more Raleigh centered and takes in some Democratic areas of Johnston County (Clayton and Smithfield). Safe D.
____________
That's it. Too bad this map is not real. Instead we have a horrid GOP gerrymander. Oh well.
Thoughts?