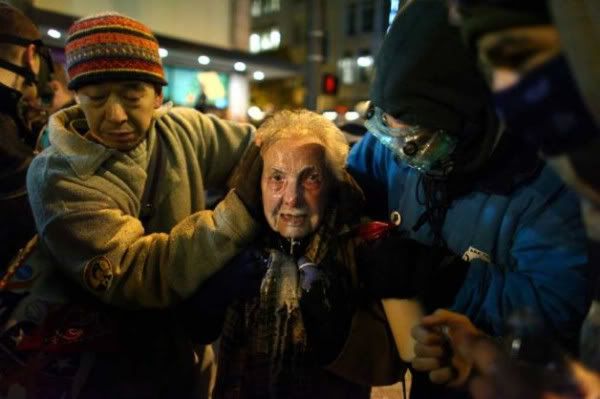 The forces of oppression did it again, from the Telegraph:
A graphic photo of the former teacher after she was hit with the chemical irritant went viral, becoming one of the most striking images from the protests that have taken place in cities across the globe.
Beatings, chemical weapons, audio warfare, this is America right?
Seattle police on Wednesday referred reporters to a statement they released late Tuesday. Officers gave multiple verbal warnings and only used pepper spray against people who were "refusing a lawful order to disperse or engaging in assaultive behavior toward officers."

Six people were arrested. Rainey said she was not among them.

A self-described "old lady in combat boots," she briefly entered the 2009 Seattle mayoral race. She quit that contest, saying she was too old.

She said Wednesday she'll still be taking part in the local Occupy Seattle movement.

"I'm pretty tough, I guess."
She's very tough. But should it be left to Dorli to take back the freedoms we've lost from 1% greed and their cronies in government?
Dorli wasn't even the only person assaulted that day, from HuffPo:

Rainey was among a group of Seattle protesters scattered by police on Tuesday. A pregnant 19-year-old woman was also reportedly hit by pepper spray Tuesday, The Associated Press reported...

A priest was also among those pepper sprayed during the protesters' march from their camp at Seattle Central Community College to Westlake Park, according to the Seattle Post-Intelligencer. Police officers on bicycles attempted to block the protesters' way. After tensions mounted, the police used pepper spray to disperse the crowd.
For Scott Olsen, for Dorli, for all those who have been abused - It's time to stand up for human rights against tyranny.
Tomorrow is November 17th and OWS is marching on Wall Street, Dorli could use some help.

#Nov17
#OWS
Update: Dorli on Countdown! (h/t Diogenes2008)